Image: Gareth Chaney/RollingNews.ie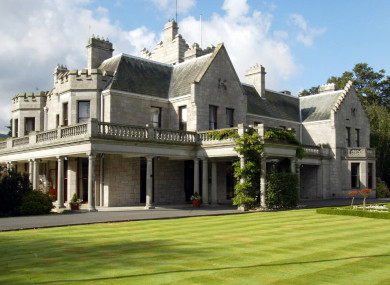 Image: Gareth Chaney/RollingNews.ie
MORE THAN A decade after a 17-storey tower was planned for the lands at the British Ambassador's south Dublin residence, one of Ireland's biggest housebuilders is a planning a similar-sized project at the site.
In 2004, Cork developer John Fleming lodged plans to construct the hi-rise 405-unit residential tower on the lands of Glencairn House in south Dublin. The plans were approved by the council but ultimately knocked back by An Bord Pleanála.
Nearly 14 years after the original plan, one of Ireland's biggest housebuilders has filed new plans to build 341 residential units and a créche on the site located near the Green Luas line.
The plans for Murphystown Way in Dublin 18 were lodged by Castdale Ltd, a firm ultimately controlled by Viscount Securities owner Michael Cotter.
A brief overview of the housing project submitted to An Bord Pleanála outlined plans for the "demolition of existing house and outbuildings" at Glencairn House.
A spokesman for An Bord Pleanála told Fora that Glencairn House, which is a protected structure, is not included in the demolition plans.
He added that the developer wants to level structures on an adjacent site that forms a crescent around the British Ambassador's lodge. However, it is not clear at this stage which buildings will be demolished.
A further note in the plans flagged the possible relocation and preservation of the ornate gateway that forms the entry to Glencairn House and its grounds.
Last year, a nearby large-scale residential project in Sandyford was denied planning permission by An Bord Pleanála.
Ires Reit was denied permission to build more than 450 apartments in south Dublin after it was decided the scale of the development would be "visually unacceptable at this location".
History
Glencairn House has been the official residence of the British Ambassador to Ireland since the 1950s.
Cotter originally acquired the Glencairn site in the late 1990s from the British Foreign Office, but it changed hands on numerous occasions. The ambassador has continued to live at the residence since the sale of the lands.
Cotter's new plans for a housing project at the site were submitted as part of consultation with An Bord Pleanála ahead of an official application for planning permission through the Strategic Housing Development scheme.
The housing scheme was introduced to help speed up the planning system amid Ireland's acute shortage of residential accommodation.
Earlier this year, Cotter also filed a fresh proposal to develop over 900 homes in Ballyogan through the same fast-track scheme and also has plans to construct 86 units in Sutton.
Sign up to our newsletter to receive a regular digest of Fora's top articles delivered to your inbox.
Written by Killian Woods and posted on Fora.ie