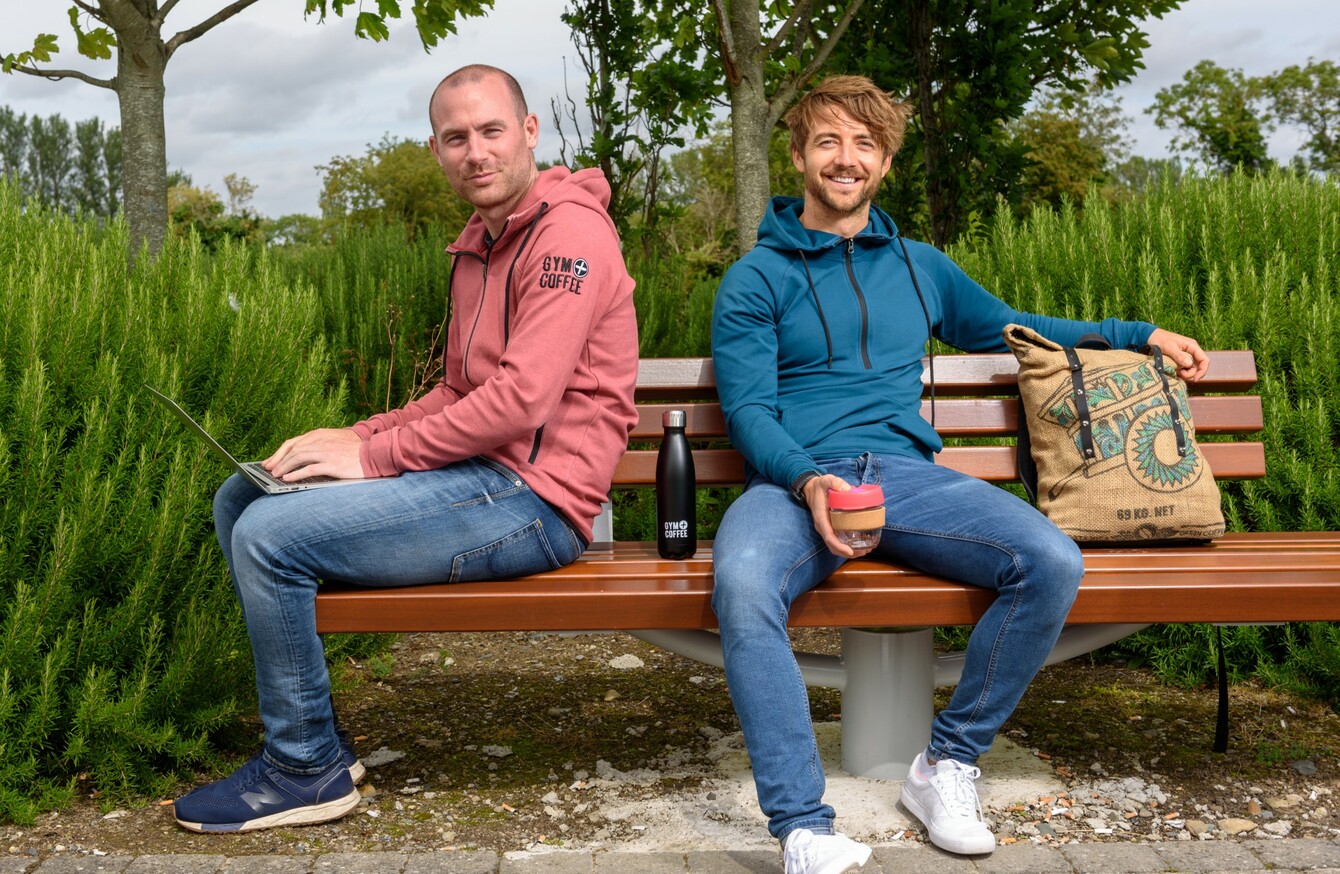 Karl Swaine and Diarmuid McSweeney, two of the three founders of Gym+Coffee.
Image: Local Enterprise Office
Karl Swaine and Diarmuid McSweeney, two of the three founders of Gym+Coffee.
Image: Local Enterprise Office
"WE PROBABLY MADE every mistake and hit every challenge you can possibly think of."
For Karl Swaine, Niall Horgan, Diarmuid McSweeney, founders of Gym+Coffee, the first of those mistakes was a misjudged launch date of pre-Christmas 2016. "We underestimated how busy logistics companies usually are pre-Christmas. We just reckoned everything would come through seamlessly."
The end result? "We launched on Blue Monday 2017 – the most depressing day of the year when people have the least amount of money", says Swaine.
It's something they can now laugh about. With a lot of learning and self-education since 2017, plus help from their nearest Local Enterprise Office, the founders' 'side hustle' has now turned into three busy stores plus an online shop.
So, why did they see athleisure as such a unique opportunity in Ireland?
From Sydney to San Francisco
Having lived abroad for a few years (Karl and Diarmuid in Sydney and Melbourne, Niall in San Francisco), they all noticed something really nice about the lifestyle there – people socialised in a very different way than they tend to in Ireland.
"People are up early in the morning, going for breakfast or a run before work. It was less about going to the pub – more about going out and being active with your friends". Socialising through exercise was something that the three wanted their brand to encapsulate.
"We wanted to create clothing that performed when you go to the gym or for a run, but also that was fashionable enough to go for brunch or coffee after." Once they had come up with the idea of Gym+Coffee, things happened fast. As they weren't living close to each other, they planned everything via collaboration app Slack. 
"All of a sudden, we had this brand we wanted to launch but there was so much learning involved in the early days – the early days were crazy". The three soon had to get up to speed on product design, logistics and marketing – though luckily Diarmuid and Niall had a background in the latter.
After a flurry of setting up business accounts and trademarking their brand, Gym+Coffee started simple with hoodies, before moving into t-shirts and then yoga leggings and more high performance items.
A 'pop-up' that has lasted over a year
These days, their tiny team of three has grown to 35, between their office and their three stores in Dundrum, Cork and now Limerick (look out for their Swords location opening later this year). Funnily enough, opening brick-and-mortar stores was never really part of the plan. 
What initially started as a two-week pop-up in Dundrum has turned into a year and a half: "We had heard retail was dying but it absolutely isn't – people are just looking for more experiential retail". For this reason, what has always been a part of the plan is running a number of free events such as yoga and hiking for their customers.
"We're such a community-focused brand", says Swaine. This trickles into every aspect of their company, down to the design of their products: "Social media is huge for us and we'll often put up different fabric swatches or colours on social media". As Swaine explains, "Who better than the customers to design the products they want to buy?"
In what is both a blessing and a curse, one of the biggest problems the company has is selling out of stock, especially in the early days when everything was self-funded and they would consequently order in small quantities.
"Straight away our products became popular and would sell out in a few days", explains Swaine. The flip side of that however, is that they have always needed to be very honest about letting their customers know the selling out of stock is something they're actively trying to improve on.
Though having customers waiting on products can be tough at times, fortunately Swaine "can't stress enough how supportive the community are".
In fact, their customers are a big ingredient of their success. From day one, Swaine says that the three knew that events were going to be a big part of their strategy. They soon organised their Summer Stretch Series – the ambitious plan of having 10 workouts in 10 different locations with 10 different trainers, every Sunday at, you guessed it, 10am.
"We definitely notice that people would show up and come up and say, 'thanks, I had an excuse not to go out last night'". When the three started hearing it resonate with people, they knew there was space for an athleisure brand in Ireland.
Only BOD can judge us
You may have noticed that over the last two and a half years, Gym+Coffee has gathered a few high profile fans – something that Swaine says has "been fantastic". "From day one, people would ask us how we got a hoodie on so and so, and how much we were paying them", says Swaine.
The truth was that like a lot of brands, Gym+Coffee had just gifted some of their products to the likes of 'The Body Coach' Joe Wicks and Brian O'Driscoll. "We're lucky that our hoodies are popular with everyone", says Swaine. He says that having one of the Ireland's most famous sports stars on board has been "invaluable".
After the team had gifted O'Driscoll a hoodie and they noticed that he had posted about it and was using his branded KeepCup. "We were in awe that he was using our products", says Swaine. Eventually, they arranged a meeting and he was really interested in the brand and agreed to come on board as both an investor and Head of Community.
Expanding offline
Initially, they were going to be an online-only brand but when they got the chance to do the (now long-term) pop-up in Dundrum, that all changed. Swaine explains: "We have always had an attitude of saying yes to opportunities and figuring it out after." Part of that figuring out was that they realised they'd need funding for retail staff.
That's when the three reached out to the Local Enterprise Office, to see if there was any funding that they could apply for. "They got straight back to us with what was and wasn't available and talked us through every step of applying", says Swaine. "They made it as seamless as possible and avoided us having any delays".
For Swaine, the funding meant that they got to hire the right people to the store. None of the founders had significant retail experience, so the company could hire a couple of staff who "were able to promote the brand in the right way". It also meant they could continue to run the business without any other aspects suffering.
"From day one, the Local Enterprise Office has been a big supporter of ours", says Swaine. He shares that the trio are kept up to date on any funding or help they may be eligible for, and are given clear advice so they don't end up looking down avenues that are wrong for them. "They're very transparent so we know what we can and can't get".
What's next for Gym+Coffee? "At the moment we're really taking it one step at a time, but we're mastering the playbook in Ireland", shares Swaine. He adds that they hope to soon have stores in the UK, across Europe, and maybe one day in the US or Australia, back to where it all began…
Source: Local Enterprise Office/YouTube
Got a brilliant business idea of your own? The Local Enterprise Office will help you get it off the ground, providing expertise and financial support and enabling your business to grow and thrive. If you have a good idea, they can help you to make it happen. Check out the new Local Enterprise Office site with resources to help you get started.