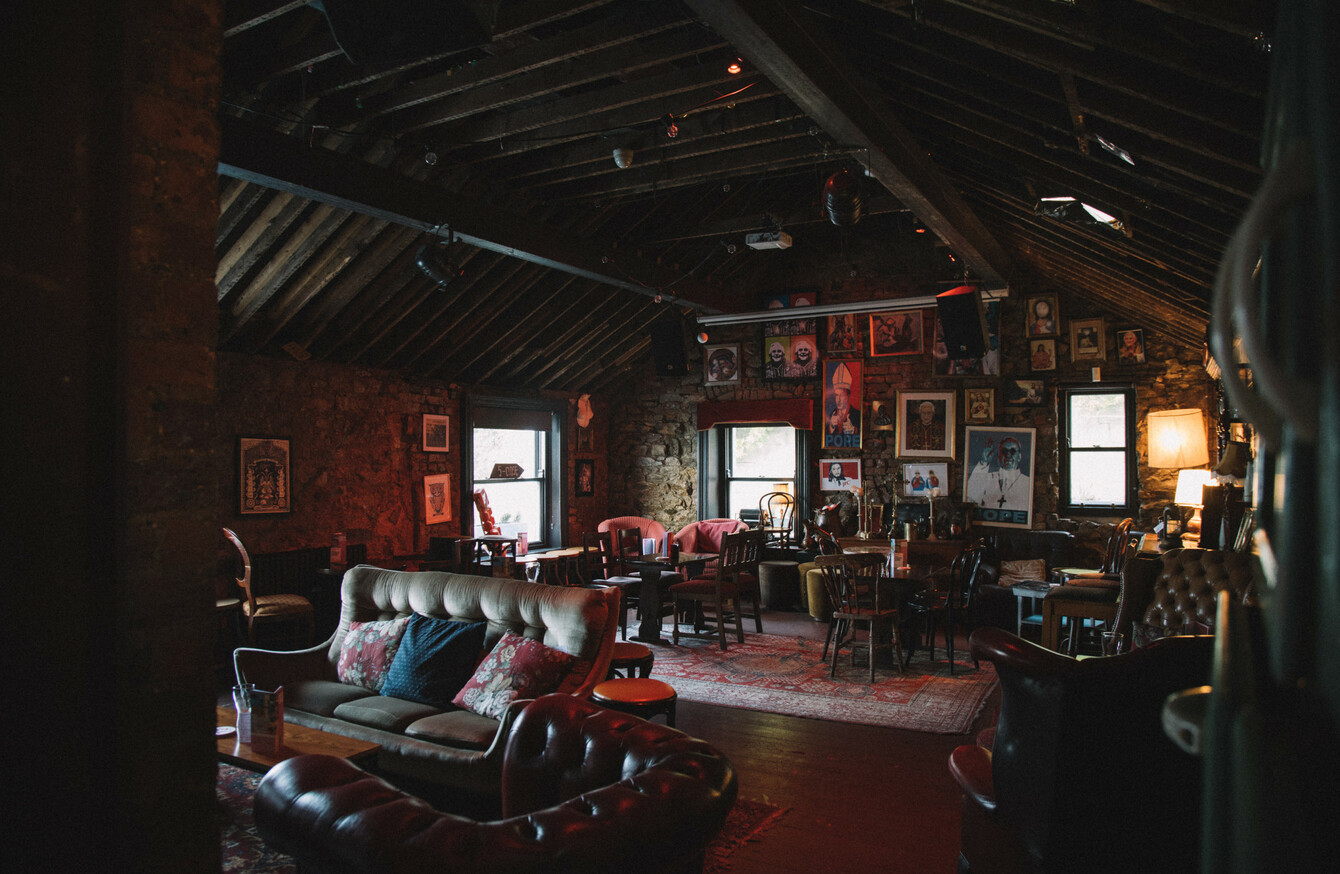 Image: FREDDIE STEVENS
Image: FREDDIE STEVENS
ASK ANYONE FROM Bray and they'll tell you that The Harbour Bar isn't just a pub – it's an institution.
The pub has been a fixture in the town since it was first established in 1872. It was later bought by the O'Toole family in 1932 and remained in their family until 2013. At that point, the pub came up for sale and the O'Tooles decided to pass the keys on to people they knew they could trust.
"The O'Tooles were family friends of ours," explains Conor Duggan. "They came to my Dad and said that they wanted him to buy it. There was a lot of talk about who was going to get it, but they felt we would maintain its character and be respectful towards it, which I feel we have."
Duggan's father bought the pub in 2013 and the rest, as they say, is history.
The Harbour Bar is unique for a few reasons, not least because of its layout.
"It was a terrace of fishermen's houses," explains Duggan. "They got the first one. Then they moved to the next one and the next one. They ended up with four of them."
"They never spent much money on doing a big job. All they did was knock a big hole in the wall and consequently they ended up with an array of little rooms all with different styles and different atmospheres."
The pub is now home to the main bar, a lounge, a snug, a parlour, a party room, and a heated outdoor area.
"You can have seven types of night in the one night," says Duggan.
Traditionally, the pub never served food. When the Duggans took over, they were reluctant to change that policy. Then they opened Fish Bar to the side of the bar.
"It's like a fish shack in a container to the side," explains Duggan. "We said we'd do a small menu, but we'll do it very well. That's where we do fresh fish and chips from there."
The only rule?
"You're not allowed to bring it to the bar."
Since taking over, Duggan has made a concerted effort to introduce music, comedy and food events to the pub. Already this year, they have hosted Bray Comedy Festival and Banjo & Bovril, a folk and trad festival.
"Banjo & Bovril is a take on an old festival they did," explains Duggan. "It was basically one lad playing a banjo and they used to give out free Bovril."
Later this year, they will host Harbour Whiskey Festival, Harbour Ginfest, The Harbour Brewha, Harbour Roots, Skafest, Harbour Hip Hop and Harbour Toastie Festival.
"Each month we're trying to do something that's in keeping with The Harbour Bar and celebrating it," says Duggan.
Additionally, the pub prides itself on supporting the arts and programming regular events. That means music, spoken word, comedy, and whatever else you're having.
"We do support the arts and local arts," says Duggan. "We would put a lot of our turnover into good acts and quality bands. Everything from ukulele classes to comedy nights to to Gaeltacht nights. Anything that is community driven and different."
Back in 2010, the pub was voted the best bar in the world by Lonely Planet. For years, tourists flocked from all over the world to visit the pub off the back of that accolade.
"It's amazing how strong it is," says Duggan. "Not as much now as when we took over first, but I might find a group of tourists in the morning sitting outside with their books. I'd just let them in and let them rummage around. They loved that trust that we'd give them."
Another two visitors that are free to rummage around? The pub's resident cats, Raoul and Cinders.
"They came with the pub," explains Duggan. "Visitors love them. It was like the cat café before they were ever a thing. You'd often see them on people's laps."
After nearly 150 years in existence, The Harbour Bar has entered a new phase.
But, as Duggan explains, some things never go out of style.
"My favourite part of the pub is the snug because I had my first official pint there when I was seventeen," says Duggan. "My Dad brought me down. We all knew it wasn't my first pint but we played the game. I still remember that. Any family thing we have, we try to get down to that snug."