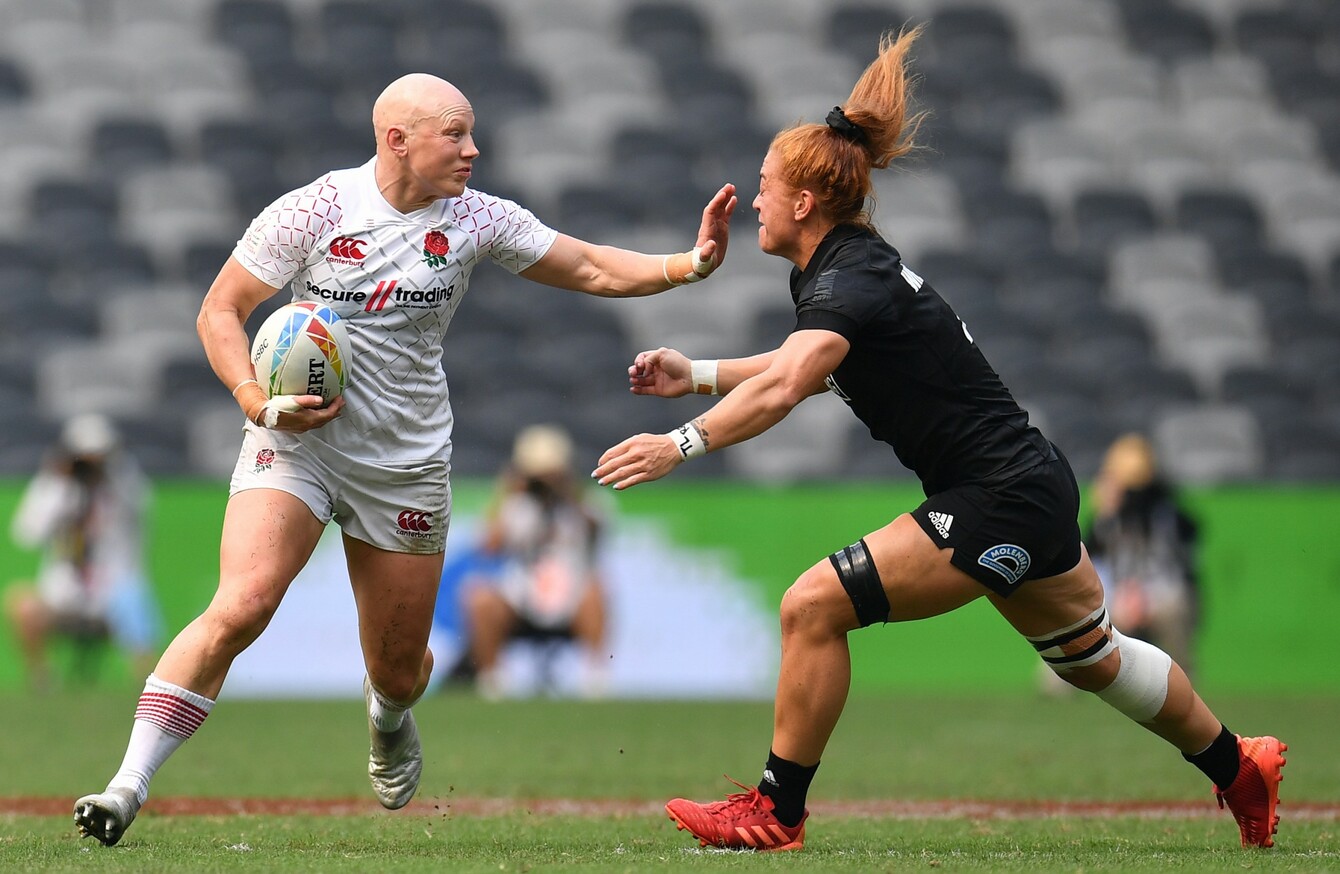 Heather Fisher (left) representing England against New Zealand at the Sydney 7s earlier this month.
Image: AAP/PA Images
Heather Fisher (left) representing England against New Zealand at the Sydney 7s earlier this month.
Image: AAP/PA Images
HEATHER FISHER BELIEVES that people have two choices in life.
"It's pretty simple," the Women's Six Nations and World Cup winner states. "You can either say 'yes' and give it a go, or just don't show up. I decided to go for it."
With the men's Guinness Six Nations in full flow and excitement building towards Ireland's crucial game at Twickenham next weekend, we caught up with the England international.  
An inspirational figure, Fisher has appeared at five Rugby World Cups (7s and 15s), the Olympics and the Commonwealth Games. She has also competed at international level in bobsleigh. 
But it is off the field where she has faced her toughest battles — overcoming anorexia, a career-threatening back injury and hair loss due to alopecia — to thrive as a strength & conditioning coach, mentor and guest speaker while also continuing to play top-level sport. 
The 35-year-old appeared on The Line-Out, Virgin Media's new rugby and entertainment show on air throughout this year's Guinness Six Nations, alongside Ireland rugby hero Peter Stringer and comedian Andrew Ryan last week, and took some time out afterwards to speak to us about her life. 
As a child at school, Heather admits finding it difficult to fit in. She always felt a little different. Sport was a release, however, and it soon became clear that she was a born competitor. 
"From a very young age, my dream was to be an athlete," Heather explains. "I didn't really think of anything else.
"I knew I could be a professional athlete, I just didn't know what sport it would be in. I feel like I probably could have ended up in a number of different sports."
The Birmingham native discovered rugby and began catching the eye as a talented flanker. But an ongoing struggle with anorexia meant her performances were often inconsistent. 
"As I was growing up, my coach would pull me aside and say 'Fish, you're a great back-row player but we can't work out as a staff how you can be an amazing player and then not on it'," she says.  
And it was all down to my relationship with food. I was up and down like a yo-yo. I don't think it ever leaves you."
Despite dealing with an eating disorder, Fisher's rugby career continued to progress. Seemingly on the verge of an international cap, she was dropped by England for, in her words, "being cocky". 
A chance meeting in a Cardiff coffee shop while at university then saw her sporting career take an unusual turn. 
"Someone came up to me and said 'you look pretty strong, what do you do?'. It turns out she competed in the skeleton and they were looking for athletes to take part in the bobsleigh at the next Olympics. 
"That was probably the making of my rugby career. It was a pretty amazing experience and I wouldn't be the athlete I am today if it wasn't for that."
Fisher went on to compete in bobsleigh on the European circuit, before burning herself out and opting to return to rugby in the hope of competing at the Olympics in the 7s competition. 
In the summer of 2011 — shortly after lifting the Six Nations trophy — an on-field injury threatened to end her career altogether. Landing awkwardly after catching a ball mid-air, Heather suffered four fractures to her back and was put into a brace from her neck to her waist. 
Two gruelling years of rehabilitation followed and there were genuine fears that she would never be able to play again.
"There was a time that I thought I wouldn't come back," she admits. "That's when I decided to do my Masters, start mentoring younger people and open up my gym. I realised there is more to life than rugby. I'm about balance and now I've got loads of things on because of what happened.
I realised you can work your ass off for something and it can be taken from you like that."
Heather also had to deal with severe hair loss as her alopecia worsened around that time. 
"Losing my hair was probably the biggest thing I've ever gone through." she tells. "When it happened, I lost some of my personality. I didn't feel I could go out of the house, I felt ashamed.
"I find it really hard to talk about because it brings those emotions back, but I try to deal with it. It's something that I have learned to accept and grow with, but I still challenge it.
"I had to make it work for me. If I can't do my hair everyday, I change my hat, change my glasses, change my socks. That's the way I roll."
Remarkably, the setbacks only spurred her on even more and Fisher got to fulfill a lifelong ambition by competing at the Rio Olympics in 2016. 
"For me, it has been a dream since I was 13 years old. I feel very fortunate to be an Olympian, and to be able to do it again a second time [later this year] sends shivers down my body. 
"World Cups have never meant as much as the Olympics for me. It is the pinnacle."
It has been quite the journey and Heather has shown immense strength of character throughout the good times and the bad.  
"I've had battles but luckily I feel like I've had the courage to fight and survive them. I won't let anything beat me.
"I take things in my stride and I'm better under pressure. If there is no pressure, I feel a bit lost. With what I've gone through, I don't know any different."
Heather has been concentrating on playing 7s in recent years, having called time on her career in the 15s game. While England's men's team surprisingly lost out to France on the opening weekend of the Guinness Six Nations, her former side currently sit top of the Women's Six Nations table after their barnstorming 53-0 victory over Scotland. 
These days, Fisher is regularly invited to guest speak at events, where she will tell her unique story and offer this bit of advice. 
"Be true to who you are," she ends. "I honestly believe in my heart that you can overcome anything and I don't believe in excuses.
"It's a total mindset shift that is needed. My message to anyone is to be true to who you are, be brave and don't let anyone beat you because you've only got two choices."
The Line-Out airs at 10pm on Virgin Media One every Thursday throughout the Guinness Six Nations. This week, the guests will include Irish rugby great Paul O'Connell and current Ireland international Joey Carbery. If you miss out, you can catch up on the Virgin Media Player. Every Guinness Six Nations game will also be shown live on Virgin Media Television. Please drink responsibly. To learn more, visit drinkaware.ie.