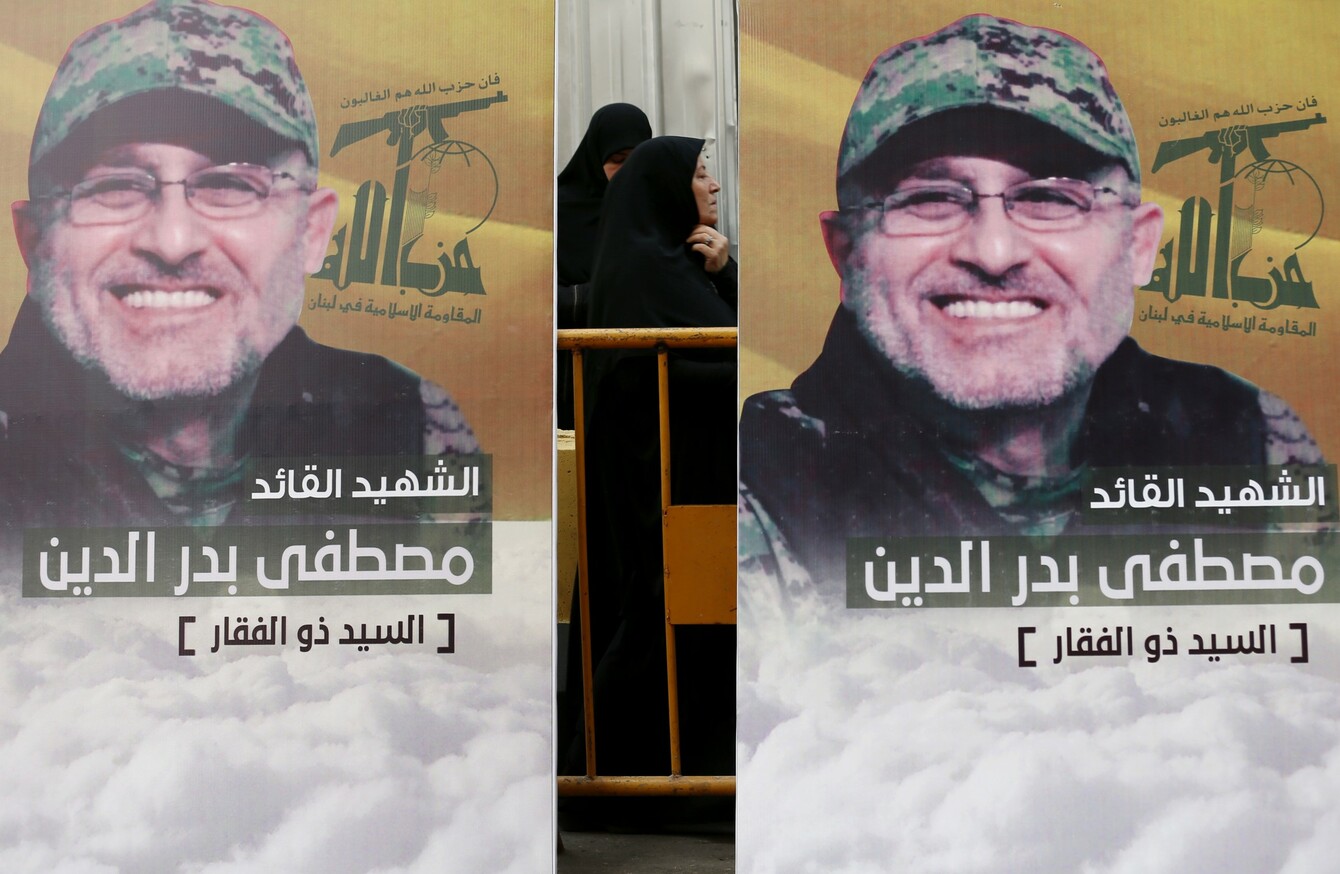 Pictures of slain top commander Mustafa Badreddine
Image: Hassan Ammar/AP
Pictures of slain top commander Mustafa Badreddine
Image: Hassan Ammar/AP
LEBANESE SHIITE MILITANT group Hezbollah today blamed Islamist extremists for killing its top military commander in Syria and vowed to keep fighting to defend President Bashar al-Assad's regime.
The movement has deployed thousands of fighters in Syria where Mustafa Badreddine had led its intervention in support of Assad's forces, which are also backed by Russia and Iran.
Badreddine, who was on a US terror sanctions blacklist and wanted by Israel, was killed in a blast on Thursday night near the Damascus international airport.
Hezbollah announced his death on Friday but without immediately apportioning blame, breaking with its usual pattern of accusing arch-foe Israel of responsibility.
Today it said a probe had concluded that Sunni Muslim radicals known as "takfiris", who consider Shiites to be heretics, had killed Badreddine.
A Hezbollah statement said:
An investigation has shown that the blast that targeted one of our positions near the Damascus international airport that led to the martyrdom of the brother commander Mustafa Badreddine was caused by artillery bombardment carried out by takfiri (Sunni extremist) groups present in that region.
It did not name any particular group and there has been no claim of responsibility for the attack.
Hezbollah has been battling opponents of the regime including Sunni extremists from the Islamic State jihadist group and Al-Nusra Front, Al-Qaeda's Syria affiliate.
A Syrian security source has told AFP that Badreddine was in a warehouse near the Damascus airport when it was rocked by a blast on Thursday night.
No aircraft was heard before the explosion, the source said.
The head of the Syrian Observatory for Human Rights, Rami Abdel Rahman, said that no artillery fire had been heard in the area either in the past three days.
The Britain-based monitoring group relies on a network of sources on the ground for its reports on Syria's five-year war.
The conflict has killed more than 270,000 people and displaced millions since it started with the repression of anti-government protests in 2011.
US Secretary of State John Kerry set off yesterday for Saudi Arabia to consult with his Arab ally ahead of international talks in Vienna on Tuesday aimed at salvaging teetering peace efforts.
Battle to continue
In its statement Saturday, a day after thousands attended Badreddine's funeral in Beirut, Hezbollah vowed no let up in its war against those it describes as "criminal gangs" in Syria.
"The result of the investigation will only increase our determination and will to pursue the fight against those criminal gangs until they are defeated," the statement said.
"It is the same battle against the American-Zionist scheme in the region, which the terrorists are spearheading," it added.
Badreddine was a key suspect in the 2005 assassination in Beirut of Lebanese ex-premier Rafiq Hariri and was one of the "most wanted" by Israel.
His predecessor, cousin and brother-in-law Imad Mughniyeh, was killed in Damascus in a 2008 bombing that Hezbollah blamed on Israel, with whom it has fought several wars.