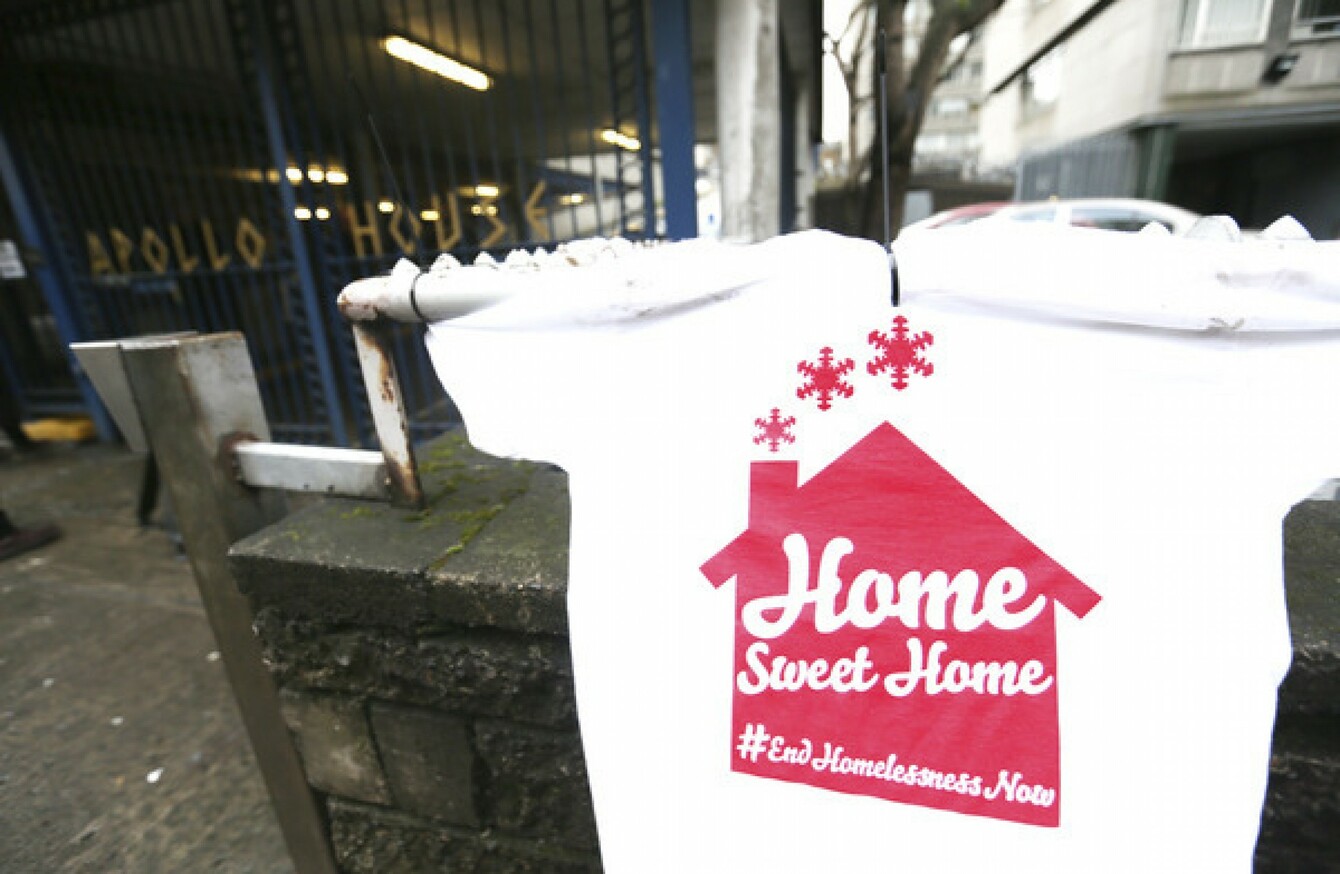 A t-shirt hangs outside Apollo House on the first day of the occupation
Image: RollingNews.ie
A t-shirt hangs outside Apollo House on the first day of the occupation
Image: RollingNews.ie
HOME SWEET HOME, the coalition that occupied Apollo House in Dublin last winter, has announced that the money raised from donations will go into a grant scheme for grassroots groups helping people affected by the homelessness and housing crisis.
The campaign raised close to €190,000 between 15 December and 18 January, mostly via an online GoFundMe campaign. It spent about €60,755 throughout the course of the occupation and after, with about €129,000 remaining.
Tommy Gavin of the Irish Housing Network, a spokesperson for the coalition, said: "The coalition looked at several other possible options for the donations, and the decision to put the money into a grant fund, was made in order to make sure that it can have the most powerful effect possible.
The GoFundMe donations page was set up to cover costs of the occupation and for a campaign to end homelessness, and we never imagined that we would raise so much. The generosity of spirit that was shown is still amazing, and it shows that people are ready to stand up and pitch in to help one another if given the opportunity.
"The enduring legacy of Apollo will be the capacity of solidarity shown by people who have had enough of the housing emergency, enough of the homelessness crisis, and enough politics of inequality."
Application form 
The grant fund is intended for grassroots and community groups that are involved in campaigns to end homelessness, or provide community resources and services. Grants will be open to registered organisations such as community centres, and unregistered groups such as soup runs, with different grant sizes determined by regulations set down by the Standards in Public Office Commission.
Applications will be received by a vetting committee made up of representatives from the unions, artists and grassroots campaign groups that make up Home Sweet Home. They will shortlist eligible applications before those wider groups sign off on who is granted funding. Applications can be downloaded from the Irish Housing Network's website and sent to hshfunds@gmail.com. The deadline for applications is 31 July.
Home Sweet Home said anyone who donated money but does not agree with it being spent in this way will be given the option of getting their money back.