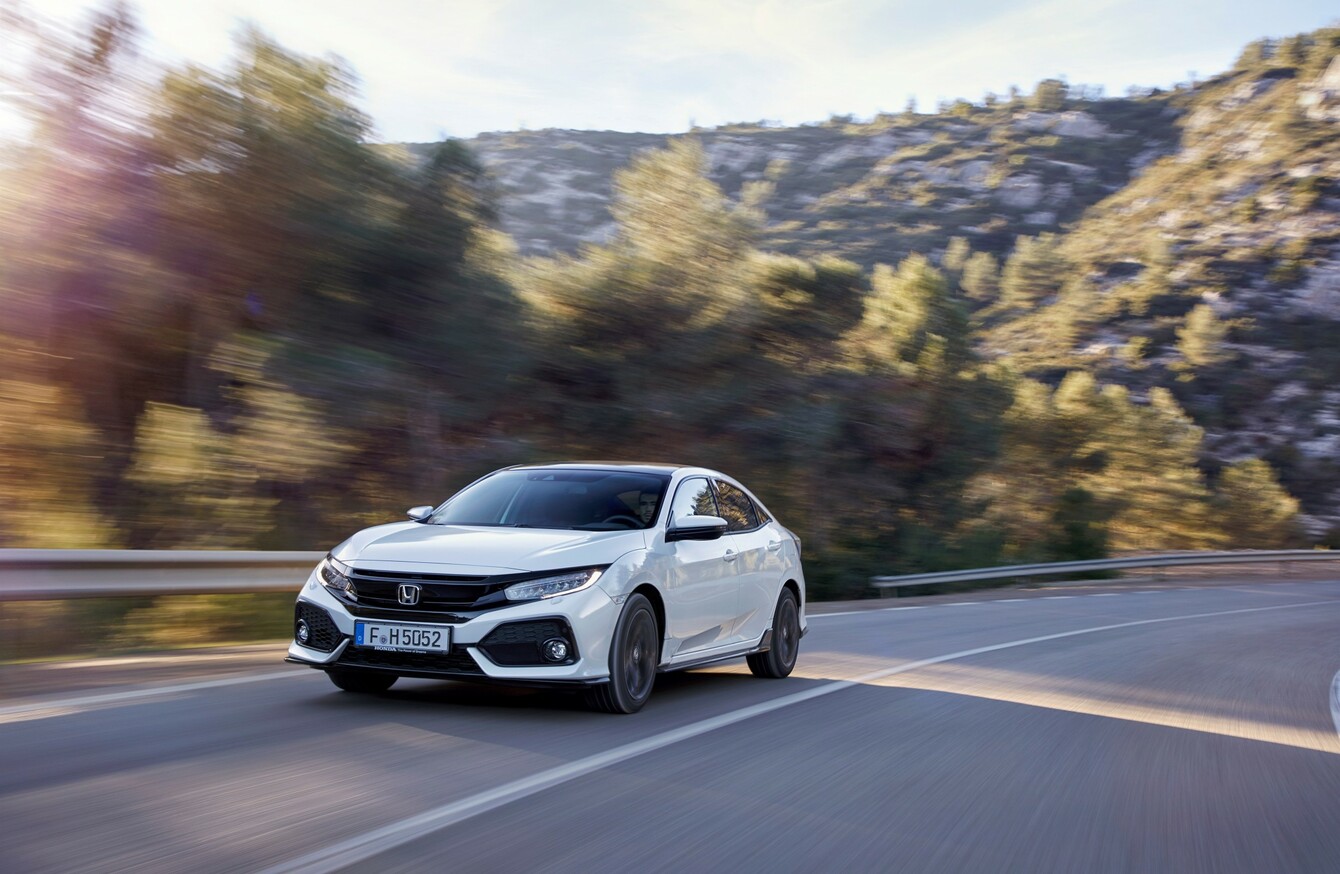 Image: Honda newsroom
Image: Honda newsroom
I WAS REALLY looking forward to driving the new Honda Civic, because, well, I've always really liked the Civic.
Its more out-there styling sets it apart from the crowd. And yet, it has been around for more than four decades with nearly 35 million models sold worldwide. You've got to respect that.
Perhaps this is why the Honda Civic is described as a 'car for everyone' – and indeed it sells to a wide demographic across the world. But the last few models seemed to have lost their mojo. They sold well because they were Honda Civics, not because they were brilliant cars.
So how does this latest tenth-gen iteration live up to its motto? Is it really a car for everyone and has Honda got its Civic mojo back? Let's find out.
The MkX Civic is built in the UK, but shipped to over 70 countries including the US – so it has now adopted a global platform shared with the US-market saloon and coupé variants. And it has to appeal to a global market.
To do this, and presumably to appeal to younger car buyers, the Civic has been given some striking new looks with plenty of features that catch your eye. I happen to love the styling with all its angular lines and squinty mean face. I love the sporty twin exhausts on the 1.5-litre models (although I could do without the black plastic fake grills on the rear). Beauty is in the eye of the beholder and all that, but at least nobody will accuse it of looking bland.
Perhaps trying to appeal to the American market, the Civic is no longer a neat compact hatch. It is now a big little car and is wider, lower and longer than it has ever been before. Its centre of gravity is 10mm lower than the last model and the wheelbase has been stretched by 30mm, which gives it a very purposeful stance. It is also just shy of 4.5m long, with a 2.7m wheelbase making it the longest in the European C-segment.
Inside, too, it is all change from the Civic of old. Gone are the split-level instruments, replaced by a new seven-inch colour touchscreen.
The system is fine and easy to use but the central display doesn't sit flush and looks like an afterthought which cheapens the look a bit.
But aside from that, the cabin is an improvement and step up in terms of fit, finish, quality and user-friendliness. There are better materials and extra comforts, the cabin feels clean and the optional leather interior gives the cabin a classy feel. There is tonnes of really useful and practical storage, including a new central armrest now that there is an electronic handbrake.
You'll notice the shape of the new Civic is more fastback than hatchback, and that the roofline is lower. This does eat into rear headroom a bit, but more so for the six-footers. Legroom, however, is great; the back seats will comfortably hold two adults and child/teen in the middle.
The boot is also massive at 478 litres which can swell to 1,245 litres with the rear seats tumbled. There is a neat horizontal-sliding parcel shelf/cargo cover, which saves space and is easy to use.
But here's the thing: the previous model was innovatively designed in such a way that the fuel tank was located under the front seats, making room for the super clever and now-famed Honda 'Magic Seats'. This new model has moved the fuel tank back to just afore the rear axle, and poof, just like that, the magic seats have disappeared. So you'll no longer be able to transport mountain bikes, yucca plants and double basses with such ease. This is such a shame.
On the plus side, moving the fuel tank back has allowed engineers to drop the front seat's hip point by 35mm which now makes the driving position far more sporty than most other hatchbacks, and this is a good thing. The new lower position is great and you feel a lot more connected to the car. The dashboard and scuttle are low set too. This combined with a thin A-pillar makes visibility pretty decent and although there is still a spoiler dividing the rear window, as per the previous model, it is better positioned to offer greater visibility out there too.
On the road is where the car really shines. It is good fun to drive. Let me rephrase that, it is great fun to drive. There's very little in the way of body roll and the car feels really planted and super confident in and out of corners, even at speed, giving a composed and compliant ride.
The steering is accurate, and it has variable ratio Electric Power Steering which means you don't have to move the wheel much when you are on a twisty windy road, which again adds to the fun factor.
The cabin is well insulated resulting in a comfortable and quiet ride and the suspension is well tuned to absorb most of the lumps and bumps. (However, I was driving on nice smoothish Spanish roads, so we'll have to wait and see how it handles Irish roads when it hits our shores.)
From launch, there will be two petrol engines offered, a 127hp 1.0-litre three-cylinder VTEC Turbo petrol and an 180hp 1.5-litre VTEC Turbo petrol. There will be a 1.6-litre diesel offered later on in the year.
I really liked the 1.5-litre unit and found it to be smooth and punchy with plenty of power and great midrange torque for quick manoeuvres and overtaking.
Both engines are available with a six-speed manual and CVT automatic transmissions. The six-speed manual is great with nice short sharp throws and smooth transitions. But guess what? The CVT isn't that bad either. It's certainly not the worst and has improved greatly thanks to gear-simulating 'steps' in it. But, I'd go for the manual all the time and paired with the 1.5-litre engine it is a sweet combo.
Add into the mix the fact that all new Honda Civics get the Honda Sensing suite of safety features as standard and the disability just keeps on growing. This suite includes Collision Mitigation Braking System, Forward Collision Warning, Lane Keep Assist System, Lane Departure Warning, Road Departure Mitigation, Intelligent Speed Limiter, Intelligent Adaptive Cruise Control and Traffic Sign Recognition.
As for pricing, entry-level 'Smart' trim 1.0-litre models start at €23,750 and the entry-level 'S Design' 1.5-litre models start at €28,550. And yes, rivals may have lower entry price points but you do have to spec them up quite a bit to get the same level of equipment as the Civic. You actually get a lot of car for your money.
Overall I would say that the Honda Civic is a car for everyone. It is stylish and fresh looking with plenty of technology and connectivity to appeal to the younger car buyer. It is practical and spacious enough to be a great family car as well as being jam-packed with safety features. And it offers a lot in terms of fun and dynamics to the driving enthusiast.
Finally, after a few uninspiring models, Honda has made a Civic for enthusiastic drivers, again. It has indeed got its mojo back – and while it may not be as obviously practical as before it is a lot more desirable. Expect to see a lot of these on the roads when it is launched next month.