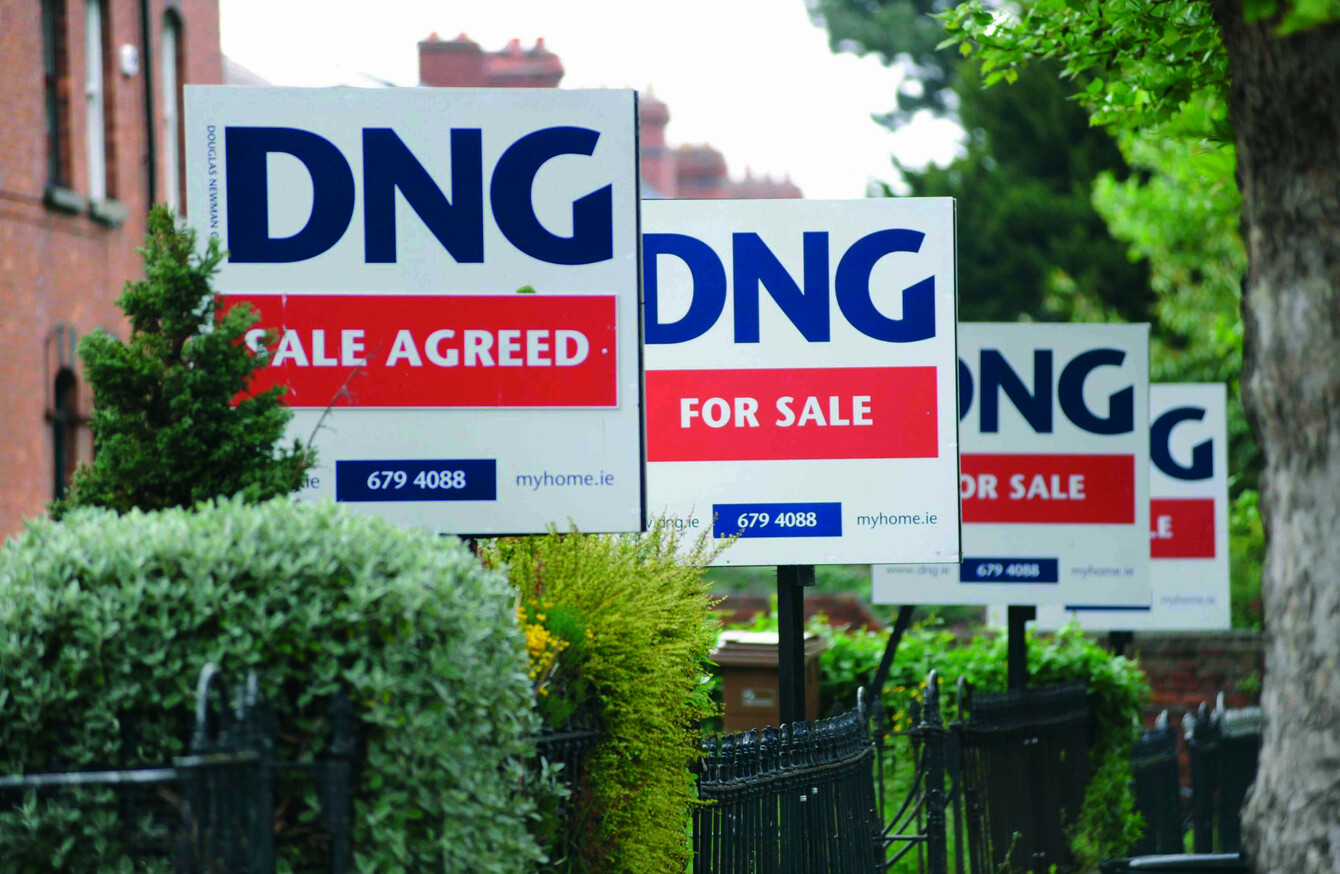 House prices are increasing, but by how much?
Image: RollingNews.ie
House prices are increasing, but by how much?
Image: RollingNews.ie
ABOUT THREE MONTHS ago, largely unknown Australian millionaire Tim Gurner went viral for comments he made about avocado toast and first-time buyers.
Basically, he said that young people needed to stop buying avocado toast if they wanted to buy a house.
The story ticked far too many boxes for it not to go viral: A smarmy businessman, property, profligate millennials…. avocados.
But it also got traction everywhere because it struck a chord with two sections of society: those who felt it exemplified the problem with short-termist young people, and young people who felt it exemplified the misconceptions about them.
In Ireland it was of course a big story - as often happens with anything to do with property – but it felt more pointed in this country as house prices continue to rise and rise.
The avocado story touched a specific nerve because it in effect pit millennials against their parents' generation. It added fuel to the argument that the reason millennials can't buy homes is that they don't have the spending discipline.
But is that true? In Ireland anyway, the answer is a clear no.
New research published by the Nevin Economic Research Institute clearly shows that houses are now less affordable relative to wages than they were thirty years ago.
Furthermore, the research shows this is particularly true for 25-34 year-olds whose wages were harder hit during the recession.
The research points out that one drawback in comparing the affordability of homes over time is that much of the data just compares average wages with average asking prices.
This measure does not take account of the people who actually buy a home and the financial burden they place on themselves to do so.
Even using that measure, the research shows that a young couple (aged 25-34) needed 4.1 times their net annual wages to buy a home in 2014.
This is compared to 3.1 times their wages in 1987 and 6.3 times their wages during the peak of the property boom in 2007.
While the figures show that affordability has improved since the height of the Celtic Tiger, the gap between wages and house prices has been steadily growing again since house prices bottomed out in 2012.
Other issues have made things more difficult in recent years as well, such as the ending of mortgage interest relief in 2012. The NERI research estimates that this payment was potentially worth "several thousand euro per year to mortgage holders".
Central Bank deposit regulations, in which first-time buyers require a 10% deposit up front, also add an extra challenge. This is only made more difficult by the growth of the rental market.
The lack of affordability in housing creates a spiral in that people unable to buy are forced to rent and therefore have less discretionary income to save for a deposit. This demand in turn increases rental prices making saving even less affordable.
The scale of growth in the rental market can be seen in ever-increasing rental prices, but also in cold hard figures. Especially in the private rental market.
In 1991, just over 15% of young people not living with parents rented their property from a private landlord. Now, that figure has jumped to almost 51%.
Author of the NERI research Dara Turnbull describes the rental-saving battle as a "perpetual loop" that forces people who wish to buy a home to save for longer than previous generations.
This loop, he says, is often not understood by those from previous decades who didn't have to contend with it.
"When I presented this paper, one of the people there said that when he was younger, he and his wife both lived at home with their parents, they saved for a down payment and they moved out and got married when they were 23 or 24," he explains.
The problem now is that the typical young worker, who's 22, 23, 24, is just not in a position to live at home, save for a down payment and then afford a mortgage, they're just not earning enough money.

So you're left in a situation where either you stay at home indefinitely until you're 30 and can afford a mortgage, having saved some money if you're in a position to do so. Or, you do what most young people do which is they move out. Then you're in a catch-22 situation where you're renting and your earnings do not allow you to save up enough money.
Moving home
In Cork, a 26-year-old house hunter and her 33-year-old husband have spent the past three years back living with her parents in order to save for a home.
Those years are just three of the five they've spent saving and she tells TheJournal.ie that both are public servants and each pay 50% of their wages into a credit union account every fortnight.
"We're putting all this money away and we got rid of our second car. So we're sharing one car between us which is hard when he's up in Tipperary most of the time and I'm in Cork most of the time," she explains.
It's kind of disheartening because we can't go on the housing list because our income is too high and we can't get a mortgage because our income is too low.
"Our social life is gone out the window. We can't afford anything, the best we do is a Nando's every now and again."
The couple are both social workers and made the decision to move back in with parents as spiralling rents made putting anything significant aside next to impossible.
They had tried to get a mortgage at that point but were unable to do so and decided that moving home was the best option to raise a lump sum that would make getting a mortgage a lot easier.
Now the problem is that rising house prices have made the size of mortgage they intended to get woefully inadequate to get a suitable home.
This cycle has drawn out the situation of living in a crowded house.
It was fine for the first year when we thought we'd be out of there but three years later it's hard because my grandmother has moved in with us in the meantime because my grandfather passed away. So there's myself, my parents, my husband, my brother and my nan all living in one house. So it's quite full.
Income
While stories like that give lie to the perception that millennials all spend their money on avocados and lattes and aren't interested in buying homes, there is good reason why that image remains.
In part it's because it's true for some people.
For many young people the idea of buying a home has become such an impossibility in the short-term that saving for it is simply ignored.
Instead, the discretionary income that could otherwise have been put into a savings account is free to be spent elsewhere.
"The whole smashed avocado and toast is a good example," Turnbull says.
But the fact of the matter is, say you're earning X amount of money, you know that isn't going to get you a property, so basically you're not trying to save for a down payment on a mortgage.  So if you're not trying to save, that frees up a whole bunch of income on a monthly basis.
"There is again a huge amount of evidence that says that once house prices get too far away from you, in terms of where your income is, then you just give up."
On the ladder
For those who haven't given up though and have made savings and have been given a mortgage greenlight, it doesn't mean the process is over. Far from it.
Then the situation becomes about house hunting in earnest.
This can be another frustrating process that involves viewings, offers, silent bids, hope and often disappointment.
It's also when the issue of affordability is brought squarely into focus as first-time buyers struggle between being sensible about what they can afford and pushing the envelope to actually get somewhere.
Another prospective buyer based in Dublin says she and her husband have felt like they've had to resist pressure to go beyond the upper limit of their budget.
"We're seeing the same people at all these viewings and it's kind of like you almost want to have a conversation with them privately and go 'what's your limit? Because if your limit's more than mine I'm not going to cost you money,'" she says.
While people sometimes say 'could you not have gone for an extra three or four grand?', it's not really four grand, it's actually 12 grand because that's how long you're going to be paying for it down the road. I think people lose the run of themselves. And I remember saying, 'I don't know if I love the house that much or if I just got ridiculously competitive.'
"Because you're so desperate because it's so tough when you're seeing all these other couples that are exactly the same as you."