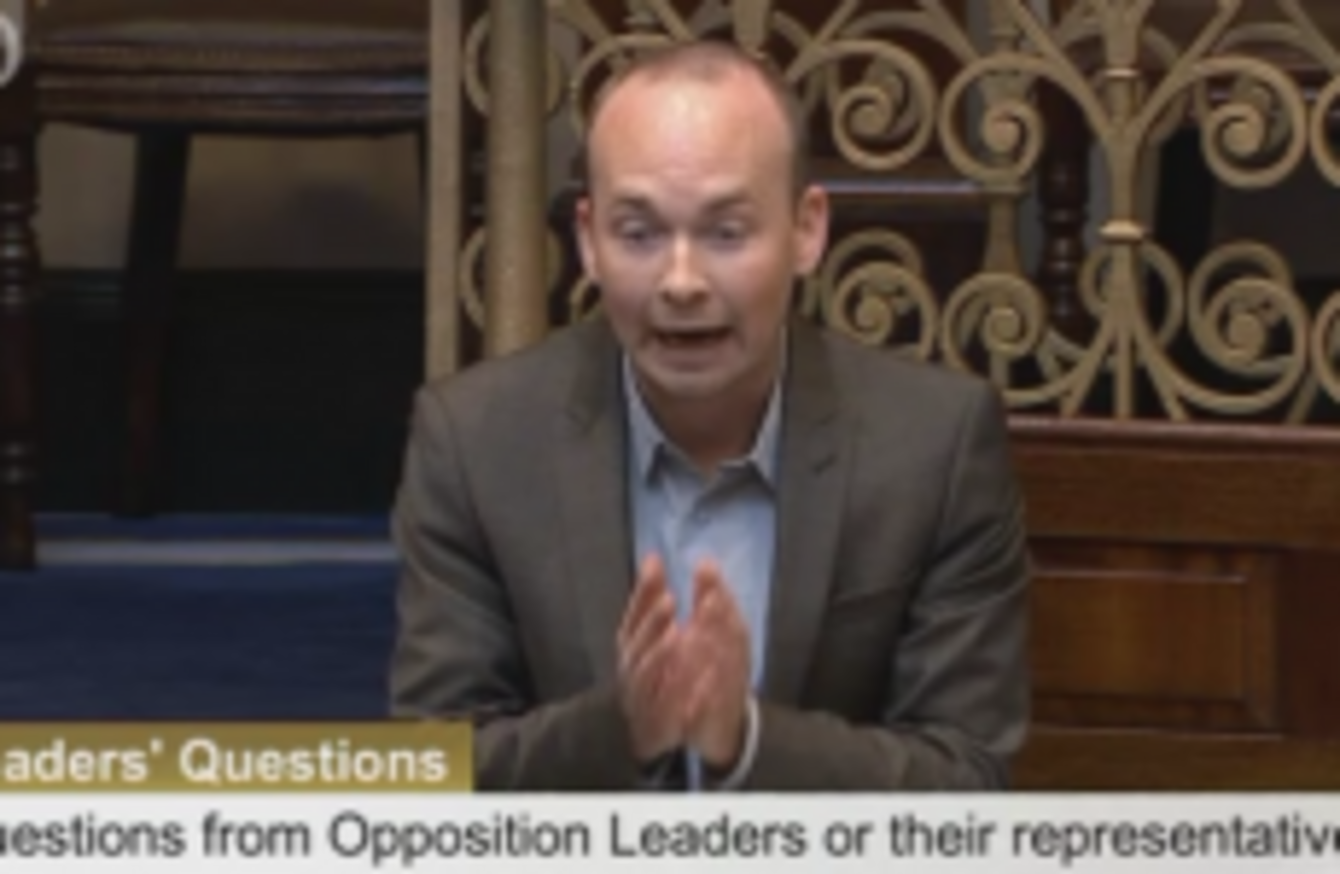 Paul Murphy
Image: Oireachtas.ie
Paul Murphy
Image: Oireachtas.ie
Updated: 5.17pm
PAUL MURPHY HAS brought up the issue of water charges in the Dáil once again.
The Anti-Austerity Alliance (AAA) TD criticised the fact Irish Water won't tell him how many people have paid their bills.
When Murphy asked the Taoiseach about the issue last month, Enda Kenny told him to "toddle along" to a meeting with Irish Water in Leinster House later that day.
The Dáil was suspended twice shortly afterwards due to a row over Kenny telling Murphy and his AAA colleague Ruth Coppinger "where to go".
When Murphy didn't get answers at the meeting, he submitted a Freedom of Information (FOI) request – but didn't get the response he was looking for, saying the utility told him disclosure "could result in undue disturbance of the ordinary course of business".
Murphy said Irish Water confirmed that as of 18 May it had issued 1,282,067 bills to customers. Of these, a total of 788,831 were due for payment.
As Kenny is in Brussels today, Jobs Minister Richard Bruton was answering Leaders' Questions.
Murphy questioned why he wasn't given the numbers, asking Bruton: "Could that be because payment levels are on the floor, minister? And disclosure of the figures would undermine your scare campaign?"
Bruton suggested Murphy appeal the FOI decision if he's unhappy with it, telling him: "I don't have the information that the deputy seeks here available to me."
The minister went on to say that Irish Water is an "important national structure" that will help deal with leaks, raw sewage and the fact that Dublin's "supply system on a knife edge".
Murphy said it is "simply not credible" that the government hasn't discussed level of payment with Irish Water, and the only conclusion he could come to was that the coalition is "hiding the figure, whereas you boasted about the bloated registration figures, because the figures are on the floor".
He went on to say the claim that the government saying it can take the charge from people's wages or social welfare payments is a "dirty lie".
Murphy shook his head as Bruton again reiterated Irish Water is "a very important element to a strategy to improve our water system".
When Murphy said Bruton didn't answer the question he asked, the Ceann Comhairle told him it wasn't his place to answer questions but to chair, stating: "Listen, you've had your say, will you stay quiet please."
In his response to Murphy last month, Noel Shannon, the FOI officer at Irish Water's parent company Ervia, said:
"Releasing information relating to bill payment rates even before all bills have been issued is clearly premature and would unduly impact upon Irish Water's ordinary course of business.
"In my view the most important public interest at issue is that Irish Water be afforded the opportunity to operate as a high performing commercial utility company and to bring about reform of Ireland's water sector, on behalf of all the Irish people."
Have you paid?

Poll Results:
I haven't decided yet (1391)