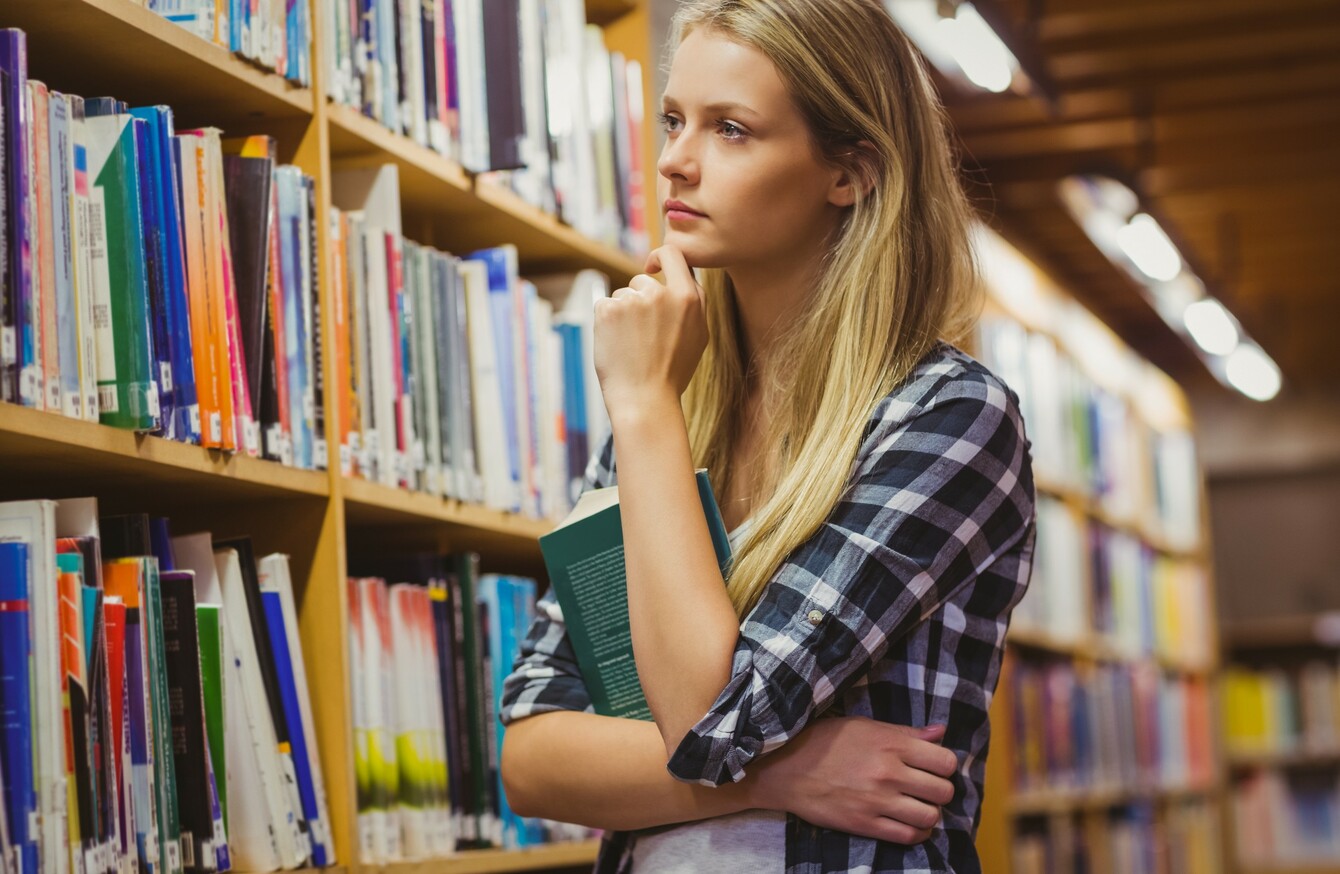 Decisions, decisions...
Image: Shutterstock/wavebreakmedia
Decisions, decisions...
Image: Shutterstock/wavebreakmedia
This article is part of our Change Generation project, supported by KBC. To read more click here.
CHOOSING A CAREER is one of the most important decisions you will ever make. Some people have it all figured out and will know exactly what they want to do and how they will achieve it. For many though, it's not so simple.
Before deciding on a career path, ask yourself a few questions: What do I enjoy doing? Where do I want to work? What are employers looking for?
The jobs market
Every month Morgan McKinley releases an Employment Monitor, tracking job opportunities across the economy. In a recent report it found the IT sector is doing the most hiring right now.
At a graduate level, GradIreland has found that companies in the accounting and financial management sector are the top employers of those coming out of third-level education, making up almost one third of the total. It also found there are good opportunities for graduates in the engineering & manufacturing sector, as well as in IT.
A separate report backed by the employers body IBEC, has signaled a major jobs boost is on the horizon for the Irish bio-pharma sector, with the promise of 8,400 new jobs between now and 2020.
Jobs.ie, Irishjobs.ie, RecruitIreland.com and Indeed.com are just some of the advertising sites where you can browse for jobs in Ireland. To find graduate jobs search here. For graduate jobs abroad you can find more information here.
Choosing a career path
Ruairi Kavanagh, editor of GradIreland, told TheJournal.ie that while people should think strategically when it comes to choosing a career path, it's important not to be blinded by what is popular at the moment.
"Jobs exist now that didn't exist four years ago and the landscape is going to change dramatically again."
Sectors like IT, pharma and engineering will continue to be good employers into the future, he said, but deciding on a career path should involve more than just job prospects.
"If you're looking to get into something just thinking: 'yes that looks like a good salary prospect or a job prospect'. It's not really the way to go. You have to have something that aligns with your interests, something you're really passionate about."
What employers want
IT literacy is a top priority for most employers. People with a STEM (Science, Technology, Engineering and Mathematics) background are in high demand, while a fluency in a foreign language is a big advantage, especially to anyone hoping to work for a multinational organisation.
Ruairi Kavanagh says whatever sector you are in, if there is a particular company you want to work for, then you should approach them and ask for work experience. It shows initiative and if successful, you will have your foot in the door.
Companies are looking for something that makes potential employees stand out from the crowd. Being involved with clubs and societies at college can also help, says Kavanagh.
"It's not enough to show up with a degree because you are just one of 35,000 others. You're just not going to have the key differentials. They're looking for people who have gotten involved in college, debating societies or potholing clubs, whatever it is. It shows that you can take responsibility for something and you can complete a project. You want to make yourself seem like a well-rounded person."
Realistic salary expectations
GradIreland figures put the average salary for an Irish graduate at €28,461, but almost 20% will earn less than €24,000 in their first year, while one in ten will earn less than €22,000.
At the upper end, 25% of graduates can expect to make more than €32,000 per year. The best paid sectors are law, legal services and patents, where the average salary for graduate positions is almost €40,000.
Accountancy and financial management jobs had the lowest average salary at €23,000, despite accounting for almost one third of all graduate jobs.
While most of these jobs are located in Dublin, the average pay there is at the bottom of the scale at €24,000.
Apprenticeships
Third-level education is not the only way to get the career that you want.
Guidance counsellor with The Careers Portal, Bernadette Walsh, told TheJournal.ie that apprenticeships can be great alternatives for those who prefer a more hands-on approach to building a career.
"It's hugely important to remember that apprenticeships are a great opportunity for people to earn while they learn. It's a very practical way of getting into the area of employment you want and also continuing to learn in a hands-on way," she said.
Traditional apprenticeships related to the construction sector became virtually non-existent during the recession, but they are being sought after again as trade improves. Information on how to get an apprenticeship in a construction related discipline is available from the Construction Industry Federation.
There are also options outside the traditional types of apprenticeships in sectors like hospitality, financial services and insurance. There are 25 new or proposed apprenticeships in the pipeline, from level 5-9 on the National Framework of Qualifications. For example, Accounting Technicians Ireland is now offering a two-year course to school-leavers. It gives successful candidates the opportunity to earn-as-you-learn and puts them on the path to becoming a chartered accountant.
A comprehensive list and details on the apprenticeships available in Ireland, can be found here.
EIGHT QUESTIONS TO ASK YOURSELF BEFORE CHOOSING A CAREER PATH
Do I have a real interest in this sector?
Am I going down this career path for me or for someone else?
How do I work best? Do I need structure or do I work best at my own pace?
Where do my strengths lie?
Money – will I make any? (Obviously this isn't the be all and end all, but you should be realistic in your salary expectations.)
Is location important to me?
What kind of people will I work with?
What are my chances of getting an actual job?