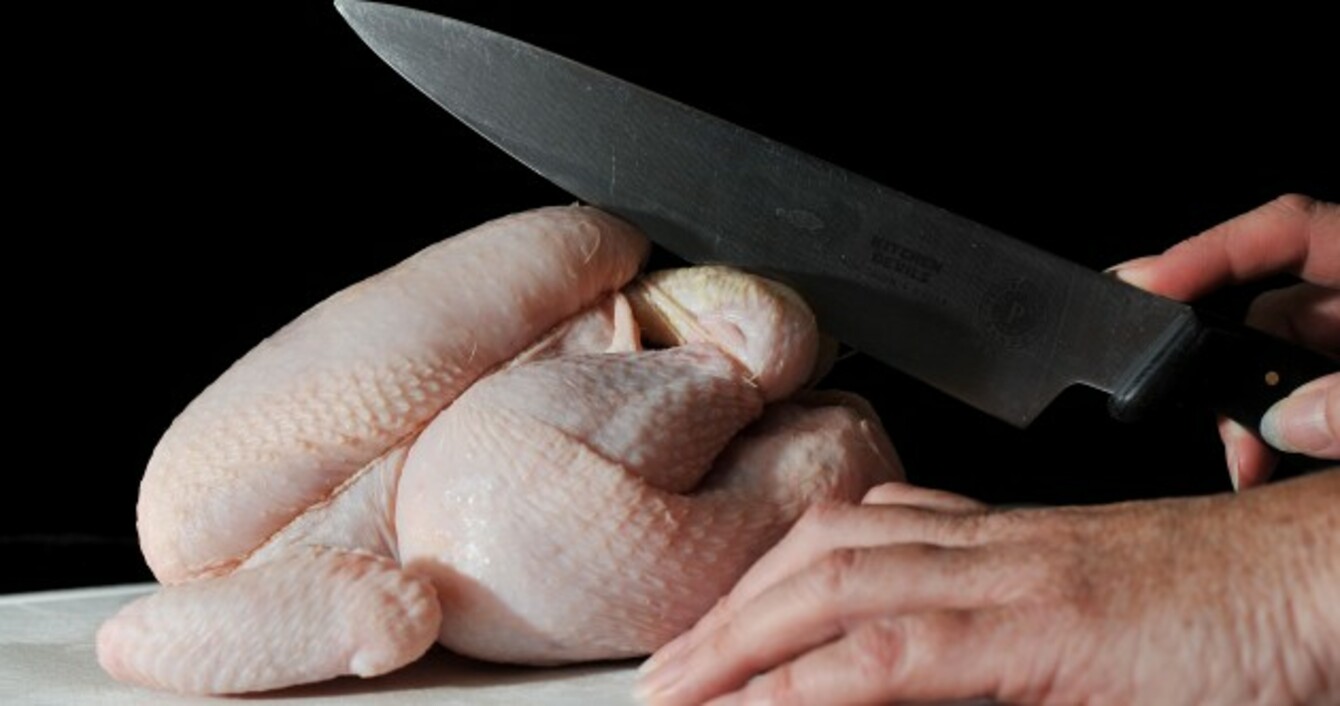 Image: Nick Ansell
Image: Nick Ansell
THE FOOD SAFETY Authority of Ireland (FSAI) has warned people to be extra vigilant when preparing chicken.
Dr Lisa O'Connor, chief specialist in food science at the FSAI, said that about half of Irish chicken contains campylobacter – a bacteria that can cause severe food poisoning.
A recent study by the UK's Food Standards Agency shows that 73% of fresh whole chickens in the UK are contaminated with campylobacter.
O'Connor said the level of contamination between Ireland and the UK differs because the FSAI study tested birds both with and without skin, rather than just whole birds.
Campylobacter is more typically found on a chicken's skin.
O'Connor said if a person gets food poisoning from this type of bacteria the most common symptoms are diarrhoea and abdominal pain, adding that in the most severe cases the ill-effects can last for a week or ten days.
She noted that there can be a gap of two to five days in between when a person comes into contact with the bacteria and when they get sick.
More common than salmonella 
Provisional figures from the HSE's Health Protection Surveillance Centre show that 2,617 people contacted them about getting campylobacter in 2014, while 261 people sought advice after contracting salmonella.
O'Connor said that due to the high prevalence of salmonella a few years ago, people are extra-cautious about cooking chicken thoroughly.
She said the thickest part of bird needs to reach 75 degrees to be fully cooked.
Meaning hopefully you'll go from this:
To this*:
*Veg is optional
However, campylobacter is not usually contracted due to undercooking, rather cross-contamination when preparing the meat.
If you still feel like chicken tonight, here are some tips on avoiding this from happening:
DO carry raw chicken home from the shop in a separate, sealed bag to avoid it coming into contact with ready-to-eat food;
DON'T pre-wash your chicken – all bacteria will be removed once the meat is properly cooked;
DON'T take short cuts like just wiping your hands after you've touched raw chicken – wash them thoroughly in warm, soapy water;
DO put the utensils you used in a dishwasher straight away. Failing that, allow them to steep in warm, soapy water;
DON'T wash your utensils straight away as this increases the likelihood of bacteria splashing outside the sink;
DON'T recycle the plastic container your chicken comes in – even if you wash it first, it still contains harmful bacteria.
O'Connor said that "too much of the burden is falling on consumer" in relation to campylobacter, and the FSAI is working with farmers, processors and retailers to try and cut down on the risk of contamination.