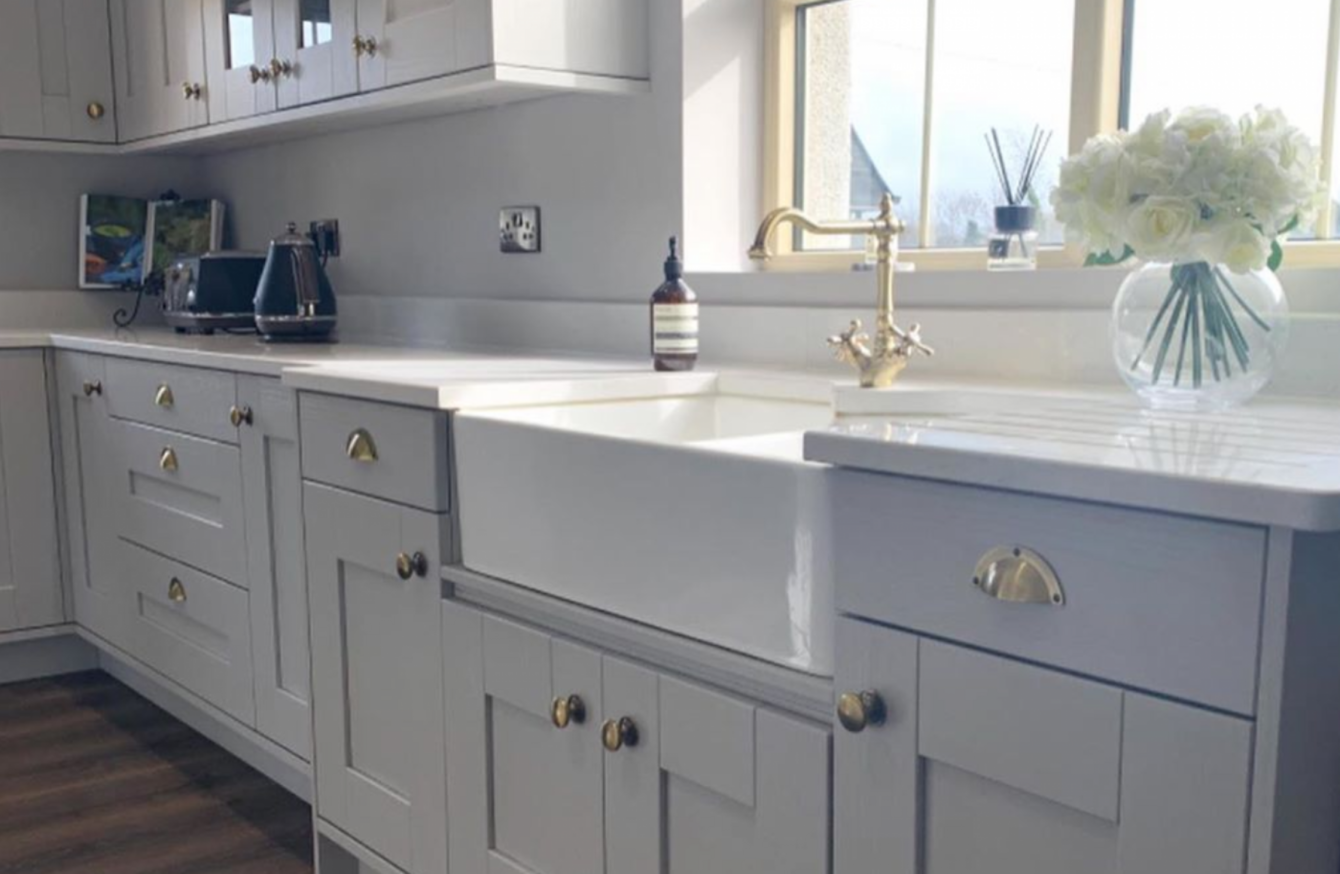 Kate's kitchen.
Kate's kitchen.
About your home
Where is it? It's set on 2.6 acres on the banks of the Royal Canal in the midlands. 
What type of house? It's a detached three-storey house with a detached garage and stables.
How many bedrooms and bathrooms? Seven bedrooms and four bathrooms 
When did you move in?  St Patrick's Day 2017 
About you
Name: Kate Nally McCormack
Age: 36
Occupation: Environmental Health Officer
Who else lives there? My husband and our three daughters 
What made you choose this home over others?
I used to walk by the site years and years ago and knew that one day we would be building our dream home on it – it was just a matter of when, not if! The site itself is spectacular, with the Royal Canal on our doorstep; we can literally cycle the whole way to Dublin.
It was designed by my husband and incorporates modern features with a more traditional feel. This accommodates both our tastes. The majority of the internal work was also done by my husband, everything from tiling to painting. 
Having grown up without a garden, it was so important that we had one so that our girls could have the outdoorsy upbringing that I dreamt about. My husband loves horses and they are so lucky to have their horse right next to the house. 
We rented for 10 years before moving into our home, and in that time my husband had drawn the plans of his dream home, including every single detail, such as where every item in every room goes! This was great for things like the location of windows and doors, which is so important to maximise space and light.
What is your favourite place in your home? 
I have so many! The outside curved patio area was amazing during last summer's heatwave. Sitting outside every evening having a BBQ and watching the girls play was a dream! If only every summer was as amazing… 
The family room, with its double-height ceiling, is the place we all gather every evening. It's airy and spacious but so cosy. We have some amazing finds in this room, such as an eight foot travertine fireplace and a Jotul stove that burns every evening. 
The kitchen is so spacious and really is the heart of the home, as most of our life revolves around eating! 
Is there any part of the home you don't like?  
I really hated having a back door – one of my pet peeves is when people use the back door of a house. So we decided not to have a back door. Instead, we have double doors in the family room, which people use to access the house coming straight into the family room. 
Is there any part of your home that makes it unique? 
I think the overall style of our house makes it unique. It's not often you see a home with different angles, curved concrete stairs and a double height ceiling with eight sides. The kitchen is finished with an amazing detailed ceiling that my husband made. Little touches like that can really transform your home. 
Take us through an average day in your house, room by room.  
We both work full time, so weekdays can be a bit manic in the mornings with getting up and out, but here's how we generally spend weekend days as a family. 
8.30am: We put our kids to bed at 8pm on a Friday night so they will sleep for longer and we all get a lie in! My girls are such good sleepers and if the six-year-old and four-year-old wake, they are happy to play in their rooms until we all go downstairs.
9am: My husband always makes breakfast and sometimes he even brings it to me in bed! This is usually pancakes for the girls and poached eggs, fried brown bread and avocado for us.
As the week is so busy, we spend the weekends chilling. The kids are just a little bit young for all the activities that kids do, so I love that I get all weekend with them instead of bringing them to classes all day. 
10-11.30am: The girls like to colour and play. We are so lucky to have a playroom as it's a godsend for storing everything. We have one rule at home – no toys anywhere else in the house, so this ensures the house is relatively clean and organised. They clean it themselves, but only if they get some chocolate afterwards… 
11.30am: I do find myself cleaning all day, somehow. The Dyson V8 definitely gets its money's worth! I do like my house to be clean as I find that a messy house equals a messy mind. 
12pm: My two-year-old goes down to sleep, usually for three hours or so. Thankfully, she's a great sleeper. In that time, I organise the house and maybe do some batch cooking for the week ahead. 
1pm: Feeding time, does it ever stop?   
3:30pm: We try to have a family walk along the canal at the weekend, the older kids cycle and I bring a buggy for the youngest. We do a seven kilometre round cycle if the weather is fine. 
5pm: We definitely eat out a lot as a family, even when the kids were only a few days old. It's important to us as a family. They love to try new foods and it's a great way to unwind after a busy week.   
6pm-8pm: Time to wind down even more by having some tea, sometimes make a few eggs and have long bath. After this, we put on pjs and head beside the fire. We watch some TV before books and bed. The kids absolutely live for books, all three of them. 
8pm onwards: I love to sit in the formal sitting room to drink tea and read magazines. Sometimes I just sit there wondering what else we have to get for the house. I don't think that ever ends, but that's what I love.
Is there anything you'd do differently if you were doing it again?
We would probably have a boot room. I know it's definitely a luxury but in a house with four girls, that equals a lot of shoes and coats. It's never too late though, and we have a small temporary office downstairs that we are changing to a boot room soon! 
Another mistake was not putting sash windows everywhere. We didn't put them at the side and rear of the house, which annoys me now as it's too big of a job to replace them as they all have granite surrounds. 
Honestly, as well thought out as our self-build was, there are always changes to be made as your family life changes and interior taste evolves over time, but that's the fun of it. I am currently painting the utility room and my next project is the kitchen island.