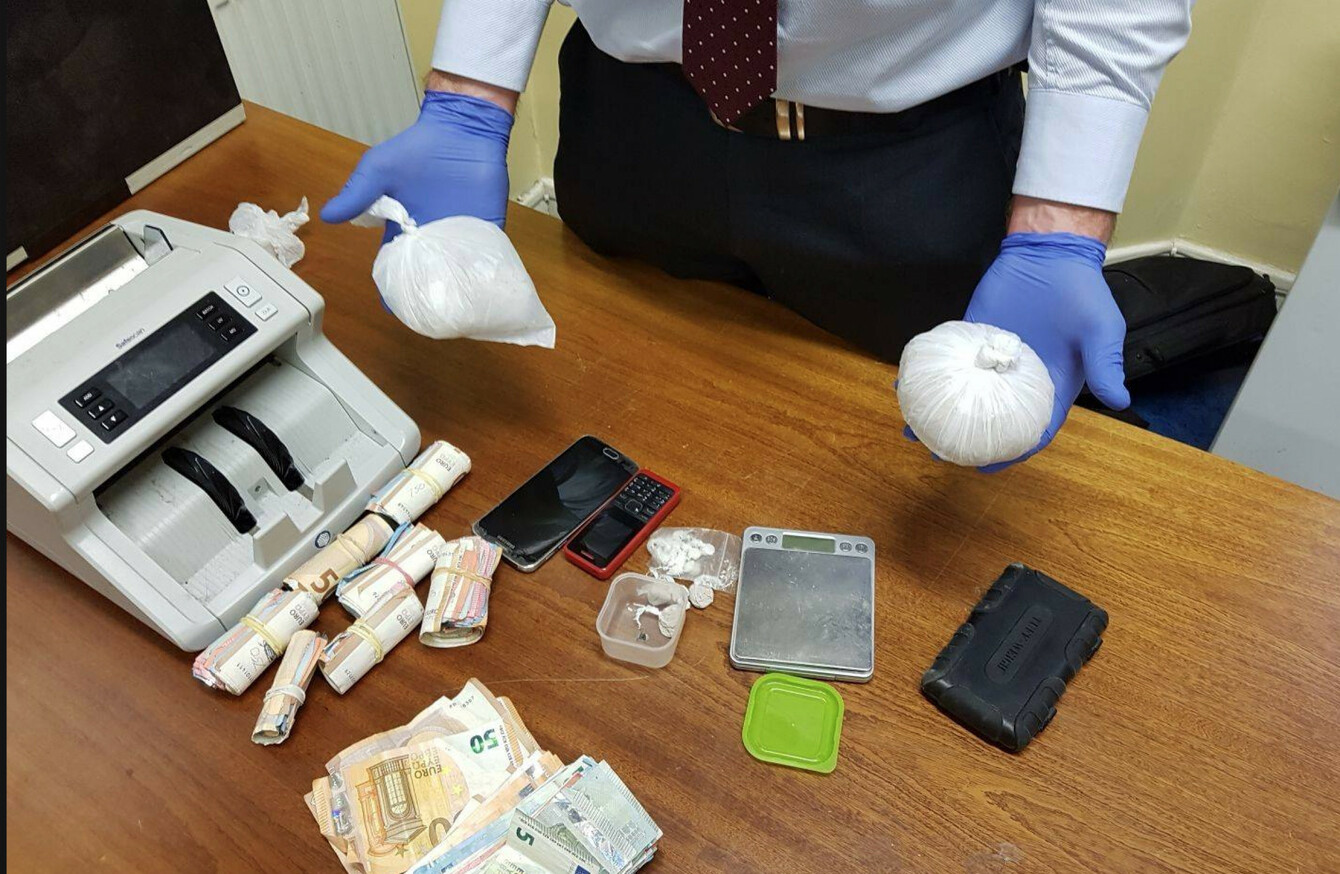 A file photo of a garda heroin seizure.
Image: Garda Press
A file photo of a garda heroin seizure.
Image: Garda Press
OVER THE LAST decade a violent heroin gang has been plying its trade around Ireland. It uses human trafficked teenagers to do its bidding. It ordered an acid attack on a garda who was investigating it. Young women have been forced into the sex trade because of it. Yet it has operated below the radar for a long time thanks to the Kinahan/Hutch feud.
The Lithuanian gang is run by two men, who are originally from the Kaunas and Plunge areas of the Eastern European country. They arrived into Ireland over a decade ago, one having murdered the gang's top boss in Belfast and effectively taking control of the enterprise.
Over the last decade, this gang has moved from wholesale heroin dealing and has started operating in the prostitution trade.
As of now, gardaí believe this gang is operational in Cork, Waterford, Dublin, Kerry, Galway and Belfast.
Several garda units, including those who specialise in human trafficking investigations, are aware of this drugs gang. It is understood a high number of young Lithuanian men and women have been forced into criminality by the gang.
Its modus operandi for recruiting new members is to promise young and poor people from Eastern Europe that they will get legitimate jobs when they arrive into Ireland. But when they do get here, their passports are taken from them and they are forced into either the drug or sex trade, depending on their gender.
In fact, gardaí believe that a teenager who only arrived into the country in the last three months may have been the person to carry out an acid attack on a garda who is investigating the workings of this gang.
The trafficked people are used as disposable pawns by the gang. If they are arrested for possession with intent to supply, they are usually given bail as it would be their first offence in Ireland. The surety is paid by gang cash and then the young indentured drug dealer is moved to another location where he is once again forced to sell drugs. The dealers are given around €2 for every bag they sell.
The top tier of 'workers' is expected to bring in nearly €150k per month. The dealers are given food and a small amount of cash. The money is smuggled back to Lithuania by a number of trusted couriers. They are paid a fraction of the cash that they are trying to bring home for the gang.
Attack on garda
A member of a garda drugs unit was attacked with acid by a member of this gang last month.
In recent weeks, the garda has had his property damaged. Soon after that incident, two well-known members of the gang turned up outside his child's school while the officer was picking his child up.
In the last month, the officer was driving home from work when his car was doused in what medics believe was an acidic solution. His car window was open at the time and he received some first-degree burn injuries as a result. He received treatment in a hospital and was discharged from medics' care later that day.
It is understood that gardaí had conducted a number of raids on the criminal organisation and, subsequently, the officer began receiving threatening phone calls. Garda management believes its focus on the gang led to the initial intimidations.
The garda who was attacked has yet to be issued a Garda Information Message (GIM) – an official warning to those who are the subject of a serious threat against their personal safety.
It is believed that the officer did not make an official criminal complaint in relation to the attack but informed his superiors. Sources have said that senior gardaí are aware of what happened and have offered the man leave as a result. Investigations into the incident are ongoing.
#Open journalism No news is bad news Support The Journal

Your contributions will help us continue to deliver the stories that are important to you

Support us now
John O'Keeffe, spokesman for the GRA, told TheJournal.ie: "The GRA is horrified, though not surprised, at the level of violence that is directed towards frontline gardai everyday – up to and including acid attacks.
"The criminal fraternity has no fear of attacking gardaí as there is little or no judicial sanction. The association now calls on government to introduce without delay mandatory minimum sentencing for all attacks on our frontline."
International operation
Gardaí are working with their Lithuanian counterparts who are well aware of the criminal past of the top two in the gang. Intelligence is constantly being shared between the two countries. The PSNI is also kept up-to-date due to the gang's connection to Belfast.
A number of Criminal Assets Bureau investigations – as well as Revenue probes – are also ongoing.
Gardaí believe they know who the gang's drug supplier is and a number of potential fronts for washing drug money are also being probed by gardaí.