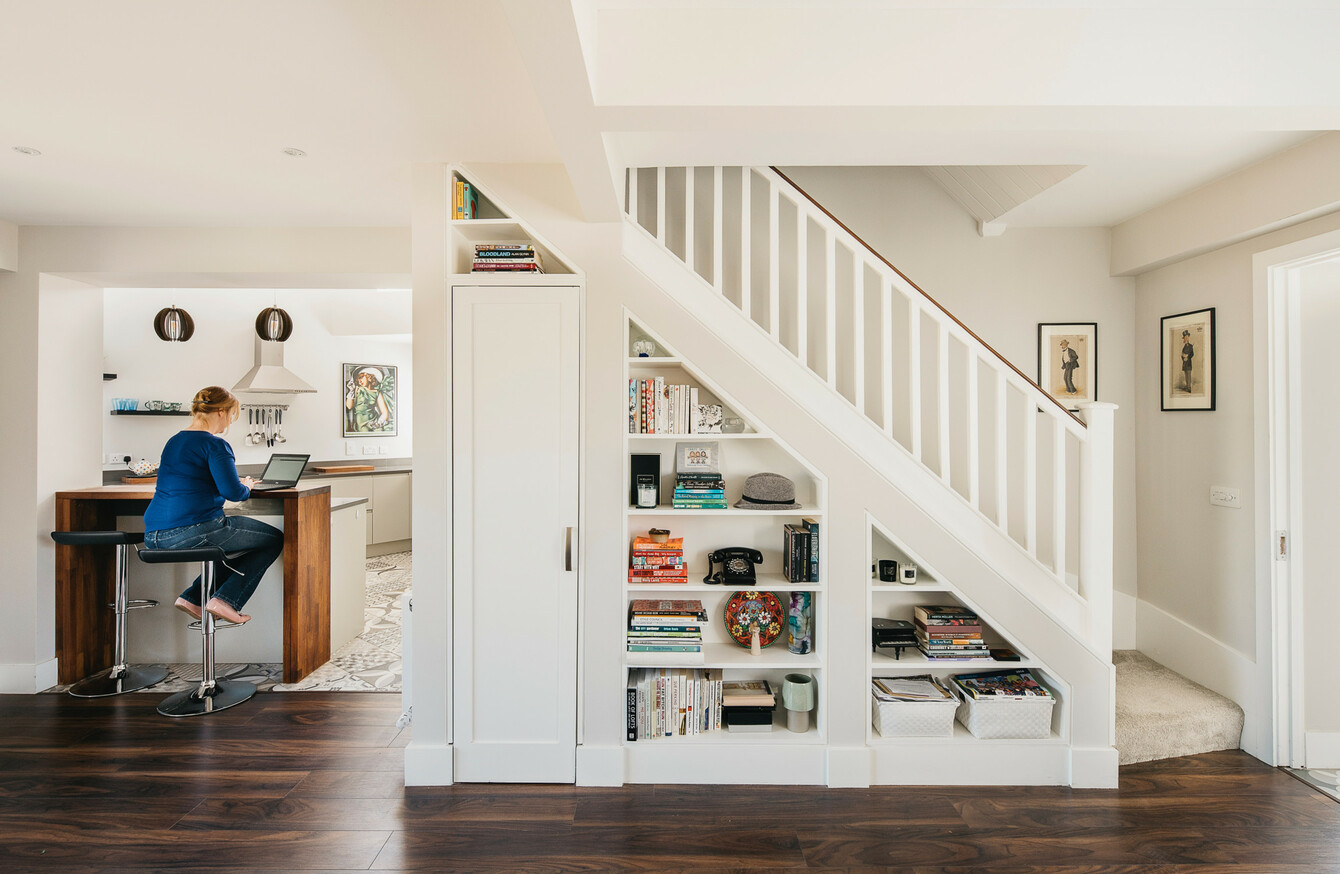 Image: Myles Shelley
Image: Myles Shelley
"BEING ABLE TO live happily in a tiny house is as much about the person as it is about the physical size of the home. You have to adapt how you do things."
Like many Irish architects, Stephen Musiol started out working on large scale spaces like apartment blocks and new developments.
Six years in, the Dublin-based architect decided to take a different tack, turning his attention to "ordinary homeowners who were either trying to make the best use of what they already had or buying a small place that needed work."
Stephen set up Small Spaces in 2009, and over the past nine years has built up a reputation for transforming tiny, dark and generally uninspiring spaces into functional, beautiful homes for his clients.
"If someone is working with an existing building, my advice would be not to fight the space. With new clients we'll always discuss layout changes and what should go where first. Maybe you add a door or move the kitchen around. Often the solution is very straightforward."
One of the first small space projects Stephen worked on was a "complete wreck of a house" in Irishtown, an inner suburb of Dublin that's full of older terraced homes.
The client had won a consultation with me at a charity event and I ended up working with her on a long-term project. It was a terraced two-bed with only an outside loo and no kitchen to speak of, and the whole place was only about ten feet wide. It was the first time I was really challenged about fitting things in.
Stephen worked with the homeowner to rearrange the living space around an outdoor courtyard that once held the toilet, and also installed a functional kitchen.
I realised then that those sorts of projects are like puzzles that you just get stuck into. That house is still one of my favourites.
Often it's not the existing space itself but the work that has been done over the years that has left the biggest eyesores, says Stephen, who has consulted on everything from unused retail units to former council houses.
"I come across bad extensions a lot," he admits. "They're either just big boxes at the back of the house, or something has been added on that has given the property a bizarre layout."
If you're considering building on or extending your home out the back, tread carefully, and consult an architect if you can. "If you're building on, be mindful of how best to integrate the new space with the rest of your house. What's the impact on what you already have?"
A recent project in Harold's Cross contained one particularly confusing extension "with the bathroom accessed halfway up the stairs." Stephen's brief was to remodel the existing extension, insulate it, and improve the overall layout of the house.
Sometimes, with tricky extensions like these, it's possible to work with the shape of the house to create "a feeling of variety and space" without demolishing the existing extension entirely.
Here's the staircase before, feat. bathroom:
And here's the space after:
"The shape of the new steel stairs allowed us to create a comfortable, if small dining area to the side of the stairs," says Stephen.
In a small hemmed-in house like this, getting natural light in should be a key priority for you. The new kitchen here has a large rooflight, and daylight floods down the new stairs from a high window.
And what came of the rogue bathroom? "It would have been impossible to move the bathroom upstairs so we carefully laid out the remodelled extension to put the bathroom as out of the way as possible."
Open-plan living is often presented as the solution to getting the most out of a small space, but Stephen isn't a big fan:
The idea that a room will feel bigger by making it all one is a myth I'm constantly fighting against.
"Some get it, some don't," he says. "When you walk in to an open-plan space, what you see is what you get. There's nothing else to discover – and there's no space for the washing machine, the clothes horse and all the essentials of everyday living."
So what's the alternative? Giving each space its own identity, suggests Stephen. A recent corner house project in Kimmage began with a large living room and a tiny kitchen off of that.
Rather than make the space open-plan, Stephen used an island unit to separate the living area from the new extended kitchen.
The new kitchen extension featured a widened kitchen door, leaving a wide open space to allow daylight to come through.
"The angles and the unusual shape of the spaces created add to a feeling of variety and space in the house, while at the same time all the practical space a house needs are covered," says Stephen.
Even if you're not quite ready for a total home transformation, there's heaps you can do to makeover a tiny living space.
"Storage solutions are key," says Stephen. "A lot of it comes back to practicality again. Where do the coats go? Do you have hooks? Where do you hang your clothes to dry? If you can fit in a utility room you'll open up a lot of space elsewhere in the house."
Finally, says Stephen, living in a tiny home is all about attitude, regardless of whether your place has been renovated or not.
You can't have too much excess stuff. You can't expect to have things that just won't fit. When you have that attitude right, you can be very happy with quite limited space.
When you're making the decision to sell up or renovate, everyone'll have their opinion – and won't think twice about letting you know what it is. But how do you block out the noise and get to the point?
At permanent tsb, we value finding a better way. If you're thinking about doing up a place, you'll want to do things the right way the right way. Head over to our Bring It Home Hub for the inside scoop.
Lending criteria, terms and conditions apply. Security and Insurance required. permanent tsb p.l.c is regulated by the Central Bank of Ireland.