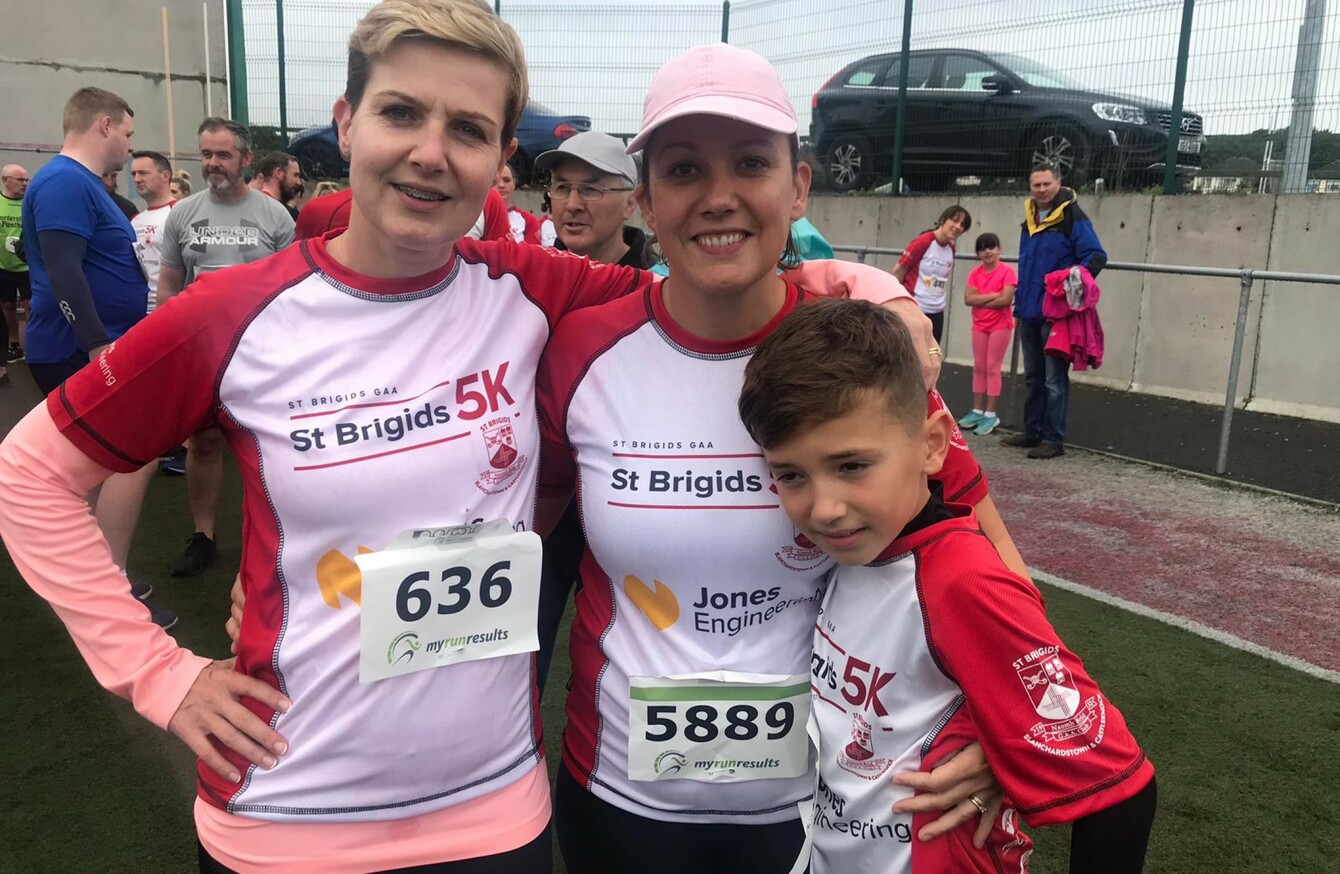 Sharon after completing a 5k earlier this month
Image: Sharon Power
Sharon after completing a 5k earlier this month
Image: Sharon Power
IN MAY 2018, SHARON Power found a lump while she was in the shower. At the time she was on holidays with her parents and like a lot of us, she waited until she was in about something else to ask the doctor about it.
Unfortunately, the lump was triple negative breast cancer – an aggressive form that does not respond to hormone therapy or drugs that target hormones. Her life was suddenly put on hold.
We're now less than a month out from Cups Against Breast Cancer - an Irish Cancer Society appeal to the public to hold a coffee morning on October 11. It's all to raise much-needed funds for people affected by breast cancer just like Sharon.
Here, she shares her story of diagnosis, treatment and the incredible support she got along the way…
'By the way, I have this lump'
I was away with my mam and dad at the time – my dad had just been diagnosed with Alzheimer's so I went with them. In the shower one day I found a lump – that's how it all started. My gut was telling me that it was a new lump and it was going to be more sinister but I didn't want to be panicking.
I kept my eye on it and it didn't go away but it wasn't sore. In June I went to the GP with a sore throat and said 'by the way, I have this lump, would you have a look at it?'. I was a bit embarrassed, I sort of felt I was overreacting and that I needed my sore throat as an excuse to go.
My GP was fantastic – she was so on the ball. She sent me to get an assessment in the Hermitage and had taken into consideration where I lived and the fact that I had two kids. The mammogram didn't show up a lump – it was only their faces and the fact that they weren't reassuring me that I knew it wasn't nothing.
They said they were going to take a biopsy and the minute I heard that, I knew it was bad. I had gone to the assessment on my own and I had to contact my husband to pick me up because I was too upset to drive. In the meantime, we were due to go on a cruise and I kept it all to myself, from my in-laws. 
'I knew it was going to be bad news'
While we were away, I got a phone call that I had to come home and I knew it was going to be bad news. When we flew into Dublin Airport, we were due to see a consultant the next day. They told me they had found cancer cells and I felt like the rug had been pulled out from under me.
At one point, I wanted the doctor to stop talking and I asked my husband to tell him that. It was a really, really difficult day. I was so distraught and traumatised. All my family arrived to comfort me. I work in the gardaí and that week I was supposed to go for a second round interview, which I deferred. I felt like I had no future at that point.
I had to have a mastectomy in late July, a CT scan and a breast MRI. Waiting for the results of that was terrible – I was so upset. Mam had to come and stay with me and we had to get someone to mind my dad. 
Two weeks after the mastectomy, my boss brought me to my interview. I put on my uniform, went out and did my second interview and he drove me back. On the same day, I got the phone call to come in because they had the results of my pathology – I was told I had triple negative breast cancer.
My friend held my hand while they shaved my head
It's a rare type of cancer that can't be treated with hormones – there's no targeted treatment for it. All that was available was surgery, chemotherapy and radiotherapy. I came home and Googled 'triple negative breast cancer' and found out it was very aggressive. I was told the cancer had spread to some of my lymph nodes so they had to remove them.
I had a month to recover from surgery before I started chemotherapy, once a week for 12 weeks. My hair fell out – it's the worst part of having cancer because you feel like you have the face of cancer. It's really traumatic if it's long. A very good friend of mine who had had cancer came with me to shave my head. She held my hand and I bawled. I lost my eyelashes and eyebrows – it's a really hard part of chemo. 
We met other patients who were in getting treatment. We became really close and used to sit together, talking about our families and our previous lives. We were all in similar situations but different ages. We became lifelong friends. There was a tea lady called Linda who was an absolute angel – she used to float into our cubicles, sit down and chat – I loved seeing her every Tuesday.
Seeking support
I used the services of the Daffodil Centre in the Hermitage. I'd go in and sit with one of the women there on difficult days when I was very emotional. Their door was always open and I felt so safe. She linked me in with another patient who was further down the road with her treatment, I was able to ring her and see she was doing OK – I didn't know anyone with the same type of cancer.
I also used to use The Irish Cancer Society's Cancer Nurseline (1800 200 700) rather than looking up 'Doctor Google' which sends you down a black hole. I was able to get the facts from the cancer nurses. They really helped me. They also put me in touch with The ARC Centre on the South Circular Road which offers counselling, reflexology and mindfulness – it was fantastic.
I didn't know these services existed – it was only because of the Daffodil Centre in my hospital – thank God it was there, it turned out to be a lifeline for me. I had my four weeks of radiotherapy in February, finished all my treatment, had a mammogram in July and everything was clear which was great news. 
The road to recovery
In 2020 I'll be returning back to work. I got a phone call in September to say I got the promotion. I was in the middle of my chemo treatment so it was bittersweet. I was so happy but couldn't go out and celebrate. The guys in work were all ringing and congratulating me, so I decided I was going to turn that into a positive and focus on everything going well.
I decided I would be returning and by that stage, I'd be looking forward to my promotion. The gardaí were very supportive and reassured me not to worry about anything – I was very well looked after by them. Only when the chips are down do you realise how lucky you are to have the people around you that you do.
I'll always remember someone saying to me to treat my treatment like a marathon – it's about running those 26 miles and the journey of getting there. You take it step by step and day by day. That really resonated with me and helped me throughout my treatment.
Want to do what you can to help people like Sharon when they really need it? The Irish Cancer Society's Cups Against Breast Cancer campaign raises much-needed funds for people affected by breast cancer. Get your cups out for a good cause on Friday, October 11th. Find out how you can host a coffee morning in your community, workplace or office or check some other event ideas here.