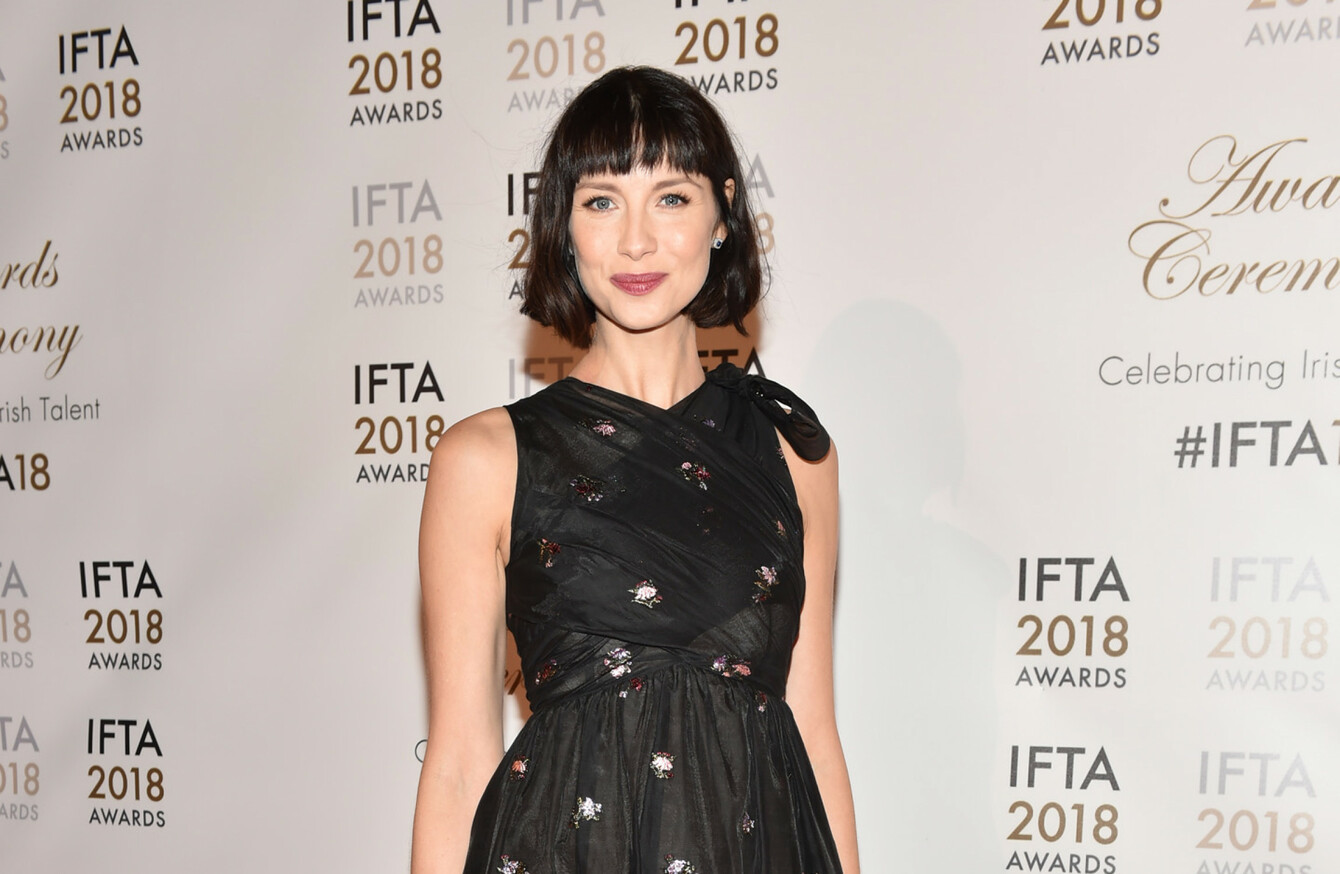 A NUMBER OF Irish actresses and film industry members wore black at tonight's IFTA film awards to pay tribute to the Time's Up and #MeToo movements.
Host Deirdre O'Kane was one of those wearing black at the event, something she suggested might happen back in January.
"I choose to wear black this evening not just to pay tribute to the MeToo movement, but to pay tribute to Maureen O'Hara," said O'Kane as she opened the event, which saw a raft of Irish stars across film, drama and animation being awarded for their work.
She also noted the lack of a full suite of women in the Best Actress category during her opening speech. Just three women were nominated, compared to five in the equivalent category for men.
Also wearing black were Outlander actress Caitriona Balfe and Irish Film Board chair Annie Doona, who has been active in promoting gender equality using new initiatives within the board.
The ceremony took place at the Mansion House in Dublin's city centre tonight. Gabriel Byrne was presented with a Lifetime Achievement Award, while other winners included Liam Cunningham, Charlie Murphy, Catriona Balfe and Barry Keoghan. The event is run by the Irish Film and Television Academy (IFTA).
The issues of pay parity and sexual harassment and assault have been high on the Hollywood agenda since last year, when women began speaking out about their treatment at the hands of powerful people in the film industry.
The hugely powerful producer Harvey Weinstein was accused of sexual misconduct, while actors such as Uma Thurman spoke out about their experiences.
While the #MeToo movement is a social media-driven campaign that has encouraged abuse victims to speak out, the Time's Up movement is spearheaded by high-profile actors and aims to raise money to help those who want to bring legal cases against alleged abusers.
In her speech, IFTA's chair Áine Moriarty said that the IFTA would be committed to fighting back against unacceptable behaviour in the film industry.
It wasn't just gender that people spoke out about - John Connors, who won an IFTA for his role in Cardboard Gangsters, talked on stage about the challenges facing him as a Traveller in the acting industry, saying that casting agents won't look past the point that he's a Traveller.
He also mentioned the Irish Film Board not funding the film, saying that it went on to win multiple awards.
Outlander star Caitriona Balfe was wearing black in solidarity with the Time's Up movement. She said she wasn't sure what other actresses would be wearing to the IFTAs – though there had been some talk that people would wear black when the IFTAs held its launch in January – and wanted to pay tribute to the people who had been part of the conversation about gender equality.
She told TheJournal.ie that she thought "it would be nice to keep the conversation going".
Asked what it was like to watch the conversation about these issues taking place, she said: "I don't think anyone was under any illusions that it didn't exist, once Harvey Weinstein [was named as an alleged abuser] a few of us were saying I bet this person and this person and this person – and sure enough they did. So it's not like people weren't aware, but I don't think anyone realised the scale and the magnitude."
She paid tribute to the courage of people who spoke out, and said that to honour them and their experience there is now the Time's Up movement, "this real solid movement that is out to change things".
The movement has raised millions to help those who want to pursue cases against alleged abusers.
"These people have lawyers and deep, deep pockets," said Balfe of the accused. "It's to try and balance the economics of it all and help the people who were really hurt by this."
She said that Time's Up is "meant to be a positive change enforcer and that's what I think, a lot of people have a lot of interest in making that a reality".
Nobody should be in fear of going in to work, nobody should have to give away a part of themselves to get work and feel bullied or pressured sexually, it's just not OK. I hope there's a lot of men or women who have been abusing their power who are very scared and it makes them think twice about doing those things.
Director Aisling Walsh was nominated in a number of categories for her film Maudie, and won an award for Best Director.
"I've been in this industry for a long time, and we never had those discussions, ever – I knew I was in a minority, we didn't have that many women making films," she said. "And so, I think it's great that people are having that discussion, and now it's great that we're questioning how many roles there are for women and maybe we need more female-centred stories and I think it's a really good thing, actually."
She said that it won't change anything major for her, due to the length of time she has been in the industry. But she said that "young women need to be encouraged to make films and became actors, become directors. Becoming directors and becoming cinematographers, that's the key".
Asked about the issue of gender balance in film, RTÉ's Miriam O'Callaghan told TheJournal.ie:
"When you look at all the stuff with Harvey Weinstein and MeToo, you realise why perhaps more women aren't coming through. But I think things are changing. I think it's actually a great time to be a woman, because I think for the first time ever, most behaviour is going to become unacceptable unless it's OK and that's been a long time coming."
But she said that she's been lucky and hasn't personally suffered from sexism. "I have to be honest, I don't know why – I have been very lucky. I started in the BBC and I came to RTÉ and I've only had nice bosses. A lot of them were men and I have to be honest, they promoted me and I even married my producer. If anything I've been very very well promoted by men and I have to be honest about that."
The winners at this year's IFTAs were:
Feature film
Michael Inside
Director – film
Aisling Walsh, Maudie
Scriptwriter – film 
Martin McDonagh, Three Billboards Outside Ebbing, Missouri
Actor in a leading role – Film
John Connors, Cardboard Gangsters
Actress in a leading role – Film 
Saoirse Ronan, Lady Bird
Actor in a supporting role  – Film
Barry Keoghan, The Killing of a Sacred Deer
Actress in a supporting role – Film 
Victoria Smurfit, The Lears
George Morrison feature documentary 
The Farthest
Short film – Live action
Wave
Animated short film
Angela's Christmas
International film 
Dunkirk
Lady Bird
Shape of Water
Three Billboards Outside Ebbing, Missouri
Drama
Game of Thrones
#Open journalism No news is bad news Support The Journal

Your contributions will help us continue to deliver the stories that are important to you

Support us now
Director – Drama
Dearbhla Walsh, Fargo
Scriptwriter – Drama
Conor McPherson, Paula
Actor in a leading role – Drama
Cillian Murphy, Peaky Blinders
Actress in a leading role – Drama 
Caitriona Balfe, Outlander
Actor in a supporting role – Drama
Liam Cunningham, Game of Thrones
Actress in a supporting role – Drama
Charlie Murphy, Peaky Blinders
Cinematography
Seamus McGarvey  – The Greatest Showman
Costume design
Consolata Boyle, Victoria and Abdul
Editing 
Una Ni DhonghaIle, Three Girls
Makeup and hair
Clare Lambe & Sevlene Roddy, Into the Badlands
Original music
Stephen McKeon, Pilgrimage
Production design
John Hand, Maudie
Sound
Steve Fanagan,  Kieran Horgan, The Farthest
VFX
Tailored Films  & Bowsie Workshop, The Lodgers