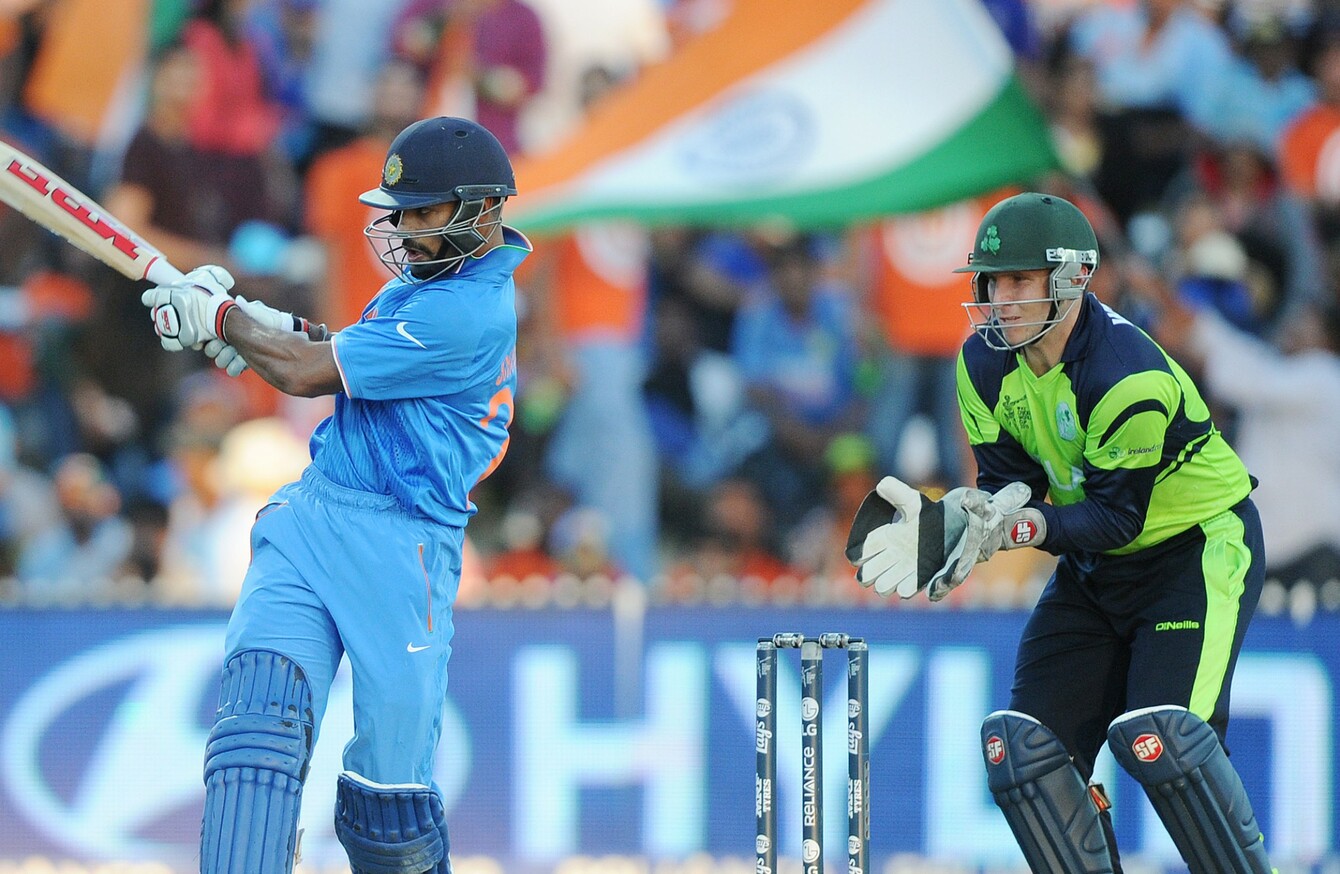 Ireland and India in their Cricket World Cup match earlier this year.
Image: Ross Setford
Ireland and India in their Cricket World Cup match earlier this year.
Image: Ross Setford
AN INDIAN COMPANY today announced that they will be bringing 250 jobs to Ireland over the next three years and plans are being formulated to make sure they're not the last to come from our former colonial cousins.
Taoiseach Enda Kenny was in tow to greet executives from Bangalore-based Infosys today and pledged to make Ireland "the hub point for entry into the EU for India".
Tech consultants Infosys say their plans for Ireland over the next three include the creation of 95 R&D roles and a further 155 jobs in IT services.
The research jobs will be through an Infosys subsidiary, EdgeVerve Systems, who will set up a new R&D facility in Ireland.
Infosys's Mohit Joshi says it's the first time the company has set up a product-centred research facility outside of India.
"Ireland is really very, very central to our ambitions as a company," he said today.
In Ireland, we see a huge amount of congruence and a huge amount of shared importance in investing in education. A lot of the work we do is because we see available here a very skilled talent pool that we want to be able to leverage locally. 
"The belief in the power of education and the power of innovation is something that is very central to the vision of Infosys, it's very central to the vision that you have of Ireland as well," he added.
The global scale of Infosys can be seen in their annual revenues of $8.7 billion and their operations in 50 countries worldwide.
The company already has 250 employees in Ireland after they transferred from AIB during the summer.
As part of that move, Infosys committed to investing €10 million in Irish start-ups with Joshi saying that they have already met with local innovators:
The basic idea is to work closely with these start-ups as they develop their technology and, most importantly, allow them to be able to grow by taking them to the hundreds of global clients that we have.
In total, Indian-owned companies employ more than 3,000 people in Ireland.
Kenny was quick talk up today's announcement as part of a government emphasis to court investment from the fast-growing Indian economy.
In Septmeber, Indian Prime Minister Narendra Modi became the first leader of his country to visit Ireland in over sixty years.
"It was a great signal of the potential that exists for the enhanced collaboration of our two countries in the coming years," Kenny said of Modi's visit.
#Open journalism No news is bad news Support The Journal

Your contributions will help us continue to deliver the stories that are important to you

Support us now
He added that he has met with Modi twice more since his visit, once in New York and once in Paris.
Kenny also said that our shared history with India is part of the reason why there is such potential for greater co-operation with the far-eastern economy:
Our historic connections speak for themselves. An English-speaking country they've got a massive population, with middle-income families and a very strong legal base. When I discussed this with Prime Minister Modi, we made it very clear that we would like to see Ireland become the hub point for entry into the EU for India.
IDA Ireland chief executive Martin Shanahan says that the agency has people in place to make sure that this plan is backed up by work on the ground.
"IDA Ireland has a team of executives working with Indian companies in the market, making them aware of the opportunities that exist here in Ireland," Shanahan said.
"Attracting Asian companies is a key part of IDA Ireland's strategy."