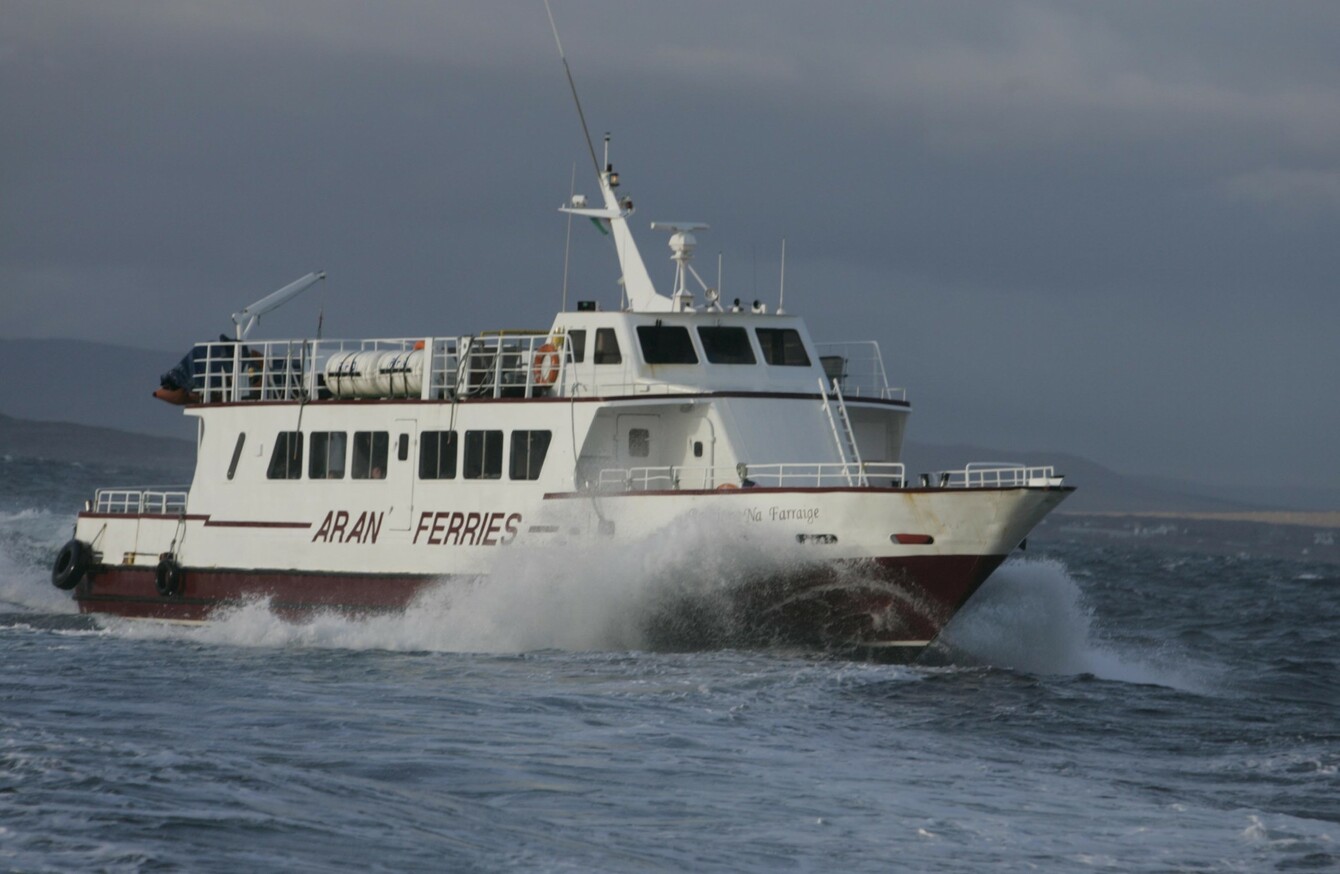 Image: Eamonn Farrell/Rollingnews.ie
Image: Eamonn Farrell/Rollingnews.ie
Updated 1.05pm
INIS MÓR WILL lose its ferry service for the entirety of winter, as the ferry operator is set to run its last service until 17 March 2017 at 6pm this evening.
Island Ferries has been deadlocked in dispute with Galway Council concerning levies introduced in 2011 on passengers travelling to and from the island.
As a result of this dispute, islanders are concerned that the ferry withdrawal could leave them stranded this winter.
In a statement, the ferry service said that it had become "increasingly unsustainable from an economic perspective" to continue running a ferry service throughout the winter.
It had sought the abolition of a €5 per passenger charge on islanders who are permanent residents, as a well as a reduction in the current per passenger charges on the ferry.
Island Ferries had previously said it would withdraw its service from 2 November but delayed that following what it describes as "progressive proposals" that facilitated "favourable outcomes for all stakeholders" were discussed with the Department of Arts, Heritage and the Gaeltacht.
The ferry operator said that it was "most surprising and disappointing" that these proposals had not yet been considered by Galway County Council.
Speaking on RTÉ's Morning Ireland, Inis Mór co-op manager Cathy Ní Ghoill said that residents of the island were just "pawns" in a game between the county council and the ferry service.
She added that there was no provision in place for a replacement service from the Government and a more expensive air service was the only alternative way of getting to and from the island.
"Galway County Council brought in levies for every passenger that would travel to and from Inis Mór," she said. "The people of Inis Mór were against that. They felt it was another form of taxation."
Ní Ghoill added that it was her understanding that a last minute meeting was set to take place between Island Ferries and Galway County Council today to try and avert the withdrawal of ferry services. She said:
The people and residents of Inis Mór are not guaranteed a ferry service, and here we are not knowing what will happen this evening.
Sinn Féin Senator Trevor Ó Clochartaigh has urged Minister for the Gaeltacht Seán Kyne to guarantee a service for the people of Inis Mór from tomorrow. He said:
Minster for Seán Kyne has a responsibility for ensuring that there is a ferry service to the Aran Islands. He should have sorted out this debacle previously, but now it is imperative that he clearly outline what his Plan B is to ensure that the people of Inis Mór can get on and off the island by ferry from tomorrow onwards.
A spokesperson for Galway County Council told TheJournal.ie: "Galway County Council representatives met with Island Ferries Teo this morning to discuss matters relating to the harbour bye-laws.
"The proposal put forward by Island Ferries Teo earlier in November was considered and Island Ferries Teo agreed to clarify aspects of the proposal. The Chief Executive agreed to circulate any document received to all of the Members of Galway County Council."
In a statement to TheJournal.ie, the Department for Arts, Heritage and the Gaeltacht said: "The Department continues to work with relevant stakeholders with a view to achieving a workable solution with regard to the ferry service to Inis Mór."