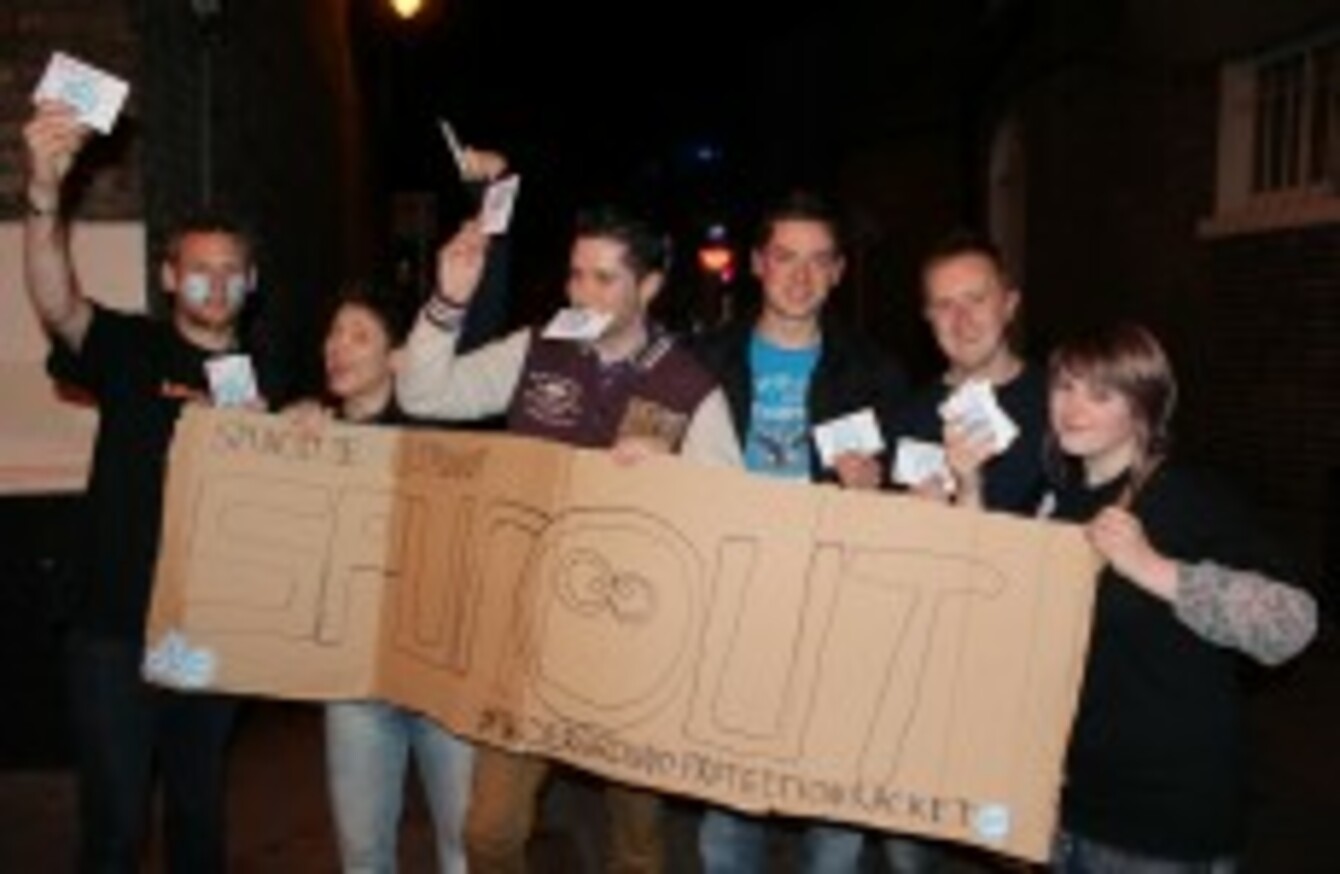 Image: SpunOut.ie
Image: SpunOut.ie
FREE CONDOMS WERE given out to young people in Dublin last night.
SpunOut, an independent non-profit that provides health and lifestyle information to young people, handed the condoms to Dubliners on a night out in an effort to end the stigma about carrying them.
SpunOut is running the initiative with the Dublin Aids Alliance as a response to recent reports of increased numbers of STI notifications.
"It was a great night," said John Buckley of SpunOut.
We had four of ourselves out on the streets for about two hours and we distributed about 1000 condoms.
Reaction
He said the "reaction was interesting", with a lot of positive reactions.
Some were really enthusiastic, with people saying it was a really good idea and that they woudn't have thought of carrying a condom on a night out.
Buckley added that others spoke of the stigma surrounding the issue, with some people saying they would never carry condoms with them.
The varied reactions included some worrying ones, added Buckley, who said that a number of women said "If I'm on the pill, why would I need a condom?"
That was "quite concerning", he said, but not unexpected as SpunOut had already carried out research into the issue.
What was quite encouraging was a lot of women were taking condoms as well. We carried out a survey which showed there is stigma towards women carrying condoms, and stigma from women towards women who carry condoms.
He described the night as "quite symbolic" and said that the idea was to acknowledge that "people are going out, they are taking on a lot of alcohol and they are having sex", and that this should be safe and enjoyable sex.
Unsafe practices
"Hopefully these kind of initiatives will encourage people to carry a condom," said Buckley, who added that "there seems to be a huge amount of unsafe practices" where people do not use condoms.
Because SpunOut feel the message is a really important one, they are looking into bringing the initiative back – but this time to other parts of the country.
We feel it's a very important message to get out there. Sex is a completely natural part of life and a very enjoyable one. We want people to have safe and enjoyable sex.