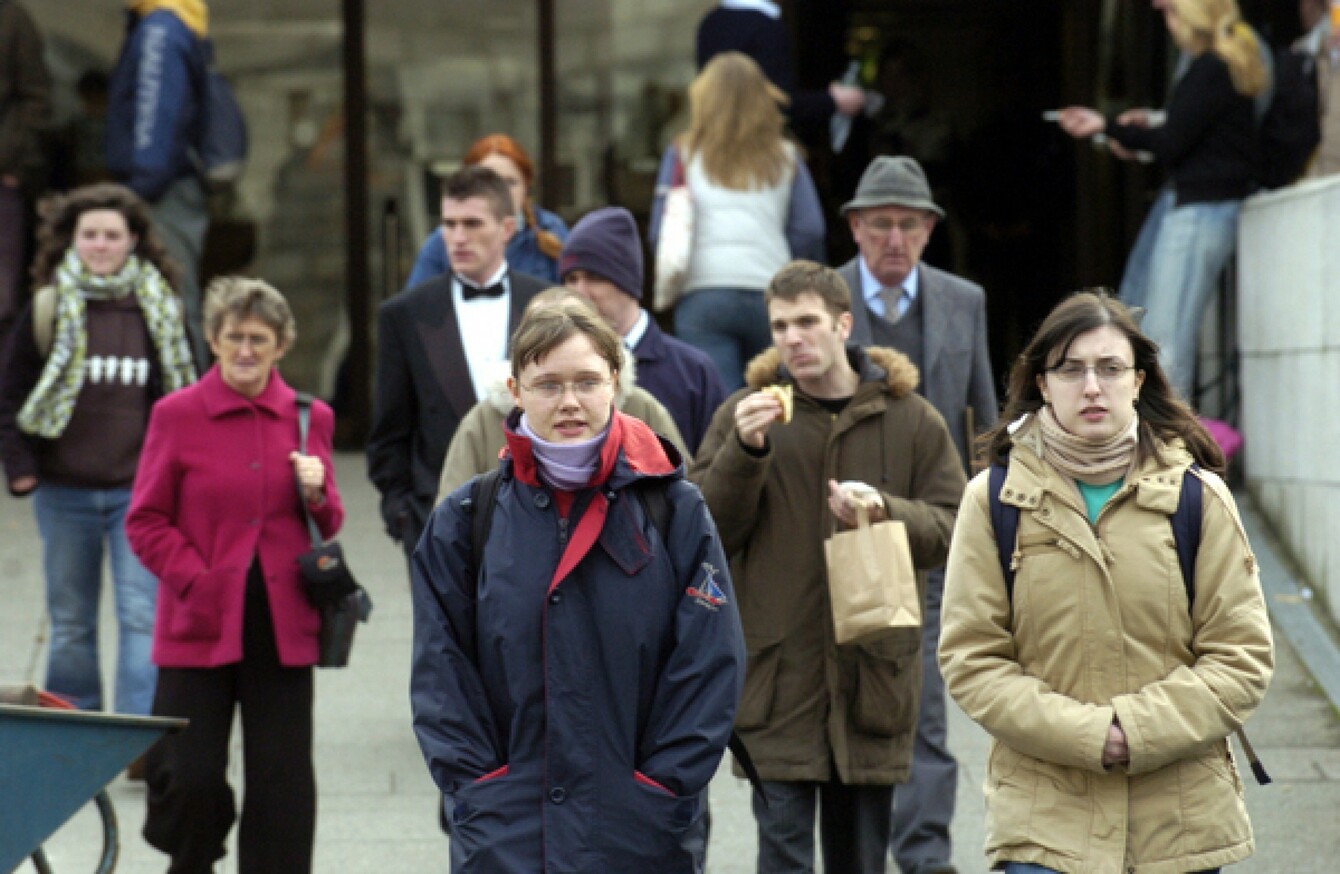 File photo of students walking in Trinity College Dublin.
Image: Graham Hughes/Photocall Ireland!
File photo of students walking in Trinity College Dublin.
Image: Graham Hughes/Photocall Ireland!
AT A FORUM for international students in Ireland last month a number of students raised the main issues they were facing while living in the country.
One student said she was attending college in Dublin but was commuting from Belfast three times a week as the rents in the city were too high.
Another student from an ethnic minority said he could not source accommodation and had to ask a white classmate to rent a place and sublet to him.
The problems raised underscored the issues being faced by international students studying at universities, colleges and language schools in Ireland – a large and ever-growing cohort.
Figures from the Higher Education Authority show that there were in the region of 18,220 international students enrolled in Irish universities, institutes of technology and colleges during the 2014/15 academic year.
As well as this there are tens of thousands of students studying in English language schools in the country.
The Government also has plans to expand and grow the number of international students significantly over the coming years.
However, those working closely with foreign students studying here are finding that Ireland's accommodation crisis and a lack of funding for international offices at universities are making things very difficult for people coming here.
Domestic problems 
According to Derrie Murray – programme officer with the Irish Council for International Students (who organised the forum with the Union of Students in Ireland last month) – the problems facing people coming here to study are numerous.
There are a lot of problems. Where do you start?
Accommodation costs have skyrocketed in the major Irish cities popular with international students – namely Cork, Dublin and Galway – as demand far outstrips supply (the issue isn't as prominent elsewhere).
New purpose-built student accommodation is being developed at sites across the Dublin area, with hundreds of beds coming on-stream this September.
Most of these rooms are starting at €200-€250 per week. A price that is worrying students and representatives.
"I mean, it's great to see purpose-built student accommodation coming into the market," said Murray.
But these rooms are starting at €250 a week. And while that's great for people who can afford it, many can't.
Murray said that there was a popular misconception that international students had money to spend.
"International students are from varied background just the same as Irish students are from varied backgrounds," said Murray.
"Some can afford accommodation with gyms and bowling alley and all rooms en suite but not everyone want or needs that," he said.
#Open journalism No news is bad news Support The Journal

Your contributions will help us continue to deliver the stories that are important to you

Support us now
Murray said that many of his colleagues at ICOS as well as from organisations said that the situation in Ireland around accommodation was the worst they had ever seen it.
Fraud
On top of this, research shows that Ireland is the worst European country for international students experiencing some sort of fraud.
According to European Commission-funded research by HousErasmus+ published earlier this year, 30% of international students said they experienced some sort of fraud while studying here – the highest level in Europe.
Three quarters of people surveyed who studied in Ireland said that they had found accommodation more expensive here than they had expected; while 12% on international students here said they had experienced discrimination.
Derrie Murray said that these problems are compounded by a lack of funding being given to the international offices in colleges and universities.
"The international offices in the universities need to more resources," said Murray.
"I mean, picture it yourself, you're coming from the States or Asia – you've never been to Ireland, you know nothing about the rental market, you need somebody in the college able to help you find accommodation," he said.
It's a matter of under-resourcing and that's something that we really try to hammer home.