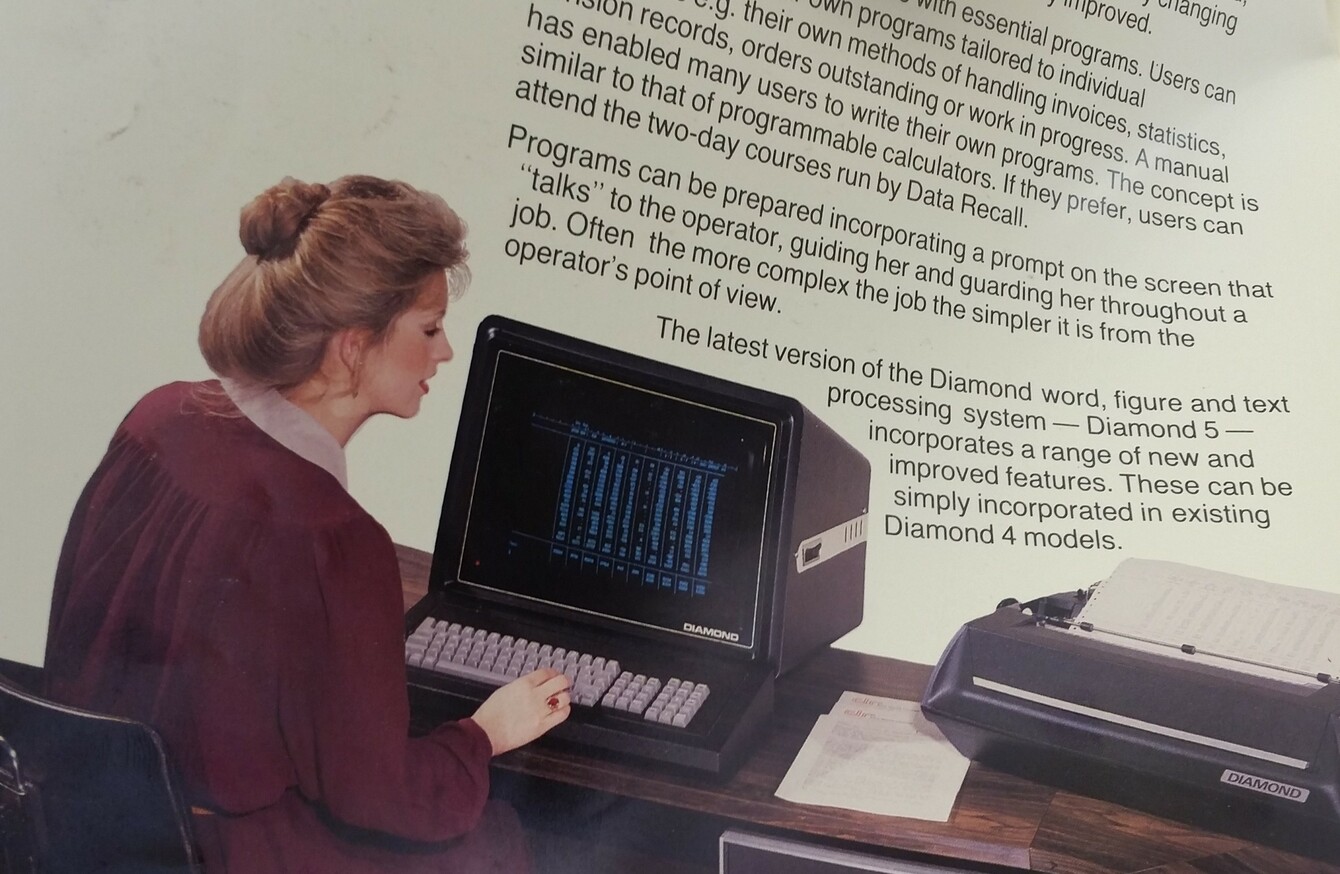 Image: National Archives 2016/14/54
Image: National Archives 2016/14/54
CIVIL SERVANTS IN the early 1980s were plagued by the introduction of a new technology which they feared was increasing their workload and slowing down productivity: the word processor.
In 1980 the Department of the Taoiseach agreed to lease word-processing equipment at a cost of £8,000 per annum, or over €36,000 a year in today's money.
However the introduction of the new equipment was not welcomed with open arms by all civil servants.
Workloads and delays increased as there were not enough people trained in the new equipment to use it effectively.
Simultaneously, there was only a limited amount of time for workers to spend learning how the new system worked, while also balancing the rest of their work that needed to be completed. There were also complaints that printing took far too long to do.
The documents were made public by the National Archives this month under the 30-year rule.
According to one employee of the Department of the Taoiseach the new word processor forced her to work through lunch breaks and stay late.
"I find myself having to work through most of my lunch hours and late in the evening in order to alleviate some of the pressures caused by the installation of the Word-Processor"
"At the moment I think the Word-Processor is creating more work than it is alleviating, but maybe with time and patience the position will improve."
Even though workloads were increasing in the departments over the following years the the department heads were determined to continue to introducing these workstations.
It is easy to take for granted how routine this all is today but back then it was brand new territory for office workers.
So in order to help employees get to grips with the software user manuals were introduced that walk people through basic concepts that is not given a second thought today.
One of the manuals was entitled 'An Introduction to Word Processing' which contained detailed descriptions of technology which seems run-of-the-mill by today's standards.
In the manual, a keyboard was described in this way: "Input keyboards are usually designed after the fashion of the ordinary typewriter and are operated the same way. As each individual key is depressed, the character to which it relates is retained in the machine's storage medium."
One of the more surprising elements of this quaint instruction manual was just how prophetic it was when it came to predicting where computing might go.
In the section entitled 'Future Developments in Word Processing' it suggests a likely move towards 'electronic communication between word processors" which it goes onto say "could be used as direct alternative to sending mail through the post".
It also suggest that speech recognition could be a future development as well as paper filing systems and printed paper being replaced by other storage means.
However it did get one thing wrong: we are still using the QWERTY keyboard.
"The predominant trends outlined above will require equipment capable of greater input and output speeds. Therefore, it is possible that alternatives to the conventional QWERTY keyboard will be further explored and brought into use
See National Archive file 2016/51/1454