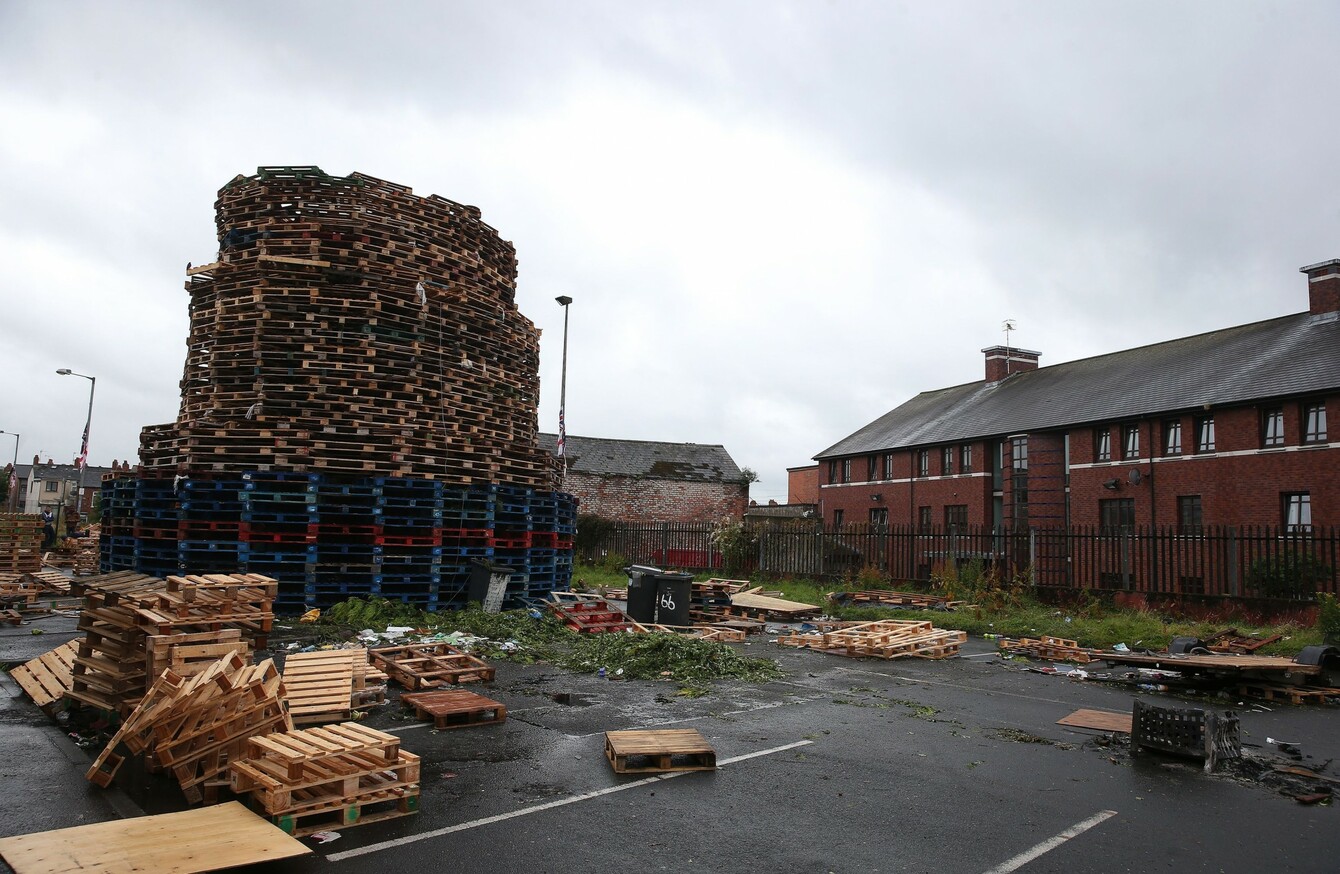 A bonfire under construction last year near Chobam Street
Image: Brian Lawless PA Archive/PA Images
A bonfire under construction last year near Chobam Street
Image: Brian Lawless PA Archive/PA Images
BELFAST CITY COUNCIL has agreed to investigate the storage of up to 3,000 pallets for loyalist bonfires, after they were stolen from a council premises.
The PSNI has begun an investigation into the theft of the pallets and yesterday's council meeting heard that it is believed that loyalist paramilitaries are responsible after fearing that the stored pallets would not be given for the bonfires, reports the Irish News.
The practice of storing the pallets is extremely unpopular with Sinn Féin, Alliance and SDLP councillors, who've called for an investigation into the policy, as well as independent probes into the theft.
It is understood that the stored pallets were related to bonfire sites on Chobham Street and Hope Street. The theft is said to have taken place on Wednesday.
Alliance Councillor Michael Long led calls for an immediate investigation into the practice and incident.
He said: "We must get firm answers into how and why the Council's role in agreeing and storing these pallets played out.
It is time for all political parties and other statutory agencies, including the PSNI, to step up to the mark and put an end to this poison infecting our society.
Sinn Féin, meanwhile, was similarly critical with Councillor Jim McVeigh calling it a "disgraceful episode".
He said: "A decision was then taken at the Strategic Policy and Resources committee meeting [yesterday] morning that the council's Chief Executive will head an investigation into this entire scandal with an independent element included.
A decision was also taken that any remaining bonfire material being held by Belfast City Council will not be returned and, importantly, that the storing of material for bonfires will never happen again.
He added that the party would monitor the investigation closely.