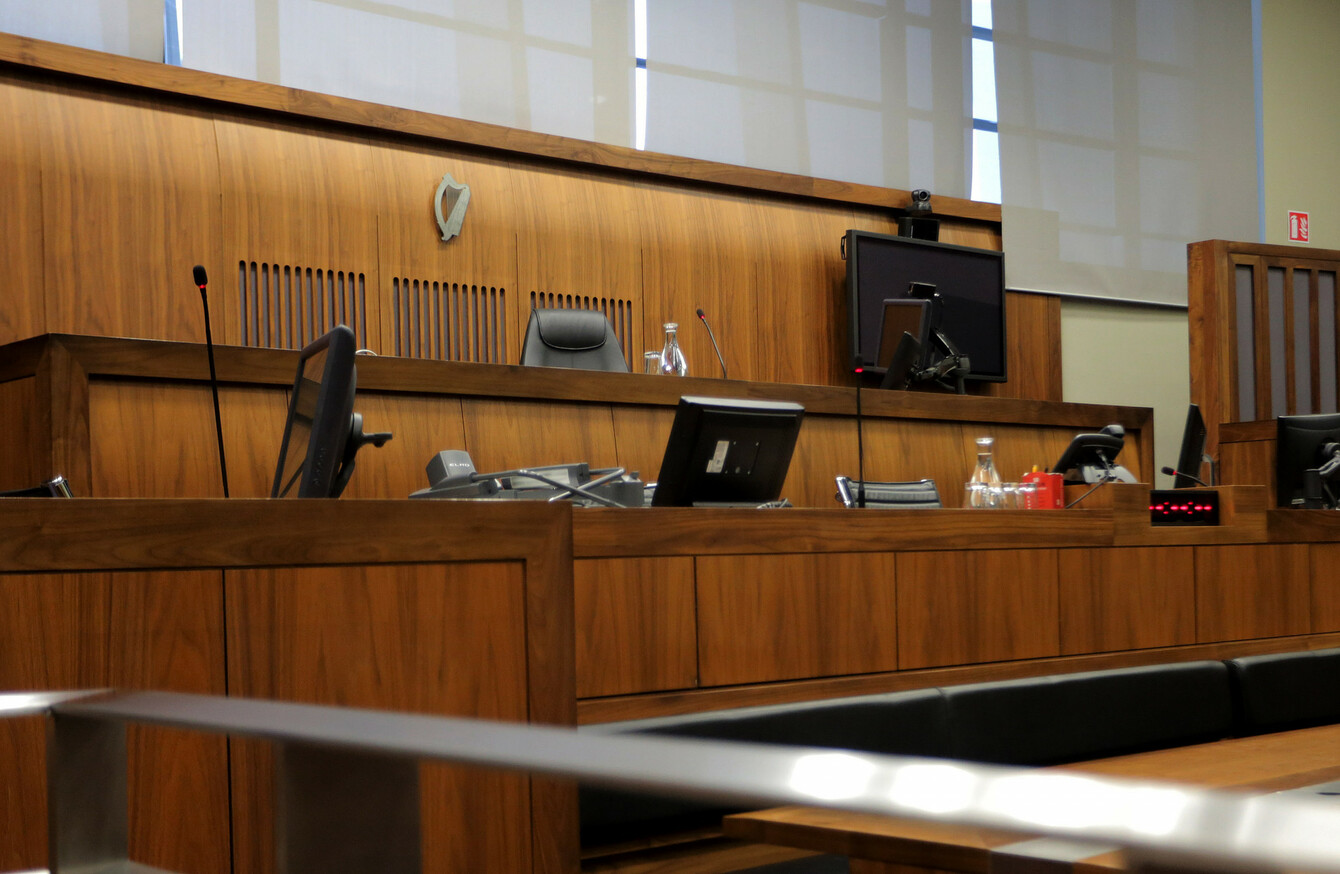 Image: PA Archive/PA Images
Image: PA Archive/PA Images
TWO DUBLIN MEN who threatened an accident victim that they were the IRA and would shoot him if he did not withdraw a claim have been jailed by the Special Criminal Court.
Kevin Braney (44) and Ciaran Maguire (30) were found guilty  in May of IRA membership by the three-judge court.
Braney was today jailed for four years and six months while his co-accused Maguire was sentenced to four years and eleven months in prison.
Braney, with an address at Glenshane Crescent, Tallaght, Dublin 24 and Maguire, of Kippure Park, Finglas, Dublin 11 had both denied membership of an unlawful organisation, styling itself the Irish Republican Army, otherwise Oglaigh na hEireann, otherwise the IRA on 2 August 2017.
Sentencing the two defendants this afternoon, Justice Tony Hunt, presiding at the non-jury court, said the most "significant" evidence in the case was the belief evidence from Detective Chief Superintendent Tom Maguire who said that the two accused men were IRA members on the day in question based on confidential information given to him.
The judge said the evidence in the trial was indicative of the fact that the man from the estate in Co Meath had been intimidated and frightened in his dwelling place. The court heard the offence of IRA membership has a maximum prison sentence of eight years.
Referring to Braney, the judge said he was entitled to some credit for presenting himself to the court without any previous convictions. The court previously heard that Braney had been on remand in prison for two years in relation to previous charges of IRA membership but was acquitted.
However, the judge said it is clear that Braney's time in custody had done nothing to deter him from engaging in criminal matters. The defendant was sentenced to four years and six months imprisonment.
Maguire was jailed for four years and eleven months. His previous convictions include violent disorder, endangerment, public order and road traffic.
The men's sentences were backdated to 2 August 2017 when they went into custody.
The threat
Previously, the court heard that on 13 July last year the two accused men travelled from Dublin to an estate in Co Meath, where one of the two accused men told the victim that they were the IRA and if he did not drop a claim against a former employer the next time they saw him they would shoot him.
The court heard that the victim had previously been working on a roof when the overhang gave way and he fell off, fracturing his arm, wrist and pelvis. He gave evidence in the trial saying that his employer did not pay his wages and he had put a claim in against him because of hospital bills.
Fiona Murphy BL, prosecuting, said in her closing speech that CCTV evidence corroborated testimony from members of the National Surveillance Unit (NSU) that the accused men travelled from Dublin to an estate in Co Meath on 13 July last year.
Rosario Boyle SC, for Braney, and Paul Carroll SC, for Maguire, submitted in their closing speeches that there was not sufficient evidence for the court to be satisfied beyond reasonable doubt the men were members of the IRA.
Delivering judgement on 30 May, Justice Hunt, presiding, said that the court was satisfied beyond reasonable doubt as to the "veracity" of the belief evidence given by Det Chief Supt Maguire and the court did not entertain a reason to doubt his belief.
Justice Hunt said the man from the estate in Co Meath was a "crucial witness" in the trial and his evidence had provided context and meaning. "We are satisfied he gave a truthful and accurate account of events at his house and it is buttressed by the account he gave to gardaí within a very short time," said the judge.
Justice Hunt added that there was "no doubt" that this man was threatened by Braney and Maguire who had travelled to his home, issuing "unlawful threats" to him.
#Open journalism No news is bad news Support The Journal

Your contributions will help us continue to deliver the stories that are important to you

Support us now
The judge said it was a "planned and joined enterprise" to intimidate the man and the court was satisfied that these words were spoken by either Braney or Maguire. "It was neither accidental nor coincidental, the sole purpose was to threaten and intimidate him," he said.
The description by the man of his two visitors was consistent with the general appearance of the two men, added the judge. "We can find no basis to come to the conclusion that (the man) exaggerated or made up this event. We are satisfied the two men were Mr Braney and Mr Maguire," he said.
Justice Hunt also said there was "no reasonable possibility" that Braney and Maguire were not members of an unlawful organisation, styling itself the Irish Republican Army, otherwise Oglaigh na hEireann, otherwise the IRA on August 2nd, 2017.
Defence counsel Rosario Boyle SC, for Braney, told the court at a sentence hearing on July 24 that her client has worked as a bus driver on a part-time basis and had no previous convictions. He has six children and his second wife has a serious medical condition, she said.
Counsel handed into the court a number of testimonials including from a guidance councillor at his son's school where he volunteered as a football coach "in an effort to keep children off the street".
Boyle submitted that Braney's family had suffered a loss in income over the years. She said her client is in custody in Portlaoise Prison and his wife travels there with their children every Saturday to see him. "The round-trip costs €30 and I ask the court to take that into account when deciding on the length of the sentence," she said.
The barrister added that Braney was a family man who misses his wife and children "enormously".
Paul Carroll SC, for Maguire, said on 24 July that his client had a supportive family background and he has lived with his grandmother from a very young age.