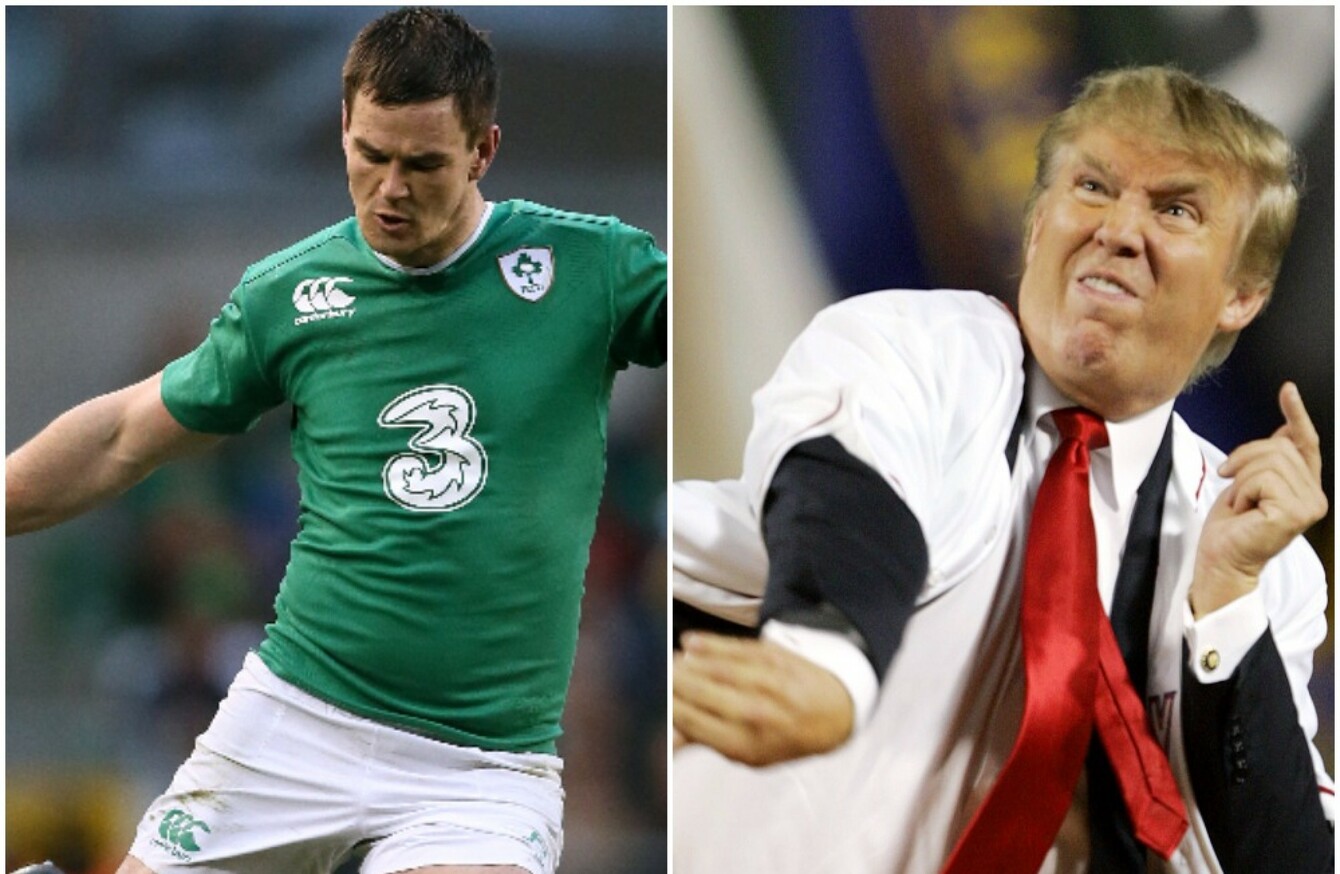 Ireland rugby star Johnny Sexton (left) and Republican presidential nominee (and amateur baseball pitcher) Donald Trump
Image: PA
Ireland rugby star Johnny Sexton (left) and Republican presidential nominee (and amateur baseball pitcher) Donald Trump
Image: PA
THE IRISH RUGBY team will stay in hotels owned by controversial Republican nominee Donald Trump during their visit to the US to play the All Blacks next month.
Johnny Sexton, Tommy Bowe and company will stay in the Trump International Hotel and Tower in Chicago ahead of their US clash with the All Blacks next month.
Fans travelling from Dublin can buy packages worth €3,400 through The Hospitality Partnership Ltd, in association with the IRFU.
The package includes a match ticket, a four-night stay in Trump Tower (the official team hotel), canapés and an appearance by an Irish rugby player. There is also an option to stay in the Hyatt Regency Hotel for €500 less.
The Trump-owned hotel is one of three in Chicago with a five-star rating.
Joe Schmidt's side will stay there in the run-up to their clash with New Zealand on  5 November. Three days later, on 8 November, America goes to the polls to decide whether Trump or Hillary Clinton becomes US president.
Asked by TheJournal.ie about the choice of hotel, the IRFU referred to a previous statement, which said:
The accommodation requirements of the team are purely based on the facilities that are available and if they match the requirements, that's simply it.
However, it's understood that the hotel was chosen back in January 2016, by US marketing company Global SportsMarketing Agency TLA Worldwide.
"This is completely frivolous, so to be honest," a source close to the Ireland camp told TheJournal.ie.
"It's gone beyond ridiculous at this point. So, I'm not really engaging on this to be honest. This was booked long in advance based on the team's requirements in terms of the team's requirements."
TheJournal.ie has been told that the bookings were made in January 2016, long before Trump won the Republican Party nomination for the White House.
However, by then, Trump has already won notoriety for calling for Muslims to be banned from entering the United States; for mocking a disabled journalist; for falsely claiming that thousands cheered 9/11 in New Jersey; for accusing a critical female journalist of menstruating; and and for infamously proposing a wall along the US-Mexico border to keep out immigrants.
He had also been supposedly keeping a book of Hitler speeches beside his bed.
Some 75,000 people are also due to attend a large packaging expo in Chicago on the weekend of the Ireland-All Blacks game, limiting the options for hotels that would suit the team's requirements.
Tickets for the match, at Soldier Field, are not yet sold out.  Tickets have, however sold out for Ireland's second meeting with the All Blacks, in Dublin on 19 November, and Ireland's 26 November test against Australia.