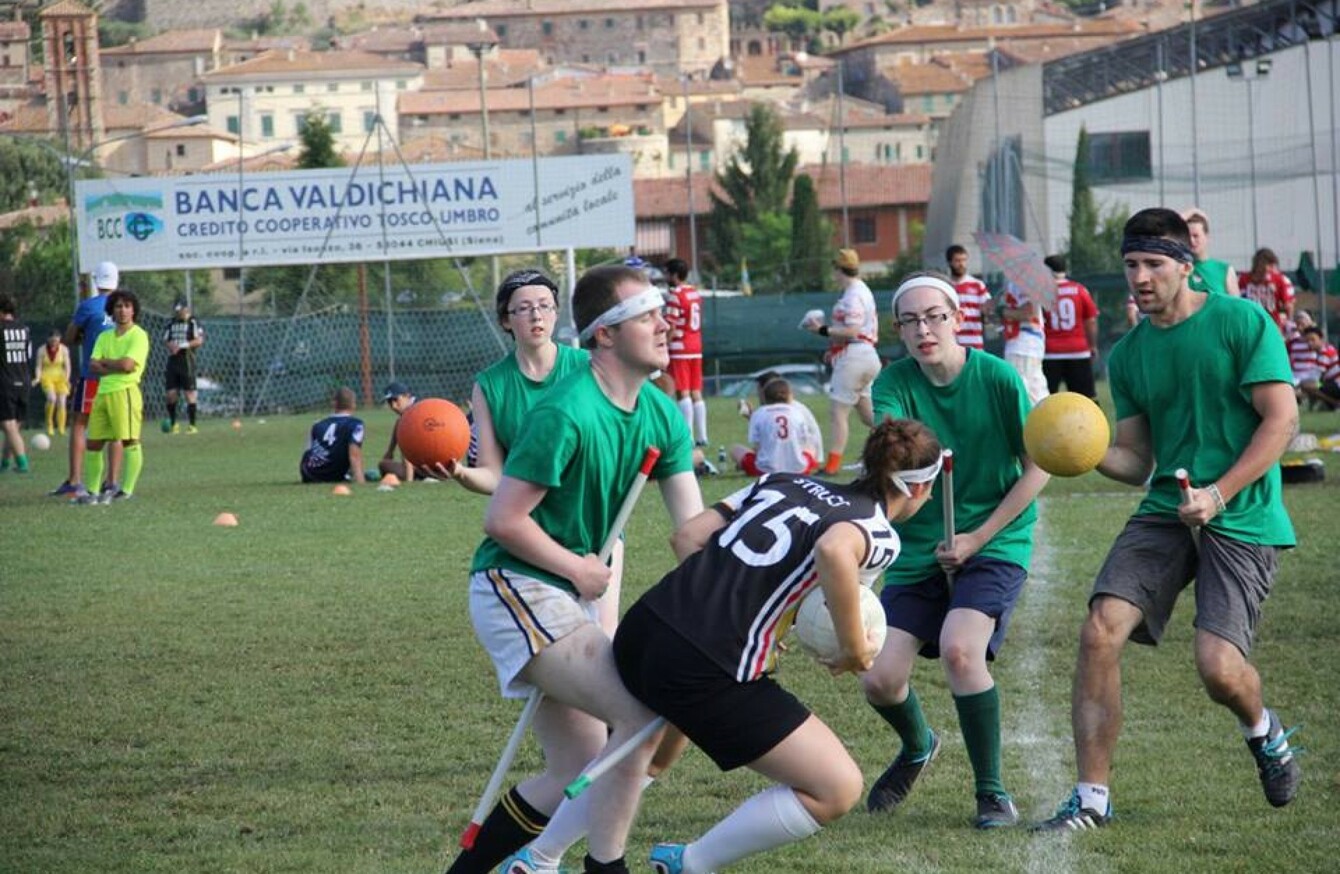 Image: Patricia Walsh
Image: Patricia Walsh
IRELAND IS SET to join teams from all over the world to compete in the Quidditch World Cup in Germany this month.
Squads from 25 countries including Brazil, Uganda and Australia will travel to Frankfurt for the competition, which is taking place on 23 and 24 July.
The sport, based on the Harry Potter book series, started in Ireland around three years ago when the Galway Grindylows were established.
The games are full-contact and mixed gender, and their success shows that Quidditch is starting to be seen more as a sport, rather than just something associated with Harry Potter.
Chaser for the Galway Grindylows and Team Ireland, Rebecca O'Connor, describes a typical Quidditch match.
There's seven players from each team on the pitch at one time, three chasers who try to score through vertical hoops using a volleyball, one keeper to stop the opposition chasers scoring, and two beaters.
After 18 minutes, the seekers and snitch are brought on. The snitch is a neutral player that has a tennis ball in a sock attached to their shorts.
As with Quidditch in the wizarding world, the game finishes once the snitch is caught – which can take up to 20 minutes after the snitch is released.
Last year Ireland only had eight players, making it one of the smallest squads at the European leg of the tournament, but this year Team Ireland means business.
It's the team members' first year qualifying for the Quidditch World Cup and they will be bringing a full squad of 21 players.
One of the players going is Ben Middlemiss, who originally got involved in Quidditch as a joke but ended up loving it. He is a "beater" which means his role is to throw bludgers (dodge balls) at opposing players which temporarily knocks them out of play.
Middlemiss describes Ireland's chances in their pool with Australia, Belgium and Slovakia:
I'm feeling confident we can get out of the group and make it into the round of 16 at the very least. Quidditch is a fledgling sport in Ireland but we've got so many players who've cut their teeth in the high-level UK system. I foresee us shocking a lot of people.
O'Connor also throws in her predictions:
I think we will beat Slovakia, Belgium are on a similar level to us so that will be interesting and Australia are very good. They came second at the last World Cup so that will be a tough match.
The team raised over €5,000 in an online fundraiser to help cover equipment, accommodation and travel costs.
#Open journalism No news is bad news Support The Journal

Your contributions will help us continue to deliver the stories that are important to you

Support us now
Quidditch through the Ages
Vermont college students first started Quidditch in the US in 2005. The first Quidditch World Cup was held in 2008 and 12 teams from the US and Canada participated. There's even a governing body, the International Quidditch Association, to serve teams around the world.
Rebecca admits that people teased them a bit at the start. "They thought we were just really big Harry Potter fans, running around a pitch on brooms," she says.
I think when people see how much we train they respect it a bit more. They realise: "Wow, these people are taking it seriously".
Middlemiss describes how most top-level players want to disassociate from Harry Potter:
Most top-level players want to shed that "geeky" image but let's face it, there'd be no Quidditch without Harry!