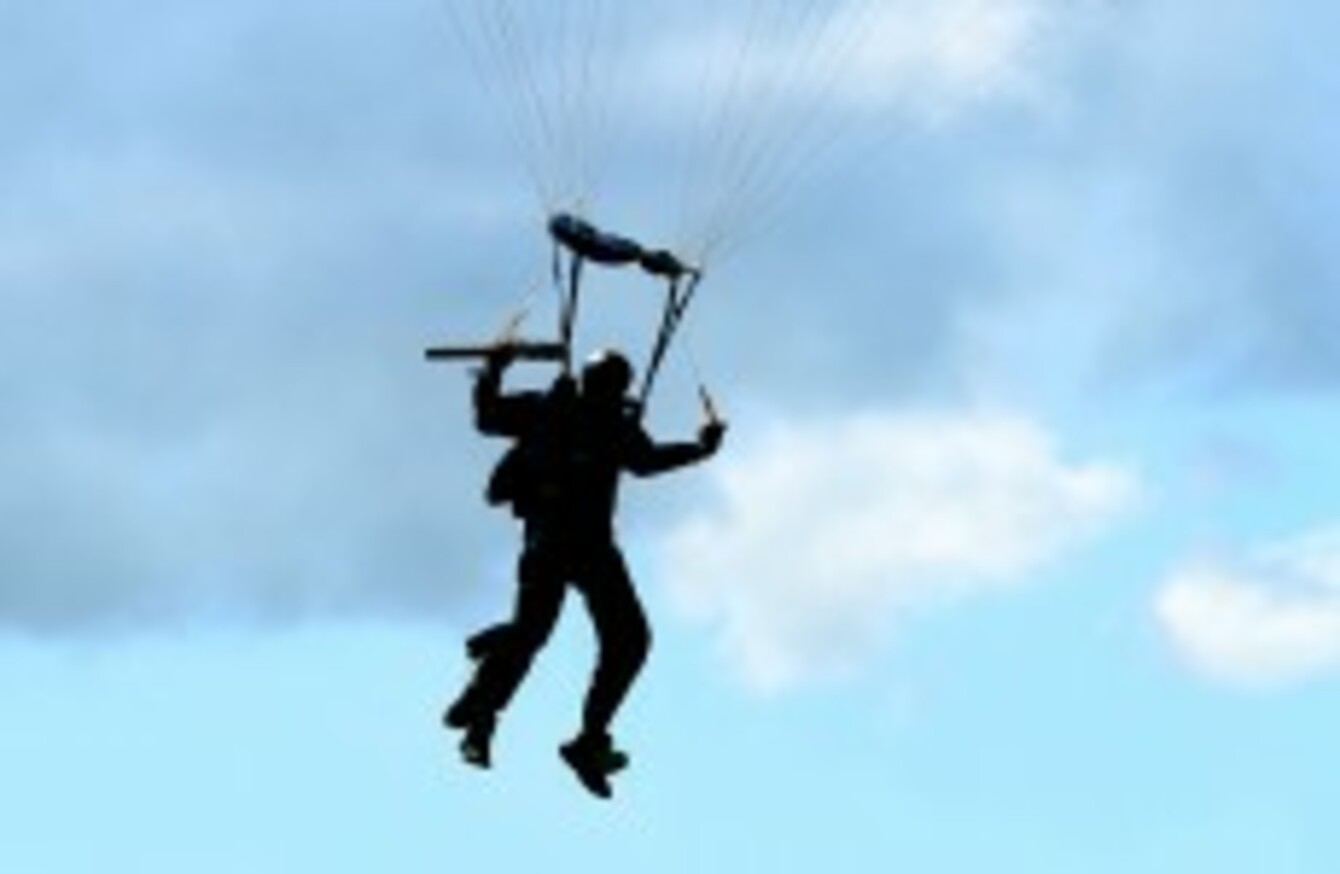 Image: Copyright Glasgow2014, 2014, All rights reserved.
Image: Copyright Glasgow2014, 2014, All rights reserved.
AN IRISH PARACHUTE group that took part in the world championships in South Africa were disciplined by the Government in 1984.
State papers revealed under the 30 year rule reveal that the Government was not very happy with the group flouting Ireland's position on apartheid at the time and sending a team to the competition, despite being told not to.
Ignoring policy
The then Minister for Foreign Affairs Peter Barry was not happy one bit with the group ignoring Government policy.
World Championships 
A Government brief stated that the Irish Sport Parachute Association informed the Irish Aviation Council, for which they got funding and their licence from, that they would not be sending a team to the world championships in Botswana that year.
However, it was revealed that they had, in fact, sent a team.
It also appears to have delayed answering recent enquiries until after its team had left for South Africa. This would seem to have been a tactic to ensure that its sporting licence, which is necessary for participation in the competition, wouldn't not be withdrawn…
The Aviation Council did withdraw their licence and the Department of Education and Transport met to consider the action that would be taken against the group.
Irish Tug-O-War Association 
Another Government brief stated that this was not the first time they had had to sanction sporting groups for going against Government policy on sports participation in South Africa, stating that on previous such occasions in 1979 the Irish Tug-O-War Association had its grant aid withdrawn.
This was the route that the Government took on this occasion also, with the Aviation Authority agreeing to hold all Government funding from the group for the following two years.
The licence for individual parachutists that took part in the championships were also revoked and members of the group who completed the documentation for the teams participation in the competition were also removed from the council board.
The parachute group felt the terms were too strict and appealed the decision:
This was the same year in which the Irish Anti-Apartheid Movement came to prominence when Mary Manning, a cashier at Dunnes Stores in Dublin's Henry Street, told a customer that she would not check out produce from South Africa, stating she was simply upholding a decision made by her union three months earlier where its members decided it would not handle South African goods.