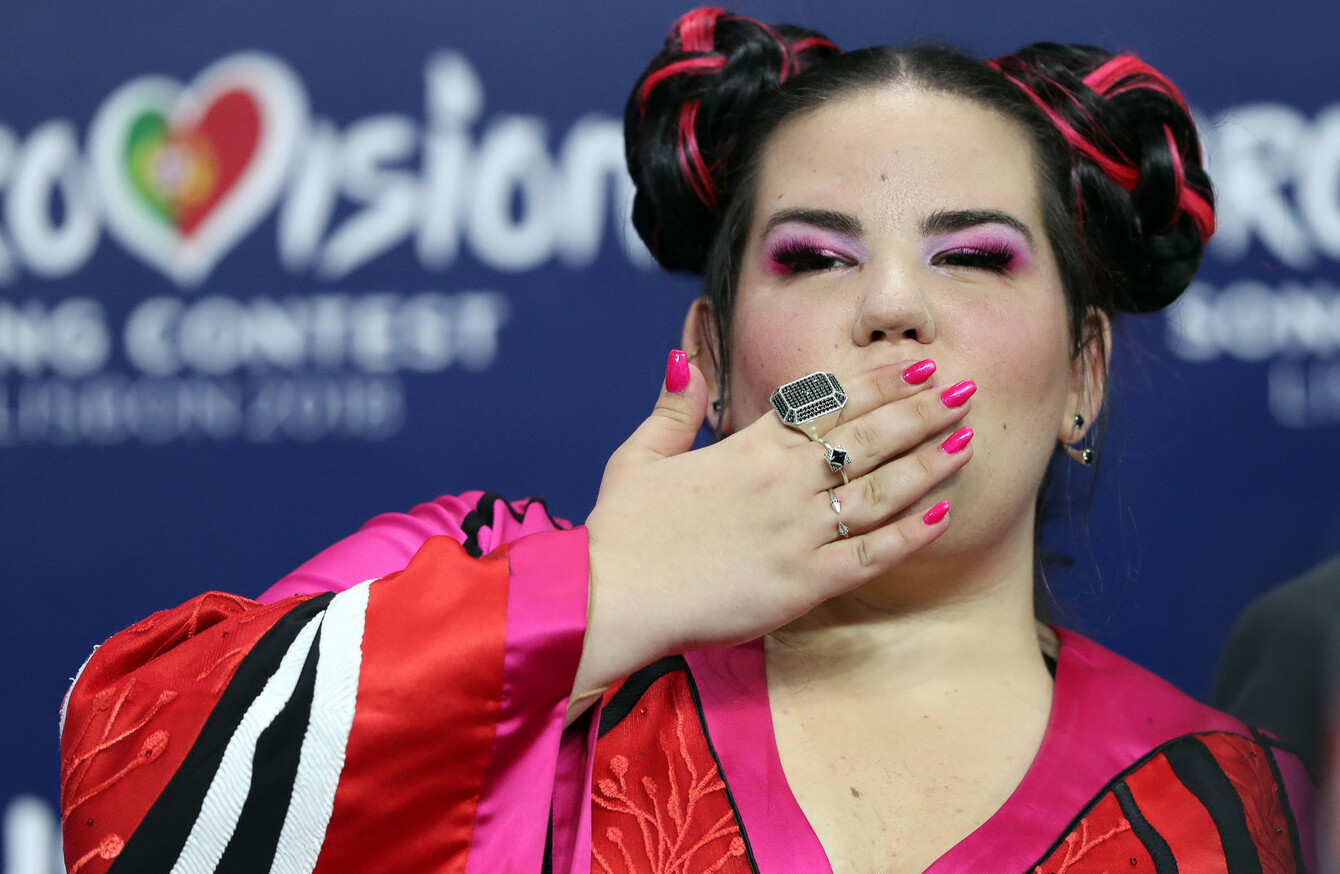 Israel's Netta, who won Eurovision 2018.
Image: SIPA USA/PA Images
Israel's Netta, who won Eurovision 2018.
Image: SIPA USA/PA Images
RTÉ HAS LAUNCHED its annual call-out for singers and songwriters to submit songs for consideration for 2019′s Eurovision Song Contest.
The competition, set to take place in Tel Aviv in Israel next May, is the largest entertainment show in the world with 189 million people tuning in this year.
Ireland has won the competition a record seven times, the last time in 1996. 
This year, Ryan O'Shaughnessy's performance of Together saw Ireland finish 16th overall in the Eurovision final with 136 points. 
Executive Producer and Head of Irish Delegation Michael Kealy said:
"For the Eurovision Song Contest 2019 we want to produce a world-class act that will do Ireland proud on stage in Tel Aviv and in front of a worldwide audience of nearly 200 million people.
The Eurovision Song Contest is incredibly competitive so we need a top class song, with instant appeal and a highly experienced act who is used to performing live in front of large audiences.
Boycott
The location of Eurovision 2019 has courted controversy, however.  
Betty Purcell, a former RTÉ producer and former member of the Irish Human Rights and Equality Commission, said last week that a number of RTÉ journalists and programme personnel are "deeply concerned" about the Eurovision taking place in Israel.
Last Wednesday, RTÉ Director General Dee Forbes met with representatives of an Irish campaign group which is calling for Ireland to boycott the contest.
The Ireland-Palestine Solidarity Campaign has said that it wants Ireland to shun the event "due to Israel's oppression of the Palestinian people".
Today's announcement comes days after the broadcaster said that it would not sanction RTÉ staff members who refuse to travel to Israel for the competition next year.
As well as inviting public submissions for 2019, RTÉ says that it's engaging with professionals in the music industry to represent Ireland at next year's competition.
The closing date for submissions is 5pm on Friday 23 November.