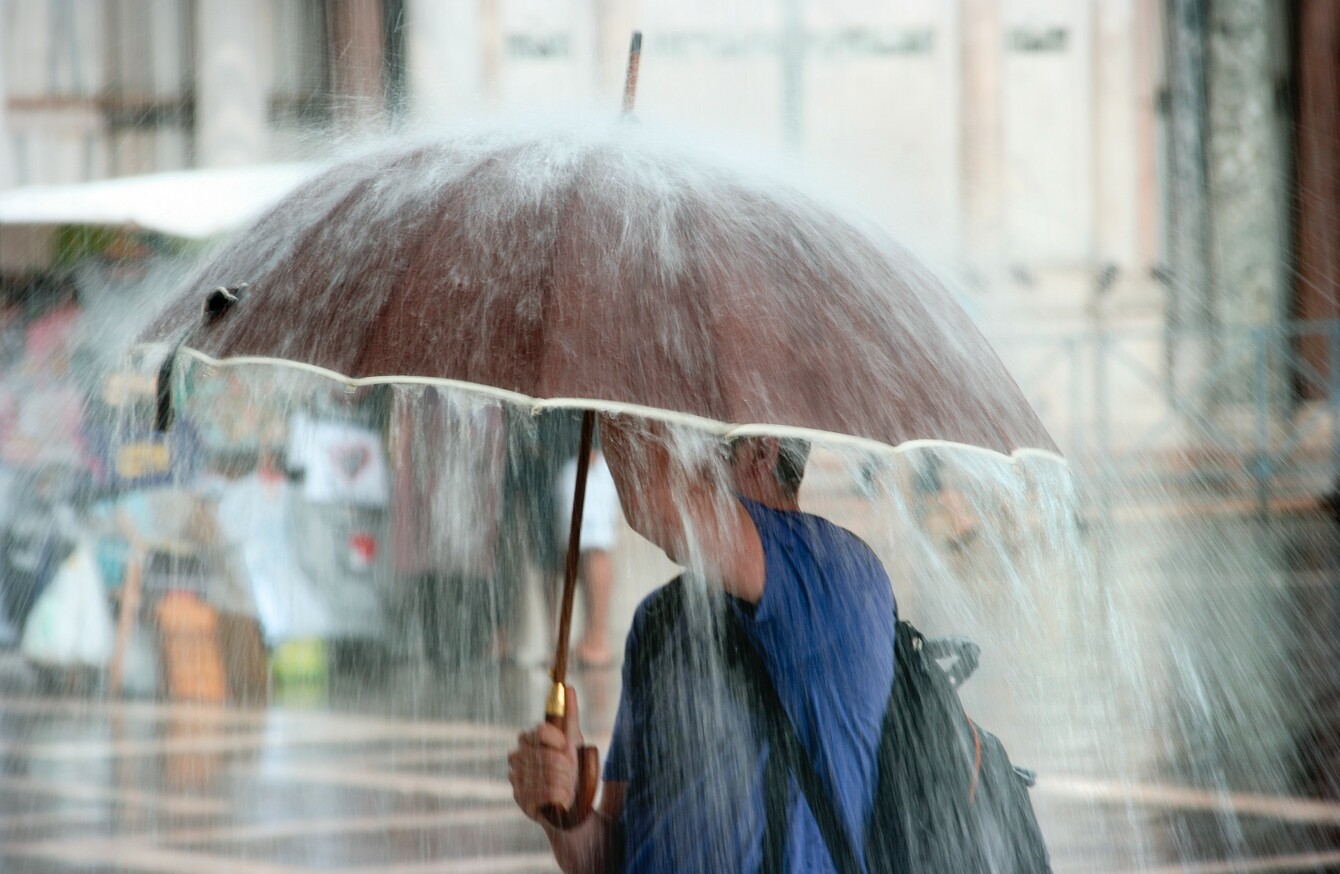 Image: Shutterstock/egd
Image: Shutterstock/egd
JANUARY WAS THE wettest month in decades in some parts of the country.
Met Éireann's review of last month found that all weather stations reported above long-term average (LTA) rainfall.
Percentage of LTA rainfall values ranged from 102% (monthly total of 98.1mm) at Gurteen, Co Tipperary to 192% (monthly total of 251.7mm) at Cork Airport, reporting its wettest January since 1988.
Stations that reported over 160% LTA had their wettest January in 21 to 42 years.
Dublin Airport reported its wettest January since 1948 with a total of 118.4mm (189% of LTA), attributing nearly half this monthly total to heavy rainfall recorded on the 5th and 9th.
The wettest days of the month were 1st, 5th, 9th and 26th, with the most rainfall in 24 hours reported at Valentia Observatory in Co Kerry on the 26th (37mm).
Shannon Airport, Co Clare reported its wettest January day in 11 years (on the 26th) with 23.4mm. The number of very wet days (10mm or more of rain) ranged from one at Shannon Airport and Gurteen to ten at Valentia Observatory.
Temperatures
All mean temperatures for January were on or above their LTA. Mean temperatures were on average at Markree, Co Sligo (5.3°C), while deviations from LTA were up to 1.1°C at Dublin (Phoenix Park) with a mean temperature of 6.1°C.
Mean air temperatures ranged from 4.5°C (0.5°C from LTA) at Knock Airport, Co Mayo to 8.4°C (0.9°C from LTA) at Sherkin Island, Co Cork. The month's highest temperature was reported at Dublin Airport (on the 24th), its highest January temperature since 1998: 15.2°C.
Around half of stations reported their highest January temperatures in seven to 18 years, with Malin Head, Co Donegal reporting its highest January temperature since 1960: 14.5°C.
Sunshine
Monthly sunshine totals ranged from 29.5 hours at Valentia Observatory (daily mean of one hour/day) to 66.4 hours (daily mean of 2.1 hours/day, 112% of LTA) at Dublin Airport.
The highest daily sunshine was seven hours, reported at Dublin Airport on the 15th. The number of dull days (days with less than 30 minutes of sun) ranged from 13 at Dublin Airport, Shannon Airport and Casement Aerodrome, Co Dublin to 19 at Knock Airport, Co Mayo.
Wind
Monthly mean wind speeds ranged from 7.3 knots (13.5 km/hour) at Fermoy (Moore Park), Co Cork to 18.3 knots (33.9 km/hour) at Malin Head, Co Donegal. Cork Airport reported its windiest January since 1997 with a mean wind speed of 12.2 knots (22.6 km/hour).
Storm Gertrude (28th and 29th) brought storm force winds to the north with the month's highest gust reported on the 29th at Malin Head, Co Donegal with 53 knots (98 km/hour) and 70 knots (130 km/hour), respectively. Elsewhere, severe gales were recorded on the 26th, 29th and 30th.
Today's forecast
It'll be rather cold and breezy today with sunny spells and passing showers this morning. It will become mainly dry from the west during the afternoon, but cloud will gradually increase and rain will arrive in the west by evening. Strong westerly winds will moderate during the morning. Temperatures will hit six to nine degrees.
Rain will spread across the country early tonight but will clear again. It will stay cloudy with patches of drizzle, mist or fog. Temperatures will steadily rise and reach nine or ten degrees before dawn. West to southwest winds will be moderate to fresh.