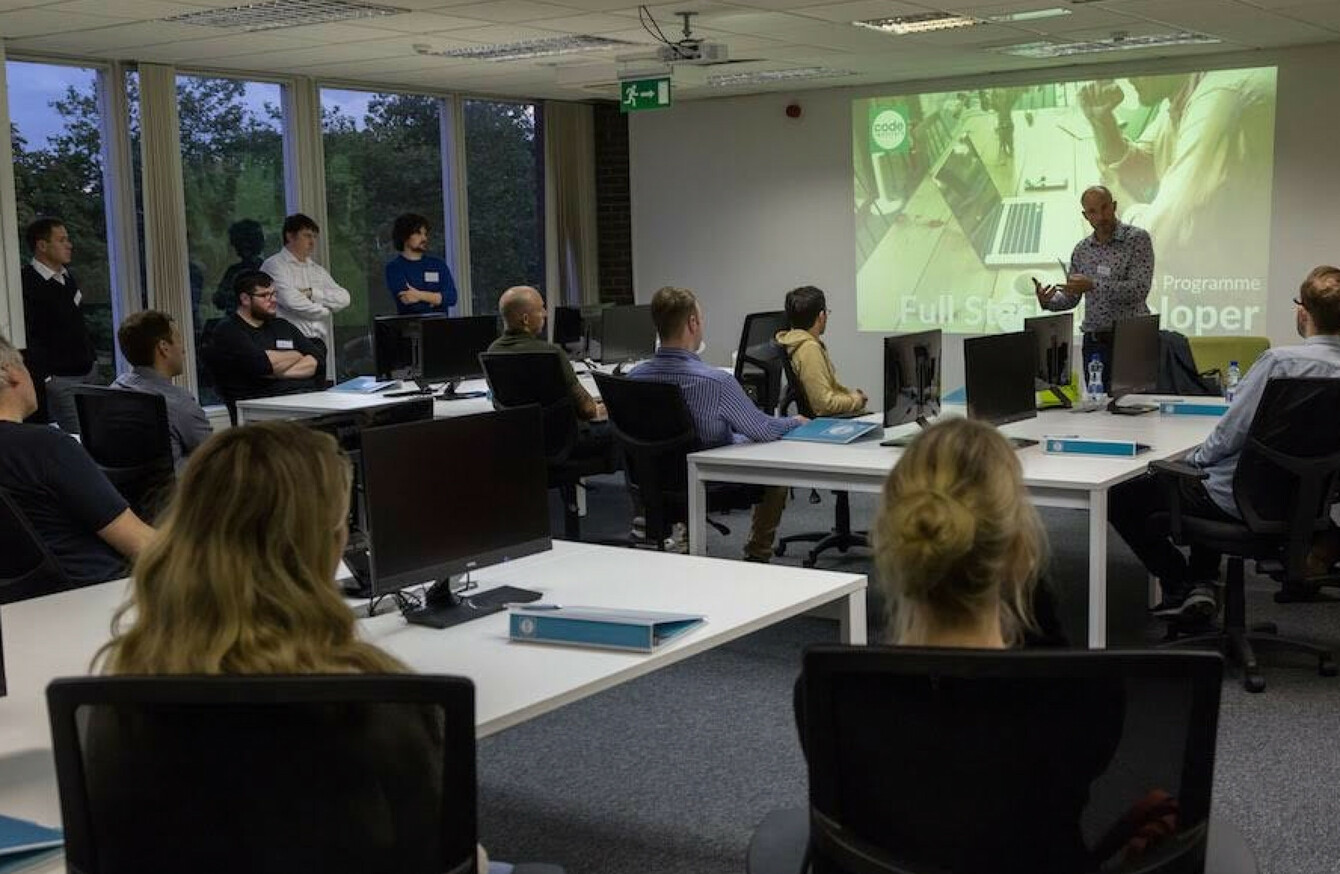 Image: Code Institute
Image: Code Institute
WHEN WE TALK about the future of work, one theme emerges time and time again: learn to code.
In fact, it's the very advice given in this issue's Make This One Change feature. Although Ireland's education system has a long way to go in terms of preparing students for the digital world of work they'll face when they graduate, initiatives like Coder Dojo and Khan Academy are great resources for kids.
But what about those of us already working away; those of us who are quickly realising that learning to speak the universal language of code could catapult our careers into a different stratosphere entirely?
Jim Cassidy is the CEO of Code Institute, an Irish educational tech company that is attempting to reduce the ICT skills gap by delivering industry-relevant, university accredited coding courses to people who are interested in changing their career path.
They deliver courses online to students from around the world, and have education partners in the UK, USA, Canada, The Netherlands, Malaysia and Australia.
Jim took time out to reflect on some advice he might have given his younger self before launching into his career.
Take (calculated) risks. We're a small team at Code Institute so it's vital that everyone knows exactly what their role is, and that they're willing to take calculated risks. It's important to know when you need to try something new.
Be open to change. I'm not sure that any business can really "future proof" itself. It's 2017; the ever-changing landscape of technological innovation makes it an unrealistic and futile effort. Instead, embracing these changes and dealing with any challenges as they come is much more beneficial for a company. I know from experience that it can be challenging to constantly be open to change, but companies need to be in order to survive. As technology changes customer expectations evolve, and it's vital that we stay in touch with their needs. If an open to change policy is adopted at the senior level of a company then it will inevitably filter down into the company's culture and DNA.
Keep up-to-date with new technologies – but don't be intimidated by them. There will always be tech innovations that are mind-blowing. Be aware of the benefits of new technologies, but also be aware of any risks or challenges. If you approach things with a balanced opinion that you're more likely to stay relevant. Technology is changing so quickly and it's important to keep up. Staying in touch with your customer base is a great way to ensure that your company's future objectives and your customer's needs are aligned.
No matter what profession you go into, communicating with people will be an essential part of your career. At some point everyone has to present an idea, a concept or sell themselves in an interview in order to progress. If we taught students how to do this at an early age a lot of people would probably get over their fear of presenting in public. In our modern world, communication and presentation skills are more important than ever before.
There's nothing more important than your reputation and your time. Protect them both. If you give your time away for free in business, it holds no value; don't be afraid to charge a fee for your time.
Don't be afraid to take chances. Fail fast, learn from it and move on. A lot of people have great ideas, but they're afraid to put them into action in case they fail. Ireland is a great nation for start-ups, but we need to embrace the fact that ideas and companies sometimes fail. The key takeaway from failure is experience, and that's a good thing.
Learn to sell and keep learning. Take a sales job at some point in your career. Embrace continuous learning; it's what keeps you relevant and gives you an edge over the competition.