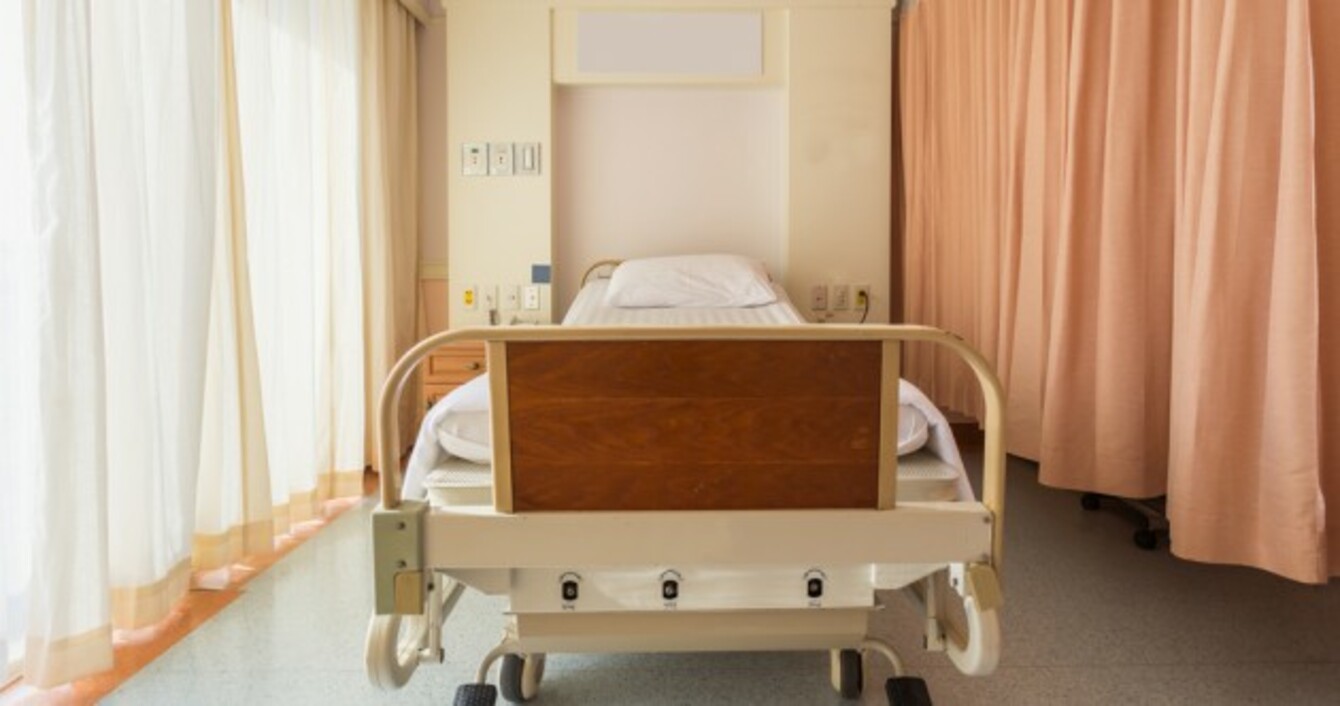 Image: Shutterstock/Nuttapol Pingpittayakun
Image: Shutterstock/Nuttapol Pingpittayakun
JONATHAN LEECH FROM Wexford suffered a serious fall in October 2016.
Since then, the young man is unable to live independently or carry out normal daily activities. He requires intensive care, but his family just want him home.
Jonathan is currently in the National Rehabilitation Hospital in Dun Laoghaire – a centre, which as of March, had a waiting list of 226 patients seeking ­treatment.
He is ready to go home, his doctors say he can leave and his family want him back in Wexford.
But he can't leave.
The Health Service Executive (HSE) said Jonathan requires an intensive home-care package to support him and the Centre for Independent Living (an organisation which helps people with disabilities) said it is in a position to provide it. The 90 hours have been approved by the HSE, but it said there is no funding available to provide it.
As a result, Jonathan is stuck in the intensive care section of the hospital.
Raising the issue in the Dáil, Labour leader Brendan Howlin said it is yet another example of "diabolical thinking" on the part of the HSE, pointing out that it will cost a lot more money to care for Jonathan in hospital, than providing the funds for the home-care package.
While the family gave permission to their local TD to 'go public' with their story, Howlin was reluctant to give out too much personal information, such as Jonathan's exact age and details of his injuries.
The Labour leader said the story bears similarities with that of the elderly couple, Michael (90) and his wife Kathleen (85) Devereaux that hit the headlines this week.
The couple have been married for 63 years, but they were recently separated because one of them was rejected by a nursing home.
They have since been reunited, but only after Michael took to the airwaves to give an emotional account of his story to RTÉ's Joe Duffy.
'Devoid of humanity'
Following the radio show, it was raised in the Dáil, with the Taoiseach Leo Varadkar stating that the HSE decision to separate the elderly couple was "devoid of common sense and humanity".
Howlin told TheJournal.ie that leaving Jonathan in hospital is similarly devoid of humanity.
My question is simple. Is it only through national media that these matters are resolved or will the Government address this case too?
He said Jonathan's family have been down every road to get help and reach a resolution.
"This is simply another story, of which I see many, that is simply illogical," said the Wexford TD.
'Economics make no sense'
"Obviously the economics of it makes no sense. My efforts to raise the case and bring it to a sensible solution, as in the case we discussed yesterday, have come to nought," he said.
"Jonathan is trapped in a very expensive bed in a much-sought after hospital, which has long waiting lists. He just wants to go home to his family and they are anxious to have him home," explained Howlin.
The National Rehabilitation Hospital provides complex services to patients who, as a result of an accident, illness or injury, have acquired a physical or cognitive disability and who require specialist medical rehabilitation. It is the only hospital of its type in the country, hence the long waiting lists.
The Liveline effect
The Wexford deputy said families in desperate situations now believe the only way to get the attention of politicians and the HSE is to go public.
#Open journalism No news is bad news Support The Journal

Your contributions will help us continue to deliver the stories that are important to you

Support us now
He said it appears highlighting tragic stories where people are at their wit's end is the only way to get answers.
Howlin told the Dáil chamber this week:
What about the other Michaels and Kathleens who do not have the wherewithal to reach the national media? How many more cases that we do not know about are there given the processes that were so well laid out and set out by the Taoiseach simply do not work?
One after another, all these groups, bureaucrats and decision makers deal with the detailed medical reports but cannot come to what is now a self-evident, compassionate decision until someone points it out in the national media.
Howlin said the system is failing, accusing the HSE of being a "beast on its own", accountable to no one.
"It is clear that it is far more costly for Jonathan to be in the National Rehab than being at home with his family. These family are entitled to dignity and privacy, but this seems to be the only way to get action.
It is understood that Health Minister Simon Harris and the Minister of State for Disabilities Finian McGrath have been in correspondence about the case with the HSE, as has Howlin, but no progress has been made.
'Unacceptable'
McGrath told TheJournal.ie, that "it is absolutely unacceptable" that Jonathan is being left in the National Rehabilitation Hospital when he is ready to leave and the supports are signed off on and ready to go.
"Absolutely something needs to be done about this case," said McGrath, who committed to push the HSE to deliver on the 90 hours of home support promised to Jonathan and his family.
This week, the Taoiseach said home care packages have considerably improved in the past number of months due to the additional resources that have been provided by Government.
TheJournal.ie contacted the Health Minister but failed to get a response. The Department of Health and the HSE were also asked for comment, but they were not in a position to provide one at the time of publication.