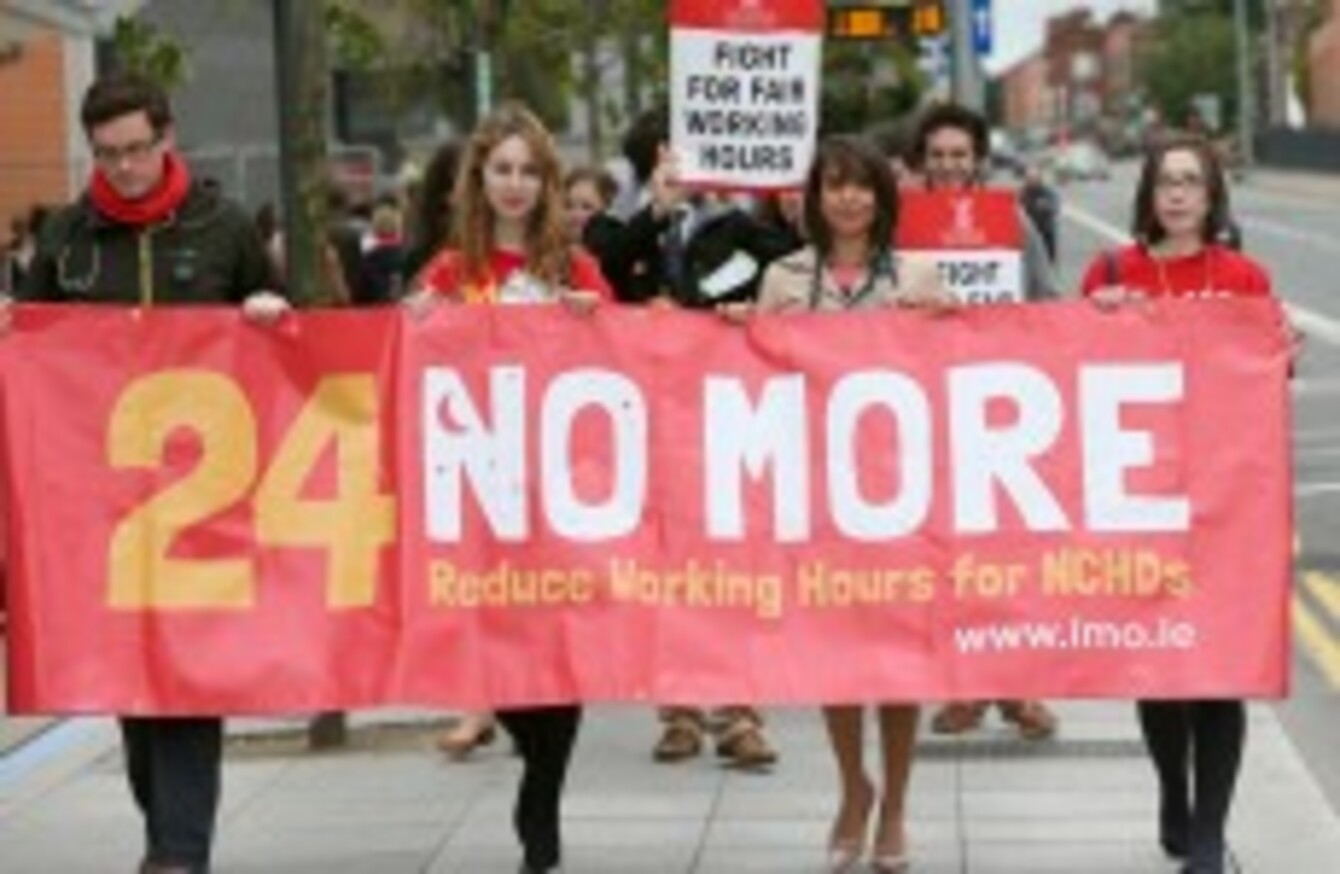 Doctors on the picket line last October.
Image: Laura Hutton/Photocall Ireland
Doctors on the picket line last October.
Image: Laura Hutton/Photocall Ireland
UP TO A third of hospitals are to be sanctioned for not doing enough to tackle long working hours for junior doctors according to the Irish Medical Organisation.
Under agreements made between unions and the HSE to halt strike action, it was agreed that hospitals would be financially penalised if they did not implement the European Working Time Directive as required.
The IMO has said today that they have met with health service management and the "joint national verification group" to review progress on compliance. Some progress has been made they say, but some hospitlas are doing more than others.
"It is positive that some progress has been made in tackling the dangerously long working shifts that put patients and doctors at risk," said the IMO's Eric Young.
However, it is a cause for concern that up to 33 per cent of hospitals have not made sufficient progress on this issue and financial sanctions will now be applied to the budget of these hospitals. It is essential that these hospitals redouble their efforts and remove these unsafe working hours from our hospitals without any further delay.
Much of the disagreement about last October's dispute focused on how these penalties would be implemented, with the HSE resistant to direct financial sanctions.
It was agreed that part of a hospital's budget would withheld subject to checks on their progress in changing their practices.
The IMO says that some other hospitals who are not being penalised are still not fully compliant but have met sufficient progress to avoid any sanction this month. However, unless progress continues to be made "these hospitals may also face sanctions in subsequent months".
"Up to 10 hospitals will be compliant when they manage to fill empty vacancies which are indicative of the shortage of doctors in the Irish health system," the IMO concludes.