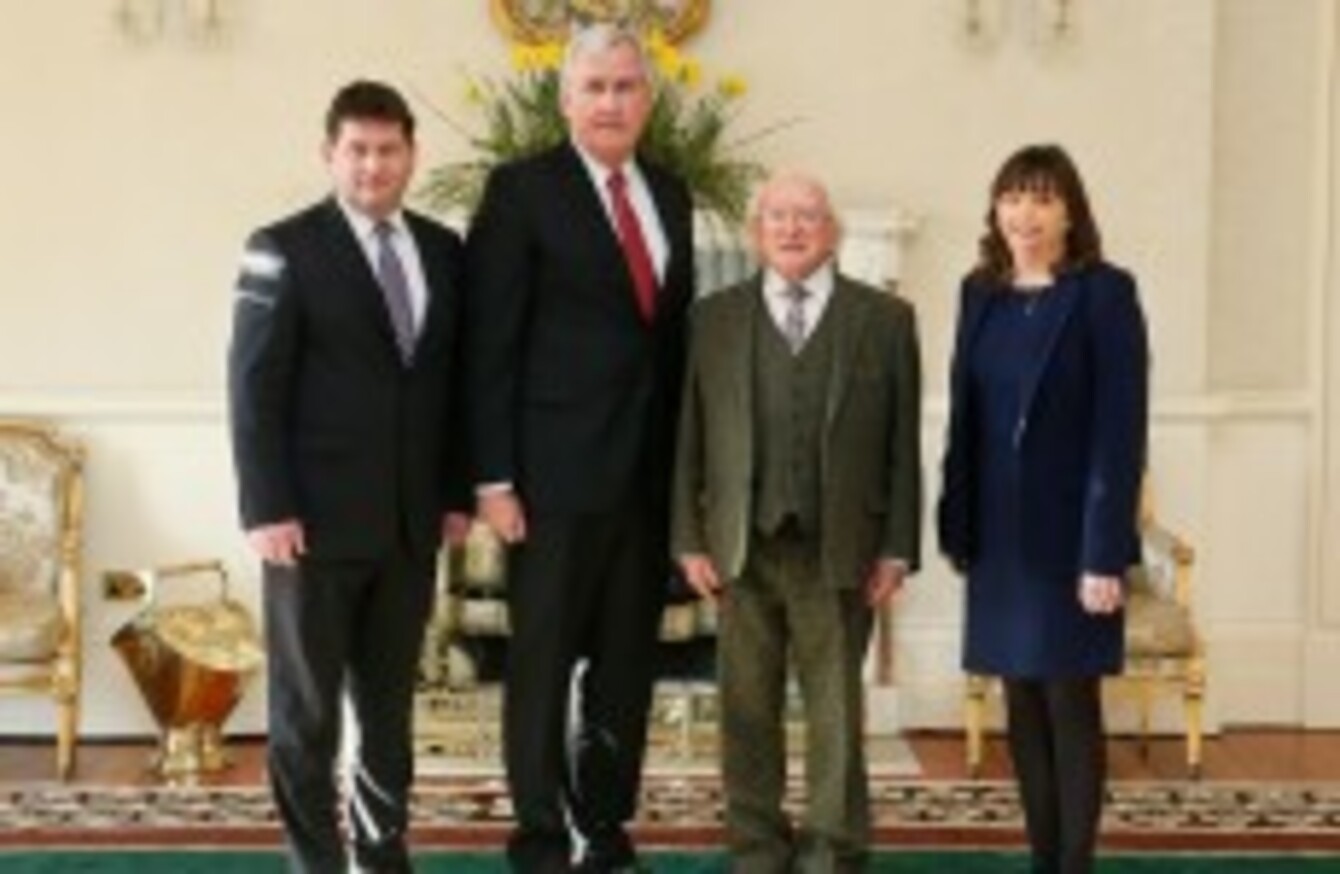 Left - Right: Minister Dara Murphy, Kevin Vickers, President Higgins, Jackie Ellis, General Relations Officer at the Embassy
Image: TONY_MAXWELL
Left - Right: Minister Dara Murphy, Kevin Vickers, President Higgins, Jackie Ellis, General Relations Officer at the Embassy
Image: TONY_MAXWELL
KEVIN VICKERS, THE sergeant-at-arms who shot dead a gunman at Canada's parliament, is now officially the Canadian Ambassador to Ireland.
Earlier today, Ambassador Vickers – who has a strong Irish-Canadian background – presented his credentials to President Michael D Higgins at Áras an Uachtaráin.
Kevin Vickers was hailed a hero after shooting a gunman who killed a soldier at the Canadian House of Commons in Ottawa. After the incident, he received a standing ovation in parliament.
New ambassadors
Vickers joined the Ambassador of the Plurinational State of Bolivia, HE Mr Roberto Calzadilla Sarmiento, and the Ambassador of the Republic of Armenia, HE Mr Armen Sarkissian, in presenting their Letters of Credence to the President at Áras an Uachtaráin today.
The new ambassadors were accompanied on their journeys to and from Áras an Uachtaráin by an escort of honour – a motorcycle detachment drawn from the 2nd Cavalry Squadron at Cathal Brugha Barracks, Dublin.
A guard of honour was provided at Áras an Uachtaráin by the 1st Mechanised Infantry Company from the Defence Forces Training Centre at the Curragh Camp.
Afterwards, Ambassador Vickers met with the Minister for Foreign Affairs, Charlie Flanagan, to discuss the potential for building on Ireland's relationship with Canada.
Minister Flanagan said he was "delighted that Ambassador Vickers has been able to take up his post so soon after his nomination by the Canadian government".
In our first meeting, we discussed the great potential for further developing Ireland's relations with Canada and building on our already strong business, political and cultural links.
Ireland's trade with Canada is worth at least €2.75 billion, said Flanagan.