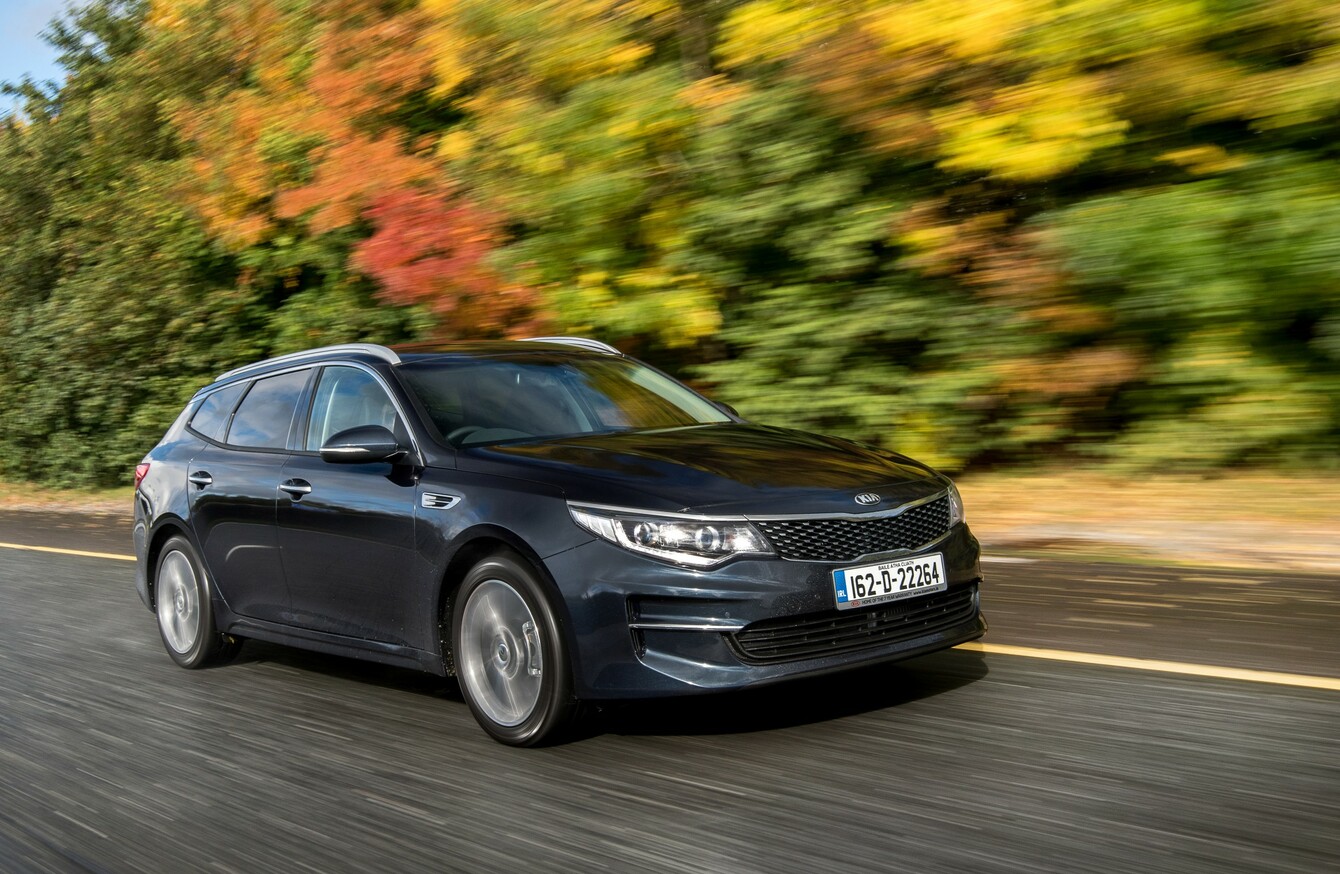 Image: Max Earey
Image: Max Earey
LOOKING FOR AN impressive medium-size family estate that does everything well, has plenty of space and comes with lots of equipment? The Kia Optima Sportswagon may just be the car for you.
Based on the Sportspace concept car shown at the Frankfurt Motor Show in 2015, this is Kia's first-ever D-segment tourer. The Sportswagon (Kia-speak for estate) looks very handsome indeed with its crisp lines and smooth body work. I think it's even more handsome than the saloon.
The front end looks every bit as sharp as the nose on the saloon but the tapering roofline and raked rear window add a real sense of purpose and athleticism to the wagon.
Of course, the real purpose of an estate is to have a massive boot. The Optima has a useful 552 litres which swells to 1,686 litres with the 40/20/40 rear seats folded (and the seats lie nice and flat).
The Skoda Octavia Combi has a larger boot at 610-1,740 litres but the Sportswagon boot is larger than that of the Ford Mondeo Estate at 500-1,605 litres.
The cabin is practical with good storage all round and lots of leg and headroom for all. The all round visibility is great too.
There is a really clear and easy to read 4.3-inch colour LCD trip computer and a 7-inch touchscreen with rear camera. The touchscreen is very easy and intuitive to use.
On the road, the Kia Optima Sportswagon has decent road manners and with good body control. It is comfortable and does a good job of soaking up lump and bumps without too much fuss. It just gets the job done.
The steering is a bit light for my liking – it could do with a bit more weight and feedback – but otherwise, the car responds well to input.
It is easy to manoeuvre and feels planted on the road with good amounts of grip and confidence when cornering. It really does do everything well, just don't expect a highly dynamic ride.
The six-speed manual transmission has a nice, crisp action to it and the 141hp 1.7-litre diesel is pretty good. It is smooth and flexible, although I did find it a tad noisy. The engine is efficient also – returning a claimed 4.4 litres/100km (67mpg) and emission of 113g/km placing it in tax band A4 at €200 a year to tax.
The Kia Optima Sportswagon is offered with just the one engine mentioned above and can be had with either the six-speed manual transmission or Kia's new seven-speed double-clutch transmission. Our pick is the manual, as it is more efficient and gets you off the mark quicker too. The Sportswagon is available in EX and EXS trims. (EXS is the same as EX but with a sunroof added.)
There is plenty of equipment as standard including 18-inch machine-finished alloys, privacy glass, dual zone climate control and sat-nav.
The Kia also comes with electronic safety features aplenty including Electronic Stability Control, Emergency Stop Signal, auto cruise control, speed limiter, Lane Keeping Assist System, Speed Limit Information System, Traffic Signal Recognition and Parking Assist (front and rear sensors).
Prices start at €29,950.
In summary, I found the Kia Optima Sportswagon to be a great all-rounder. It looks gorgeous, one of the more handsome family cars on the road at the moment and it has a pleasant and practical cabin that is well-built. It holds its own out on the road with mature manners and a comfortable ride. It would be one of the better family estates on the market in terms of overall package and value for money.
However, if you want something that offers a better driving experience then check out the Mazda6 Tourer priced from €31,395.
If you need an estate with even more room then check out the physics-defying Skoda Superb Combi priced from €28,750.
If your budget is a bit tighter but you still want a decent family estate car then check out the Fiat Tipo Station Wagon priced from €19,245.