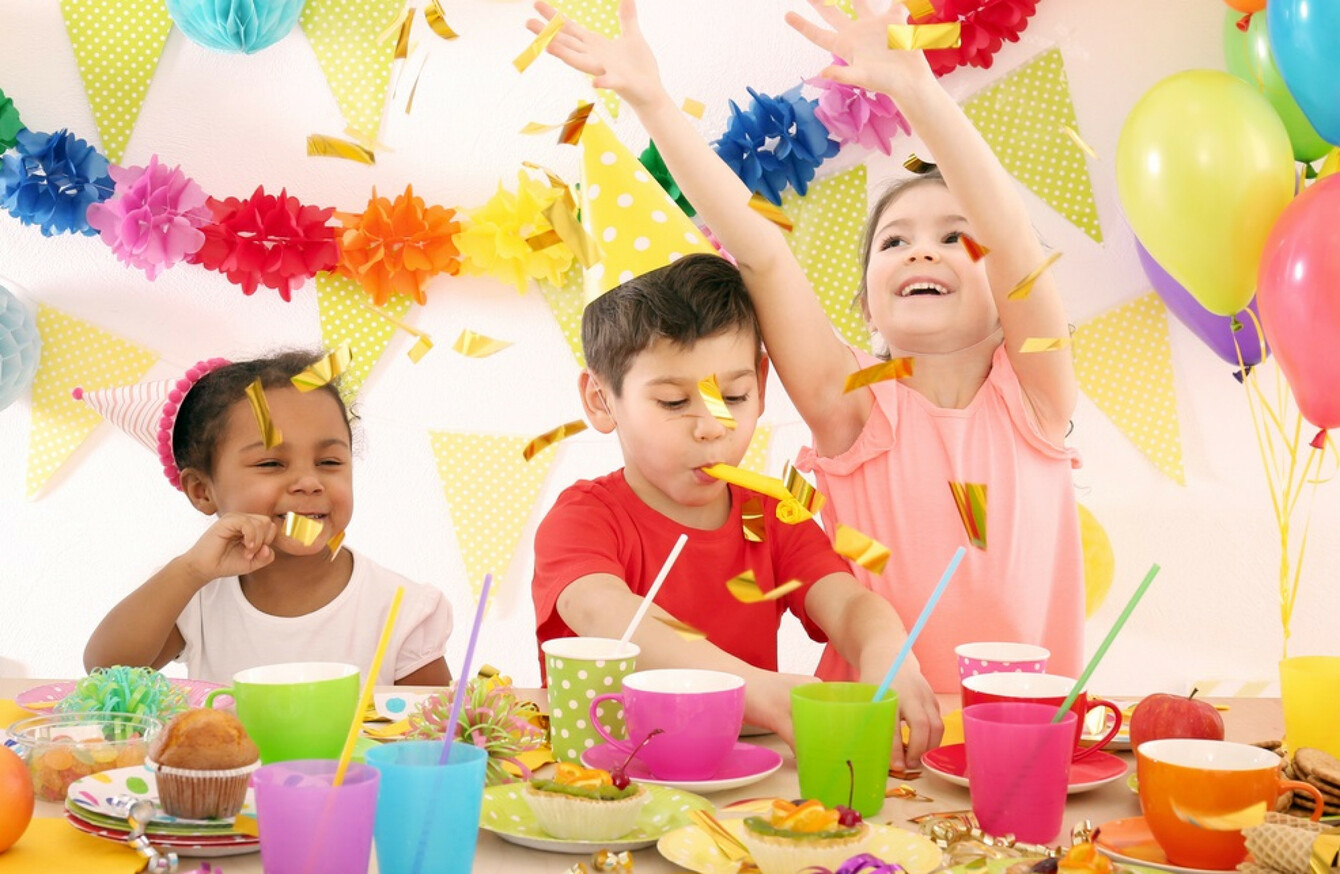 Image: Shutterstock/Africa Studio
Image: Shutterstock/Africa Studio
MY FINGER IS hovering over the 'Add To Basket' button for a bouncy castle for my son's third birthday. He's not expecting a bouncy castle, nor has he requested it. It's too expensive, the invite list only features three kids (the birthday boy included), and I'm not entirely sure it'll fit in our matchbox of a garden.
I'm still tempted, though.
Lingering in the back of my mind is the knowledge that two other friends had bouncy castles at their kids' parties. Another friend had plate painting, someone else has a visit to a fire station in the pipeline, and hiring in a clown or entertainment has become almost passé. All my little boy wants is a small (but precise) list of presents, balloons and a cake. I'm the one panicking about upping the ante.
Just like weddings, birthday parties have morphed into a far grander affair than they were a generation ago. A recent poll by MummyPages.ie revealed that parents spend an average of €366 on a child's birthday bash. With the stakes that high, it's no wonder there's a sense of competition among parents.
That familiar Insta-envy
Certainly my cake concerns – to bake or buy, to go full sugar or use something healthier – have less to do with the birthday boy's desires and more to do with my own dread of being a 'bad mum'. According to psychologist Sally O'Reilly, I'm not alone. As she explains:
The pressures parents unwittingly put on themselves and each other to 'give good party' is huge. I've seen it personally as well as professionally and it exhausts people.
"Underneath it all, it's really about feeling worthy," Sally continues. "In this age of social media and attached anxieties, feeling good enough is a real challenge for a lot of us."
I've pored over enough posts on sharks carved out of watermelons to know that familiar feeling of Insta-envy – but I also know the smug joy that comes with posting one's star shaped, rainbow fruit skewers to Facebook.
"There's a delicious little dopamine buzz that we get when our phone goes 'ping,'" explains Sally. "We are, in a clinical sense, becoming quite addicted to that brief pleasant rush we get when someone likes a photo. We translate every thumbs up into, 'I am liked now, I'm finally good enough, people admire me.'"
No expense spared
Perhaps the craziest thing about kids' parties these days is the sheer amount of items purchased or services hired out. "Children's parties have morphed into social events that cost us dearly, emotionally and financially," says Sally.
The invitations, the gift, the party bags, the food, the entertainment, the photographer in some cases. Some parents – and kids – get hair and makeup done, houses are cleaned, there's booze in for the adults.
"Do the children notice?" Sally wonders. "Probably not. But we are normalising it for them and training them to have expectations, so that will have later ramifications."
Can't say no
Business woman Tracy Hussey who runs Little Princess Pamper Parties agrees that the demand to have something 'different' is a huge factor in party planning today. "The kids will say, 'Well, she had that, so I'll get that and something extra,'" explains Tracy, who set up her own party business after recognising the power of a growing industry.
"Even in the recession people were having parties they probably couldn't afford simply because they just didn't want to say no to their kids. When it comes to kids there doesn't seem to be any expense spared."
Spending a fortune on our children is weirdly tied up with the desire that they, or others, will know how much we care. But perhaps we need to think about what we really value before mumbling "They're worth it," and adding another zero to the credit card bill.
"Honestly, children just want fun and friends. That's all," says Sally. "We could, if we all made a concerted effort, retrain ourselves to tone it down, depressurise and have more craic. Put the phones away, ease up, get messy and join the damn party."
As for me? I can't quite bring myself to walk away from social media, but perhaps I should step away from the bouncy castle.
Stay updated by following the Family Magazine on Facebook and Twitter - and don't forget to enter this week's competition for a two-night getaway and dinner at the boutique Step House Hotel!