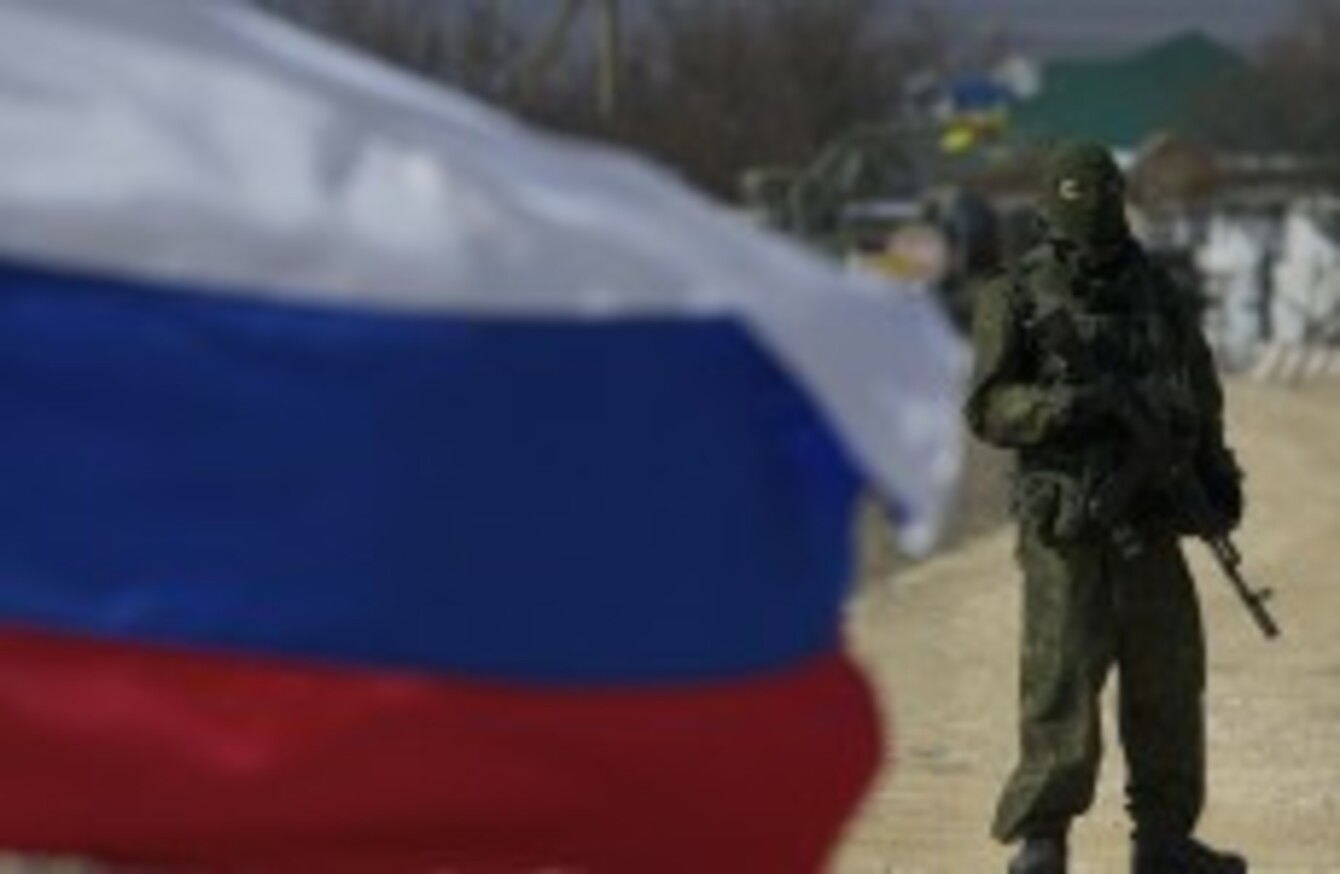 Pro-Russian soldiers block the Ukrainian naval base in the village of Novoozerne
Image: Ivan Sekretarev/AP/Press Association Images
Pro-Russian soldiers block the Ukrainian naval base in the village of Novoozerne
Image: Ivan Sekretarev/AP/Press Association Images
RUSSIAN PRESIDENT VLADIMIR Putin has told troops to return to their permanent bases after calling a snap drill to check their battle-readiness last week.
"The commander-in-chief President Vladimir Putin gave the order to the troops and units taking part in military exercises to return to their permanent bases," Putin's spokesman Dmitry Peskov told Russian news agencies this morning.
Putin last Wednesday ordered snap combat readiness drills involving thousands of troops, in what was ostensibly a routine exercise.
The drill involved army, navy and airforce troops based in the central and western military districts, a vast territory that includes regions bordering Ukraine but also extending to the Arctic.
The drill did not include any regions beyond Russia's borders such as Crimea, the Ukrainian Black Sea region which has become a flashpoint in the standoff between Moscow and Ukraine's new authorities after the ousting of president Viktor Yanukovych.
Defence Minister Sergei Shoigu had said that the drill would include military exercises "on Russia's borders with other countries, including Ukraine".
The drill, which was initially announced to finish on Monday, came shortly before Russian security forces began operating covertly in Crimea and Putin gained permission from senators for military intervention.
Kerry visit
Meanwhile, the United States has suspended military cooperation with Russia due to its military intervention in the country, as Secretary of State John Kerry prepares to visit Kiev later today.
"We have, in light of recent events in Ukraine, put on hold all military-to-military engagements between the United States and Russia," Pentagon spokesman Rear Admiral John Kirby said in a statement.
The suspension of the post-Cold War cooperation covers exercises, bilateral meetings, port visits and planning conferences, Kirby added.
The crisis now threatens to blow up into the biggest test for global diplomacy — and relations between Moscow and the West — since the fall of the Berlin Wall in 1989.
Kirby stressed that the suspended system had been "developed over the past few years to increase transparency, build understanding, and reduce the risk of military miscalculation".
US Secretary of State John Kerry [Pablo Martinez Monsivais/AP/Press Association Images]
Both Washington and the European Union said they were looking at a range of sanctions against Russia for its threat to use force against an ex-Soviet neighbour for the first time since a brief 2008 conflict with Georgia.
The West's warnings to Moscow came shortly after Ukrainian defence officials on the flashpoint Crimean peninsula said Russia had given its forces an ultimatum to surrender or face an all-out assault.
"The ultimatum is to recognise the new Crimean authorities, lay down our weapons and leave, or be ready for an assault," regional Ukrainian defence ministry spokesman Vladyslav Seleznyov told AFP in the Crimean capital Simferopol.
But a spokesman for the Russian Black Sea fleet based in Crimea told the Interfax news agency the claim was "complete nonsense".
World markets plunged and oil prices spiked on fears of an all-out offensive that would pit nuclear-armed Russia against its Western-backed neighbour.
People listen to a political speech on a stage in Kiev's Independence Square [AP Photo/Emilio Morenatti]
Kiev's new Western-leaning leadership is due to receive a morale boost today when Kerry meets with the new Ukrainian leadership and parliament to "reaffirm the United States' strong support for Ukrainian sovereignty, independence, territorial integrity", the US State Department said.
The hastily arranged trip reveals growing alarm at the events in Ukraine.
NATO is also to hold an urgent meeting today at Poland's request, after the neighbour of Ukraine raised concerns about its own security in light of the crisis.
The world's richest nations have already threatened to strip Moscow of its coveted seat at the Group of Eight industrialised nations for menacing its ex-Soviet neighbour.
In Brussels, EU foreign policy chief Catherine Ashton said ahead of talks with Russian Foreign Minister Sergei Lavrov in Madrid that the 28-nation bloc would "consider targeted measures" against Moscow.
A special European summit has been called for Thursday.