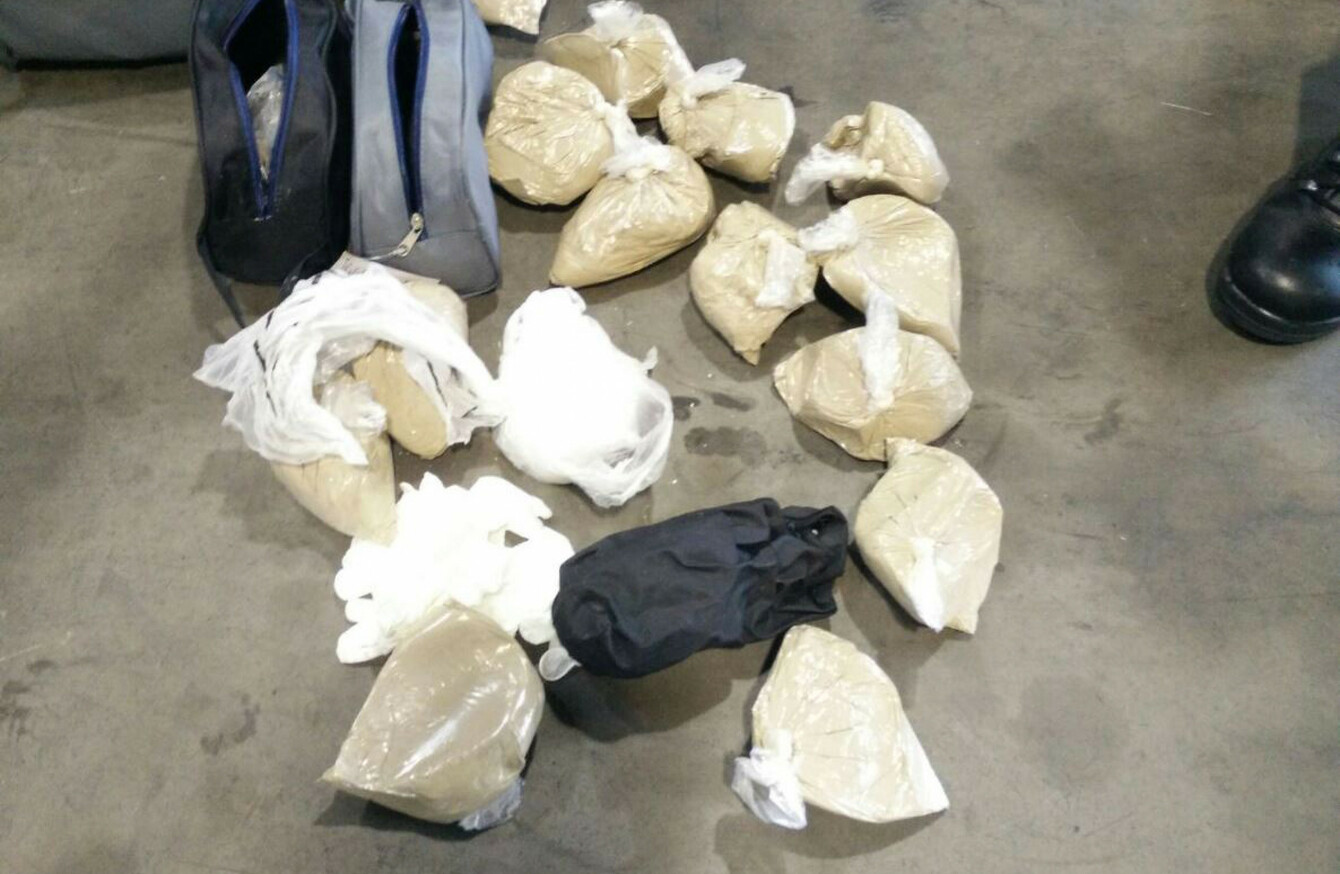 A file pic of a heroin and cocaine seizure.
Image: Revenue
A file pic of a heroin and cocaine seizure.
Image: Revenue
THE KINAHAN CARTEL'S woes continue to mount after a sophisticated drug trafficking enterprise spanning three continents unravelled following the seizure 20kg of cocaine in a Australian building site.
Earlier this month, federal police based in Brisbane raided a building materials company which had, in the last year, been let to an Asian national working in Australia.
The officers discovered a quantity of cocaine, valued at AUS$2.4 million (€1.6 million) and the man was arrested. He is still in custody. What Australian officers discovered in their follow-up investigations was a sophisticated supply chain involving European businesses, Moroccan suppliers and Australian dealers.
For the last year, the Irish drug market has been fraught with danger for the Kinahan cartel as large seizures by gardaí have been occurring on a regular basis. This, combined with the arrest and charging of senior members of the gang, has meant that the gang's boss Daniel Kinahan has had to move to another market in an attempt to increase his cash flow.
In the last year, police in Australia managed to take down a large cocaine ring in Queensland – effectively freeing up the area for new businesses.
The Kinahans' interest in Australia was already there, however. A large number of Irish heading Down Under meant the cartel had more chance of getting people to give up their trade and work for them. The setting up of a building materials company worked as the perfect front for the traffickers – large numbers of Irish men coming and going from a massive building site was not going to rouse much suspicion.
TheJournal.ie has discovered a number of property deeds and documentation relating to the suspected front for the Kinahans' Australian distribution centre. The director of the shell company is an Australian citizen. This man works for a company with links to a European port city.
When contacted by TheJournal.ie, the Australian Federal Police confirmed an investigation has started.
A spokeswoman said: "The AFP can confirm it is investigating the seizure of a quantity of cocaine from the Brisbane suburb of Geebung. This activity is part of an ongoing investigation, as such it would not be appropriate to comment further at this time."
Another reason the Australian market was a tempting one for the Kinahans was the potential for profit.
Informed sources have told TheJournal.ie that the cartel is sourcing their drugs from a gang in northern Colombia. The going rate for buying a kilo of uncut cocaine is around €1,800. The average price of a kilo in Australia is AUS$180,000 (€120,000).
It's a similar story for marijuana – the raw material is usually supplied from a Moroccan compound with the knowledge and permission of a well-known veteran Irish criminal who has been living in north Africa for over a decade and who controls the cannabis trade in the region.
However, most of the cannabis which is being distributed from Morocco is not ending up in UK or Irish markets. Instead, newer destinations are proving successful for the cartel.
#Open journalism No news is bad news Support The Journal

Your contributions will help us continue to deliver the stories that are important to you

Support us now
Sweden, Norway and Denmark are all recent shipping destinations for the drugs. However, the influx of drugs into regions such as Stockholm has not gone unnoticed. Swedish police have been conducting more detailed searches at a number ports.
In August of this year, Malmo customs officers made the largest narcotics seizure in the history of Sweden. Almost a tonne of cannabis was discovered in August of this year.
The man arrested was originally from the Netherlands but had been living in the south of Spain – a region which has come under the influence of the Kinahan cartel for the last decade.
Last month, TheJournal.ie reported that the cartel's Dublin operation was on the verge of imploding as paranoia sets in among the drug traffickers.
At least five of the men who are running the drug ring have ordered the murder of associates who once would have been considered close friends.
The men, each of whom has a price on his head ranging from €50,000 to €150,000, are all aware that they are in danger. Gardaí have given each of them Garda Information Messages (GIM) –  a legal requirement to inform people when their lives are at risk.