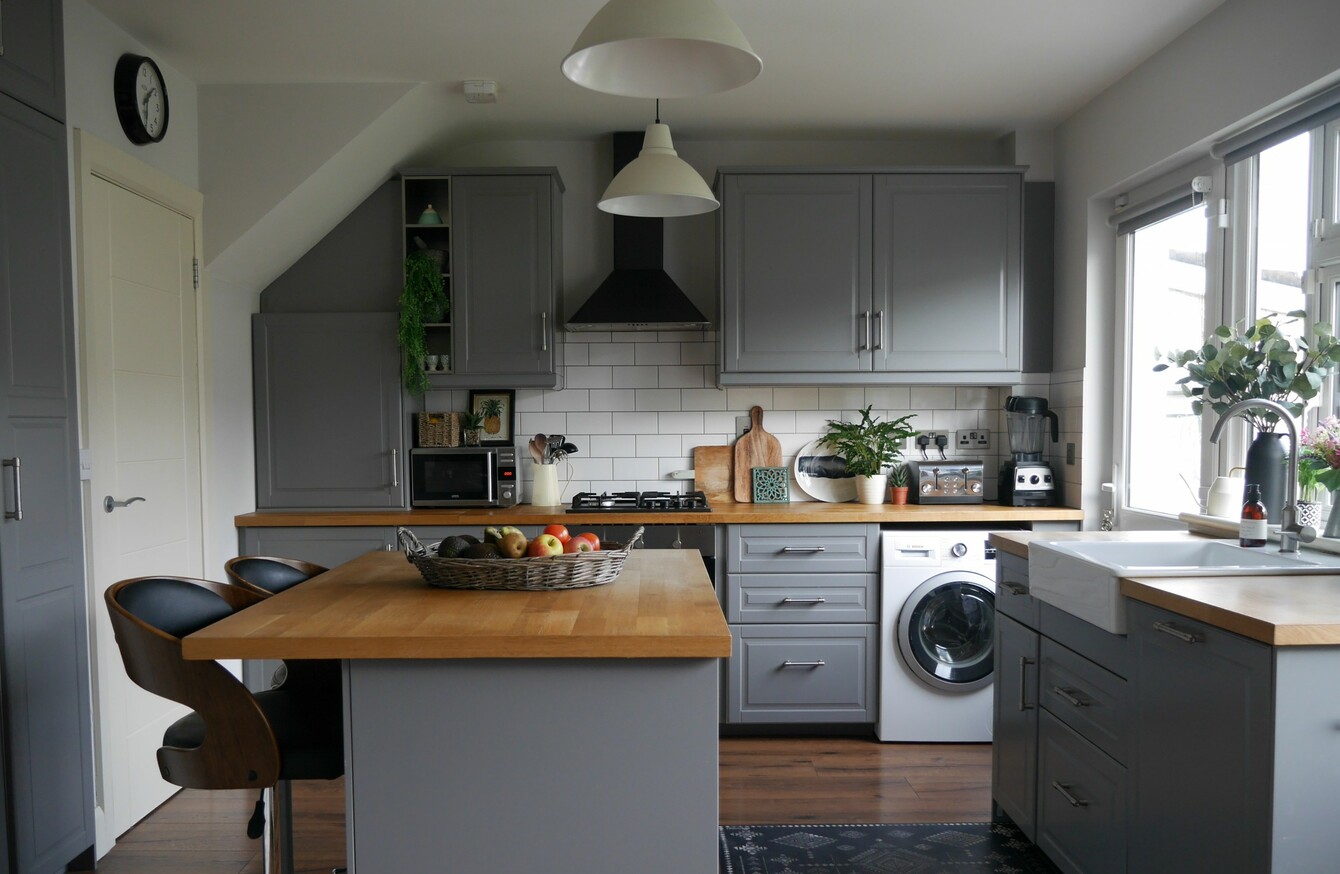 This Dublin kitchen is quite new, but has some layout issues
This Dublin kitchen is quite new, but has some layout issues
A WELL-DESIGNED KITCHEN can make a huge difference to your home life, but it's also one of the most challenging things to get right. 
These days, most kitchens aren't just for cooking; they also handle family meals, entertaining, homework, midnight snacks… and anything else you can think of. This puts a lot of demand on the space. And with appliances, storage and worktops all competing for their spot, it's all too easy to end up with a layout that doesn't work for you. 
Here, three readers share their kitchen design dilemmas. We've asked Marie Browne, a designer with Cash & Carry Kitchens, to tackle each one and offer some smart suggestions
And although the issues are very different, Marie says they all feel familiar – and there are solutions for them all. "We see questions like this all the time," she says, adding that many kitchens follow a standard pattern, laid out by the needs of a builder rather than the needs of a household.
"So our customers come in and they have a wishlist, and they need us to sort it – but in an affordable way."
Kitchen 1: The kitchen in need of a style injection
Emma Clair shares a kitchen in Wicklow with her husband Matthew and dog Jasper, in a home they bought recently. But the worktop space is limited and the room feels soulless.  
Emma Clair says: "I feel that our kitchen needs a style injection. It's the heart of the home, but it lacks the character and style that the rest of the house has.
"I absolutely hate the wall cabinets! I want to take them down and replace them with two shelves where I can display all my vintage delph. I also think that this will open up the space to more light and make the worktop space more functional.
"I want this kitchen to be an interesting space with a uniqueness that sets it apart from the norm. It will be the hub of the house so I'm looking to create a warm, rich vibe – as opposed to it being completely sacrificed to functionality."
So what's the solution? "We can open the space up for her," says Marie. "I would remove the wall cabinets and put floating shelves to the left and right of the hob." These become a display space and give the kitchen a more eclectic feel.
For Emma Clair's vintage delph, she has another idea. "I wouldn't put the vintage delph on the open shelving, as it collects dust and you don't want to be taking it down to clean it all the time." Instead, she proposes a narrow display dresser opposite the hob. "I would go for a glass cabinet with built-in warm lighting to really make the vintage delph shine." This would also round out the kitchen in a practical U shape. 
In colour terms, to achieve the warm, rich feeling that Emma Clair is looking for, Marie suggests a two-tone scheme on the units. "She has a primary colour on the wall, she likes depth, so I'd be looking to add some more of that. I would suggest using a marine blue for the main kitchen and our soft white for the dresser. We have a slate grey worktop called Lagos, let's pair that on top of the navy door for that rich tone on tone look." Adding gold handles to the units will create warmth, too. 
Overall, the combination of two colours with the worktop, plus the floating shelves and the dresser, will give the room the right atmosphere for entertaining, says Marie. "It would be a space where she walks in and would have a sense of her own style."
And which Cash & Carry Kitchens design would work best? Marie suggests the Savana kitchen for Emma Clair. To see the Savana in a room setting, click here. 
Kitchen 2: The new kitchen which isn't quite working
Isobel shares her Dublin kitchen with husband Robbie and two daughters, aged 3 and 4. They put in a new kitchen when they bought the house five years ago – but are now finding that it's not right for them.  
Isobel says: "I designed our kitchen, but there are things that I would definitely change if I had the chance.
"I love how the island provides prep space, casual seating, and houses the fridge and freezer below, but the small space behind the seats and the larder cupboard isn't very practical. On the other side, you can't properly get into the fridge when the dishwasher is open. 
"We have a larder behind the island. Currently we have two units with basic shelves and drawers inside for storing food. It works, but I'd love to find a way of using this space better. I'd also love to get rid of the small appliances on the worktops. They look cluttered. The microwave is the main culprit!
"I'd like the kitchen to have more impact visually. It's currently a bit too safe for my liking. I'd love something that made you say 'wow!'"
So what's the solution? "It's a hard task to design a kitchen," says Marie. "I'd be saying to Isobel, you've recognised the problem, you've got on your feet in the house, now make it work for you. There's lots you can save – keep the sink and appliances, and just invest in new cabinetry and doors."
To maximise space, she suggests leaving the island but taking out the seats and cutting back the depth of the worktop.
"With that change, let's really put the larder to work. We can even add a small worktop inside the larder – so that it's all covered over still, but you've now got a space for all those small appliances, and the microwave too. And if you do still want some seats, you could add an overhang on the short side of the island and tuck a stool underneath it."
And the fridge/dishwasher clash? "That's a classic problem," says Marie. She would solve it by turning the freezer around, so that it opens towards the larder rather than towards the dishwasher. 
In terms of colours, Marie's approach is counterintuitive. "I know she asked for bold colour," she says. "But based on the fact that Isobel is already thinking about improving this kitchen only five years on, I think she's going to want to update again in another few years." To accommodate that, she proposes white ash cabinets in a very classic design. "And then, take those bold colours and put them on your wall, or on your tiles." The whole kitchen, she says, will then be much easier to update. 
#Open journalism No news is bad news Support The Journal

Your contributions will help us continue to deliver the stories that are important to you

Support us now
And which Cash & Carry Kitchens design would work best? Marie suggests the Hampton kitchen for Isobel. To see the Hampton in a room setting, click here. 
Kitchen 3: The layout nightmare with lots of potential
Lisa shares a kitchen in Ballinteer, Dublin with her partner Paul, three-year-old daughter Sadie and Paul's mum Claire. But the layout has serious issues and the room needs an injection of fun. 
Lisa says: "The layout just does not work. The right side of the kitchen where most of the cooking and prep is carried out has absolutely no counter space. The left side is basically a dumping ground for junk. If there is more than one person in the kitchen it doesn't work.
"As you can see it is a nice big area with lots of potential. I did remove the heavy curtains that were on the windows to allow for more light, and the room does get the morning sun, but it needs an injection of colour and fun. I'd like it to make me feel relaxed and comfortable with a nice entertainment space for when friends and family call."
So what's the solution? "For this kitchen, I would suggest adding a new peninsula at the midpoint which currently is dead space," says Marie. "A peninsula breaks up the long room and expands counter space. This will help us to resolve a lot of the layout and space issues which Lisa has told us about."
To make entertaining easier, Marie suggests moving the cooking space, putting a Galileo Downdraft induction hob and convection oven on the peninsula, so that you can face guests while cooking. This would also create a work triangle, making it easier to share the kitchen. "The way that the sink and the range are currently in the same run means you're always stepping over each other." 
On the other side of the peninsula, Marie proposes bench seating as a breakout area for guests to sit and chat – with drawer storage underneath as a smart way to keep mess out of sight. "You could also add the Quooker boiling water tap" – which heats water instantly – "allowing more time to engage, you're not always up and down."
To bring light into the room, the cabinet doors need to go. "She might go with a light grey or white to open up the space," says Marie. "A lot of people like to combine them in two-tone. Our Augusta door would be perfect, it's the epitome of traditional, no-fuss design."
And which Cash & Carry Kitchens design would work best? Marie suggests the Augusta kitchen for Lisa. To see the Augusta in a room setting, click here.
You can book a free design appointment with Cash & Carry Kitchens today, at any of their 15 nationwide showrooms. With a reputation built on quality, trust and expertise, Cash & Carry Kitchens are with you all the way – from the first conversation, to seeing your new kitchen installed by trained fitters. To start your journey and book a free consultation, visit cashandcarrykitchens.ie or call 1890 92 92 26.