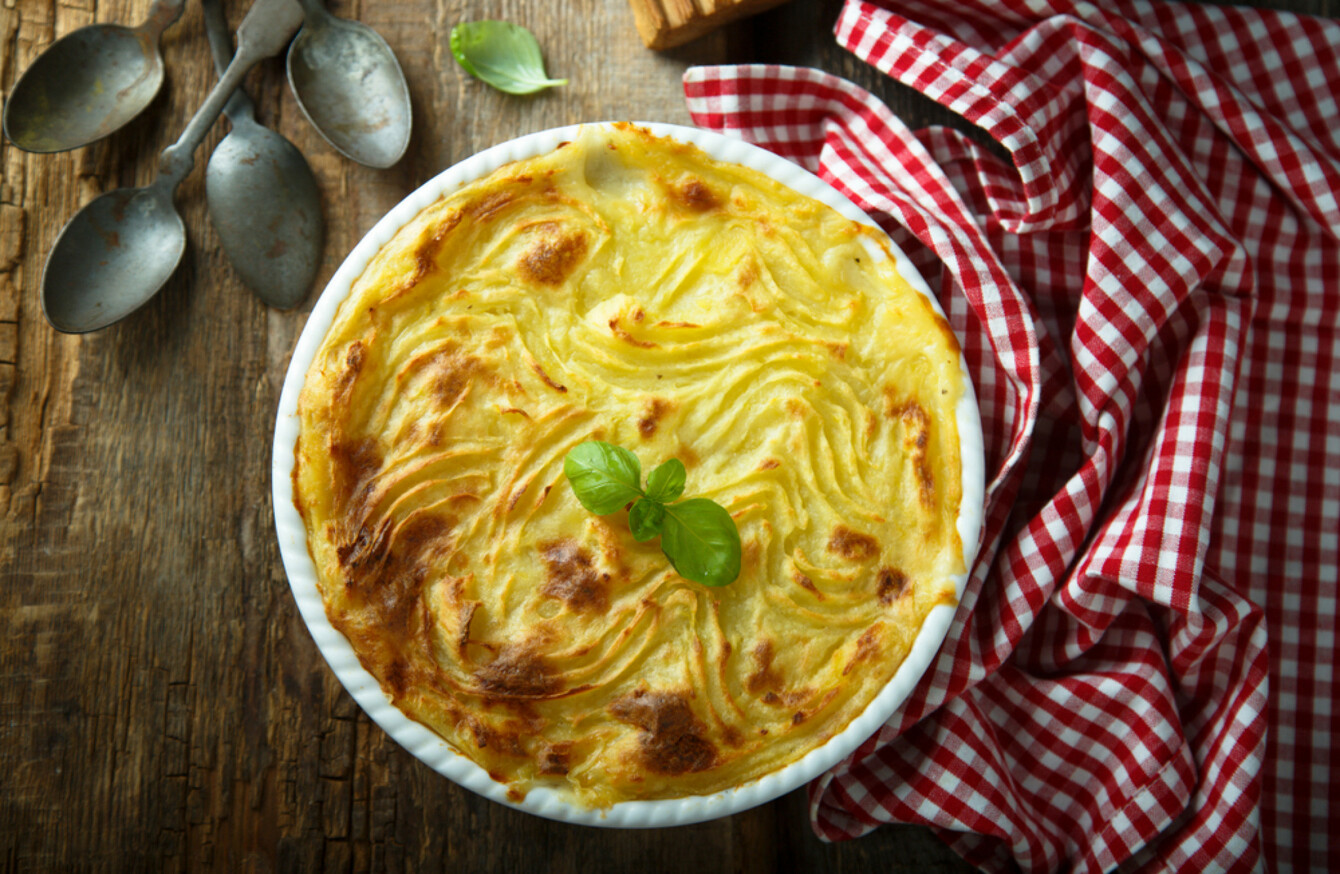 Image: Shutterstock/MariaKovaleva
Image: Shutterstock/MariaKovaleva
EVERY HOME COOK has their own kitchen hacks, cheats and traditions, and we want to know yours.
Each week as part of our Kitchen Secrets series, we'll be asking readers to share their cooking tips and go-to-dishes. From the secret to quick-and-easy dinners, to the best way to scramble an egg, we'll have a new question every seven days.
This week, we're asking…
What are your tips for a great shepherd's pie?
As usual, our home cooks had lots to say. If you'd like to join the panel, send us your name and a bit about yourself to food@thejournal.ie!
A comprehensive recipe:
One of our household favourites! Chop and dice an onion, 2 carrots and 2 sticks of celery and put in a large pan and gently fry with sunflower oil. Chop and cube 2 rashers of smoked back bacon and add to pan. Add 1 kilo of lamb mince and cook and turn and cook some more until the meat is all browned. Add a grind of salt, pepper and a good dash of Worcester sauce. Add 500ml jar of passata, a good squeeze of tomato purée and a beef stock cube (or beef stock pot). Add in a good handful of your favourite chopped herbs (sage and rosemary are always good with lamb), stir, reduce heat, pop on a lid and simmer for approx 45 mins, interrupting it occasionally to stir and remove some of the oil from the top.
Whilst this is simmering, get out the spuds and start peeling. Peel lots, a good deep mash topping is needed here. Peel, cook, mash with milk (or cream & butter for decadence) and a pinch of salt and set aside.
Get the oven on – 180C. Get out a two-litre ovenproof casserole dish and add the cooked meat, keeping some of the liquor/gravy aside. Top the meat with the mash and fork out to fully cover the meat then pop into the middle of the pre-heated oven for 40 minutes. 
Remove from the oven as the mash starts to brown (20-25 mins) and liberally apply a good topping of grated cheddar & mozzarella cheese. Return to the oven until the cheese is melted and it has a lovely toasted brown top & the gravy is bubbling up the sides.
Remove. Let cool for 10 minutes, as this is one seriously hot dish and serve with the set aside gravy. Add additional veg if needed, but a big serving of this pie is a meal in itself and really needs little accompaniment!
- Ross Boxshall
Use lardons for flavour:
When it comes to shepherd's pie I look to Ireland's favourite son, Neven Maguire. Start by sautéing the minced lamb with bacon lardons in a large saucepan. When these have browned, tip them out and add your carrots, celery, onion and garlic. Gently soften these and then add the meat back in with some Worcestershire sauce, tomato purée, thyme and good quality beef stock. Cover and simmer for 20 minutes. Get your potatoes steaming during this time. Maris Pipers are best for mash.
Once everything is cooked it's time to assemble (and preheat that oven to 180°). Pour your meat mix into a large ovenproof dish and add in some frozen peas and fresh chopped parsley. Mash your potatoes well with butter, warm milk and season well. You can use a potato ricer if you're seriously posh/fussy. Pile the mash on top of your mince and veg. Top with a good strong Irish cheddar and a sprinkle of parsley. Bake for 30-40 mins until golden brown on top and bubbling around the edges. Comfort food at its best!
- Donna Connolly
The secret to a foolproof pie:
The secret to a foolproof shepherd's pie is equal quantities of lamb mince to beef stock, eg 500g of lamb to 500ml of stock. And then almost double the amount – 950g – of chosen topping: potatoes/sweet potatoes/parsnip mash etc.
For a No Frills Shepherd's Pie: One tbsp of sunflower oil, sweat off one large onion and two/three medium carrots. Add the crumbled mince to the pan with two tbsp. of tomato puree and "the can't do without ingredient" two tbsp. of Worchestershire sauce. Bubble together for 40 mins.
#Open journalism No news is bad news Support The Journal

Your contributions will help us continue to deliver the stories that are important to you

Support us now
Put into an ovenproof dish, add the mashed topping of choice and place into a pre heated hot oven for 30mins for a delicious crispy topping!
- Jennifer Dillon
A version using lots of veg:
A beautiful golden crusted shepherd's pie is a must for a warming winter dinner.I like to incorporate lots of veg into my pie. Chop carrots, onion and celery  and gently fry in butter. Add meat, I prefer minced lamb, and fry until browned. Stock is next, lamb stock is best but beef will do. A sprig of thyme, a few bay leaves and you're done. Simmer for half an hour, thicken with a little flour. Remove herbs. Pour into a casserole dish, pile on mashed potatoes, dot with butter and bake for forty minutes. Perfect.
- Angie Nolan
And a cottage pie… that doesn't go in the oven at all:
My shepherd's pie is more of a cottage pie, in that I always use beef mince – specifically round mince. First things first, peel and steam Rooster potatoes. Crumble the mince in seasoned oil – I usually use a wok. Once it's browned, add a beef Oxo.
Then I add finely diced carrots and cook them for about 10 mins. Add diced onions and quartered mushrooms. Then a cup of Bisto, once it's bubbling add in peas. Mash the potatoes, using a good knob of butter, salt and ground white pepper, with a dash of milk. The meat and veg goes into a Pyrex, topped with the potatoes (I always like to just do a simple spiral pattern on the potatoes using a fork). Finally I put it I under the grill to brown up. I find it's not necessary to put it in the oven, and the peas go a bit manky in the oven too!
- Olly Keegan