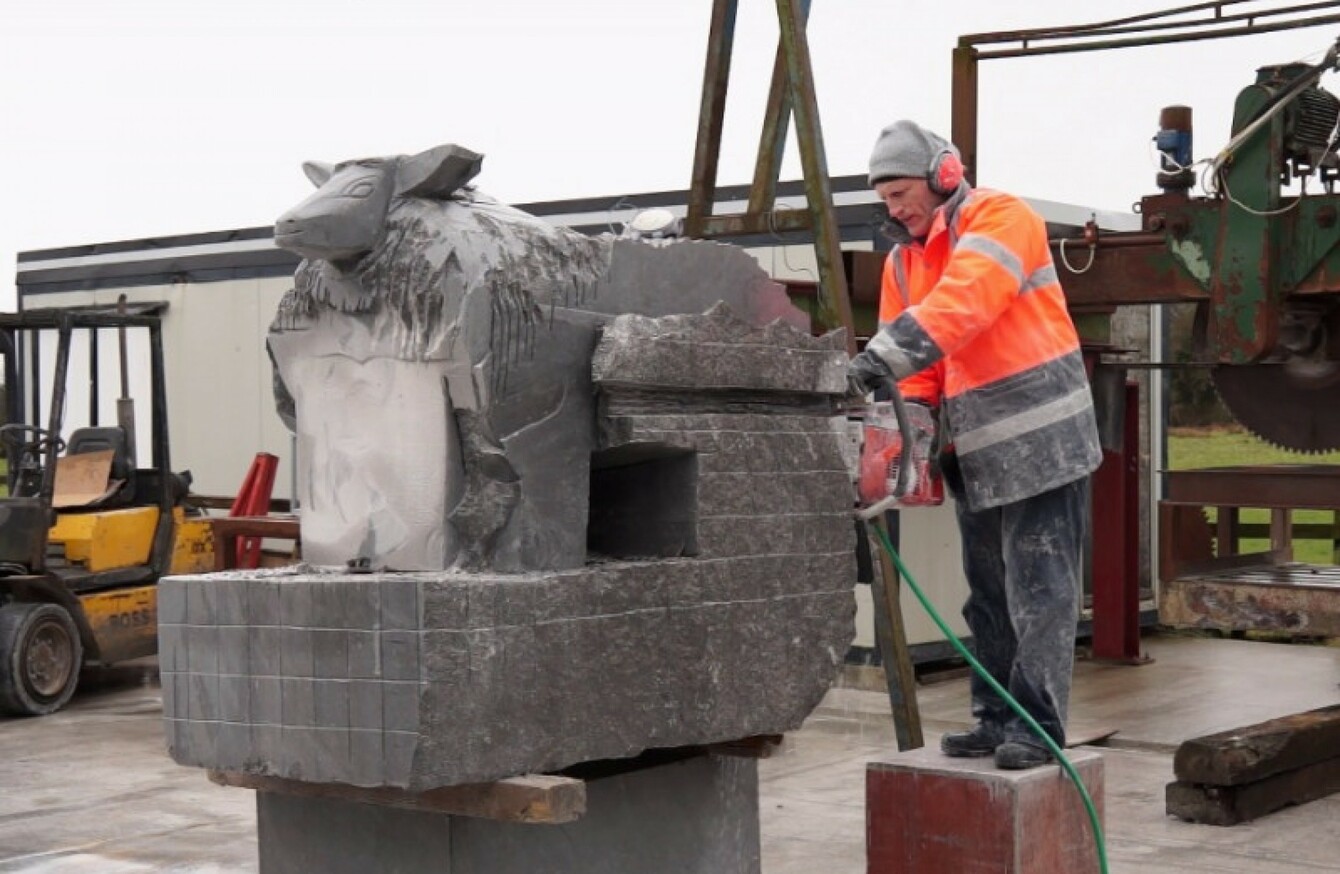 Image: Roscommon Lamb Festival
Image: Roscommon Lamb Festival
THIS YEAR, THE annual Roscommon Lamb Festival will take place for the 10th time.
Beginning on Wednesday, and lasting until the bank holiday next Monday, the festival calls itself a celebration of family fun, great food, farming, heritage and crafts.
For its 10th anniversary, it is celebrating in style with local sculptor Mark Feeley commissioned to create a life-size sculpture of a ewe and a lamb, that will then get pride of place in the town centre of Roscommon afterwards.
Feeley told TheJournal.ie that the project was a lot bigger than he thought it would be, but that he was confident it would be ready in time for the opening of the festival next week.
The sculpture itself is being made from Lecarrow limestone, which acts as the "bedrock that underpins the Roscommon lamb industry".
Limestone was said to have been essential in helping to foster the county's sheep and wool industries, and Feeley said that native limestone was "special to the people of Roscommon".
The festival has also started a Gofundme page to help support the creation of the sculpture.
Feeley is using a four and a half ton block of limestone to craft the sculpture.
So far he has spent 250 hours carefully crafting it, and the limestone is perfect for carving as "it rings like a bell" when struck with a hammer instead of cracking, according to the sculptor.
I've a little 10-year-old at home, and he's been helping out giving it a few whacks.
Although it's not quite finished yet, Feeley said that it would be ready for its grand unveiling next week.
"If I was given a deadline of two months from now, I'd probably keep working on it until then," he said.
Festival organisers say that the festival succeeds in celebrating the proud sheep farming tradition in the county while also highlighting the other positive aspects of life in Roscommon.
Over the six-day festival, there is a farmer's market, a local enterprise craft marquee, a family fun day and a bluegrass music fest.
"This festival is huge for the town and country," Feeley said.
He is delighted that the sculpture will be placed in the town square following the festival, calling it a fitting tribute to the county's heritage.
The Roscommon Lamb Festival starts this Wednesday 26 April. More details on it can be found here.