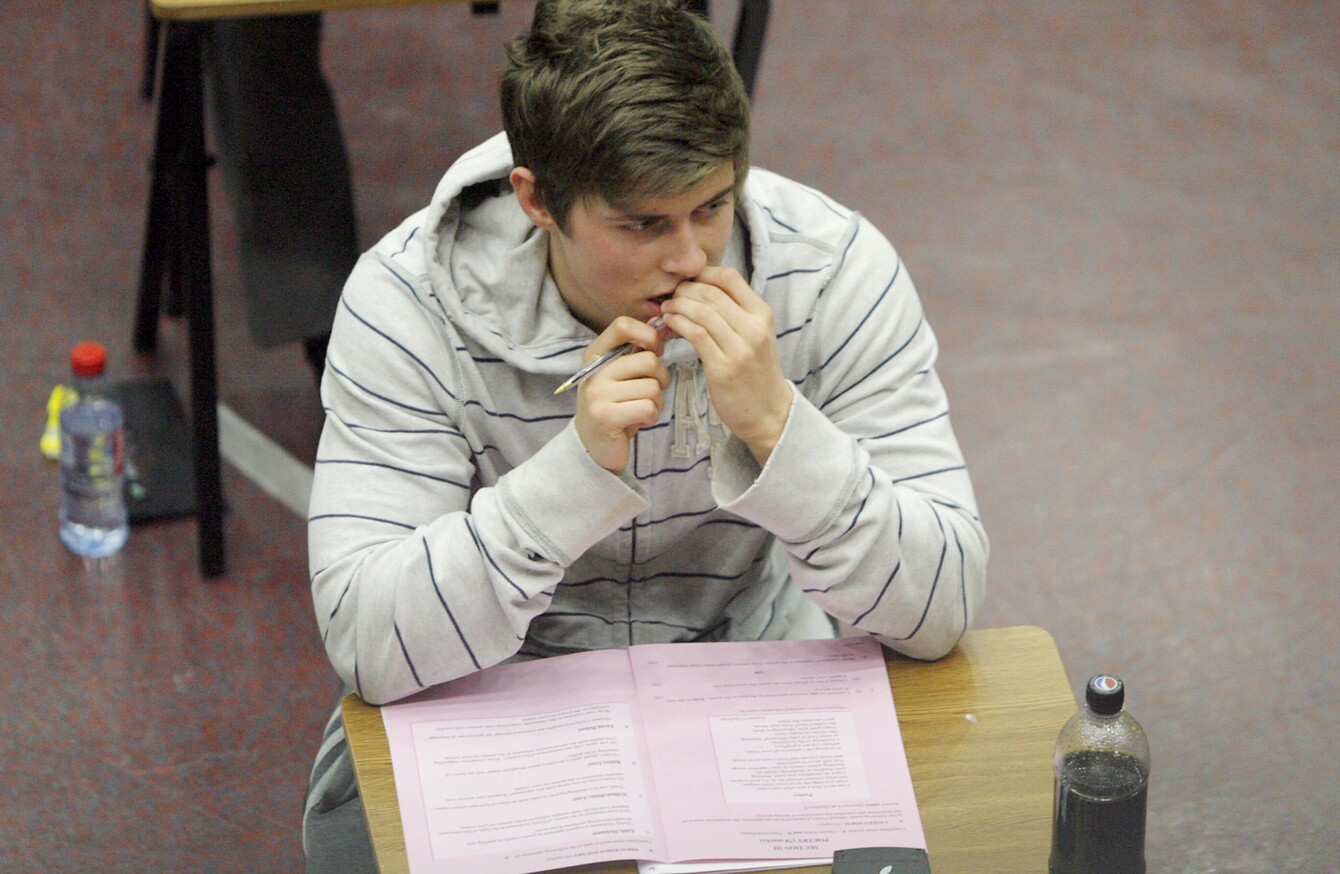 Image: Mark Stedman/Photocall Ireland
Image: Mark Stedman/Photocall Ireland
Updated at 8.40pm
120,000 STUDENTS SAT down to their first State exam papers today – with English paper 1 being the main focus of the day.
The paper didn't throw up too many surprises – but showed signs that the examiners were moving with the times, with students being asked to write a blog post for the first time ever.
Second-level teacher Luke Saunders, founder of the online study guide Studyclix, said that "most students" would be happy with Leaving Cert English paper 1.
"The Composition section offered a variety of discursive titles and short stories," said Saunders.
While the personal essayist may have been dismayed seeing just one option, it was a very manageable and relevant title encouraging students to reflect on the "useless clutter" that is a feature of many aspects of our lives.
Ordinary level didn't offer up much in the way if surprises either, with Saunder saying that an essay about "the pleasures of life's lazy days" must have seemed "cruelly ironic" for students.
The Junior Cert paper echoed the Leaving Cert in its contemporary outlook – with one article in the reading comprehension examining the popularity of emojis in modern communication.
"I found higher paper one very good," said Mikey Gordon, of Jesus and Mary Secondary School, Enniscrone, Co Sligo.
I loved the essay choice as it allowed me to write about my travel plans once I get these exams out of the way.
State exams
The State exams run for 13 days in total.
The State Examinations Commission (SEC) said it has produced four million exam papers comprised of almost 50 million A4 pages. As well as 90 curricular subjects, students will be tested on 16 non-curricular languages like Bulgarian, Dutch, Polish and Czech.
Over 19,000 students will sit the higher level maths paper.
Today, Leaving Cert students tackled English paper 1 and Home Economics.
Engineering and English paper 2 are scheduled for tomorrow and Friday they will sit Geography and Maths paper 1.
Junior Cert students sat English papers 1 and 2 today.
Tomorrow, it will be the two Irish papers, followed by Geography, Environmental and Social Studies and Maths paper 1 on Friday.
The largest cohort of Leaving Cert students are in Dublin, followed by Cork and Galway.
Pat Burke, chairman of the SEC today said the exams represent the culmination of "much hard work by students, their families and schools"
I know that the continued support of families and the wider education community and beyond is essential at this time. The Commission wishes all those involved the very best over the coming three weeks of examinations.
The results of the Leaving Cert will be available on 17 August, with Junior Cert students having to wait until mid-September to find out how they did.
Best of luck to all the students who started their exams today.
With reporting from Cormac Fitzgerald