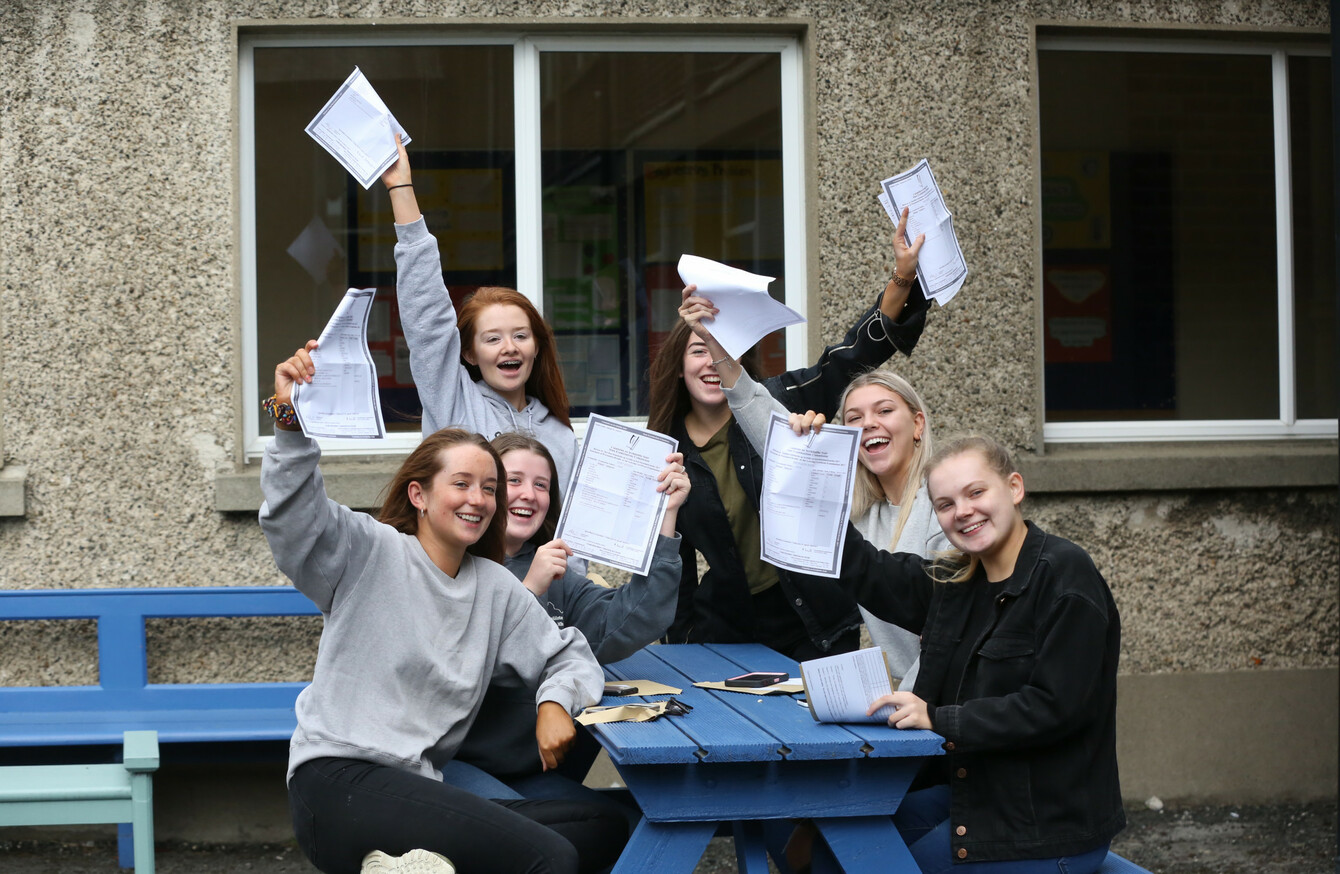 Results day in Maryfield College last year.
Image: Sam Boal/RollingNews.ie
Results day in Maryfield College last year.
Image: Sam Boal/RollingNews.ie
IT'S THE SECOND Wednesday of August, meaning one thing: Leaving Cert results day.
That's right, today is the day that some 57,149 students across the country find out their final scores in secondary education.
Last year was the first year of the common points system, a new grading system which changed how points are distributed for exam results.
It means that students won't be looking at the 14 lettered grades of old, so instead of As, Bs and Cs it's a numerical scale of 1-8 for both Higher and Ordinary levels.
Speaking ahead of the release of the results, Minister for Education Richard Bruton congratulated the students who took the exam, calling it "an important milestone", but stressing that it is not the only path within the education system.
Students receiving your results today, I want you to know that there are more opportunities now than ever before, to help you achieve your ambitions in life. There are a number of pathways to further your education, whether you choose third level, a post leaving certificate course, or the apprenticeship and traineeship routes.For students who may not have done as well as you might have hoped, don't panic, take time to consider all your options and remember that there are a number of routes now available to lead you to your chosen career.
The results
A total of 57,149 students sat the Leaving Cert in 2018, a 2.5% decrease on the numbers who took the exam last year (58,543).
Of those who took the exam this year, 2,709 (4.7%) did so via the Leaving Certificate Applied Programme.
The State Examinations Commission has said the results were "generally broadly in line with those obtained in 2017″.
The top six most popular Higher Level subjects taken by students this year were:
English – 38,283 students
Biology – 26, 543 students
Irish – 22,400 students f
Geography 19,106 students
Maths – 16,837 students
French – 15,485 students
The Big Three
Despite fewer students taking the Leaving Cert this year, there was a greater number of students taking the Higher Level paper this year in two of the three core subjects, Irish and Maths.
Speaking of those big three, there has been a slight decrease this year in the percentage of students earning a H1 grade on all three of those subjects.
In English it was 2.8%, in Irish it was 4.8% and in Maths it was 5.3%.
In Ordinary Level, there were falls in the number of students who failed both English and Irish but a small increase in Maths.
A fail is a O7 or O8 grade and the failure rate dropped from 8.1% to 7.9% in Irish and from 6.5% to 5.3% in English. It increased from 9.7% to 9.9% in Maths.
Languages
Across the languages, students also found it tougher going with falls in the percentage of students achieving 1 grades across almost each subject.
The number of H1 grades fell in French from 6% to 5.%, in Spanish from 8.6% to 7.3%, in German from 5.6% to 5.2% and in Italian from 12.9% to 10.2%.
The failure rate did decline in some of the languages this year too however, dropping from 11.3% to 8.8% in Ordinary Level German and from 9.1% to 8% in Ordinary Level Spanish.
Other subjects
The was a huge jump in the number of students earning top marks in Higher Level Biology but it remained relatively still in the other sciences.
#Open journalism No news is bad news Support The Journal

Your contributions will help us continue to deliver the stories that are important to you

Support us now
In Biology, 11.3% of students earned a H1 mark, more than double the 5.1% who did so last year.
In History, 6.4% of students earned a H1 grade and in Geography the figure is 2.0%.
This was the first year the new Politics and Society subject (here's what the exam paper looked like in June)
In total, 867 students took the exam in its first year, 774 at Higher Level and 93 at Ordinary Level.
Of those who took it at Higher Level, 6.1% achieved a H1 grad and 9.6% failed the exam.
At Ordinary Level, 1.1% achieved a O1 grade and 12.9% failed.
Speaking about this subject, the minister welcomed its inclusion.
"I would like to welcome this development and the successful examination of the subject. This subject is now available to all schools as a Leaving Certificate option from September 2018," Bruton said.
The State Examinations Commission is directing students who are getting their results today to check the 2018 Candidate Information Booklet if they have any queries or wish to see about viewing their scripts.