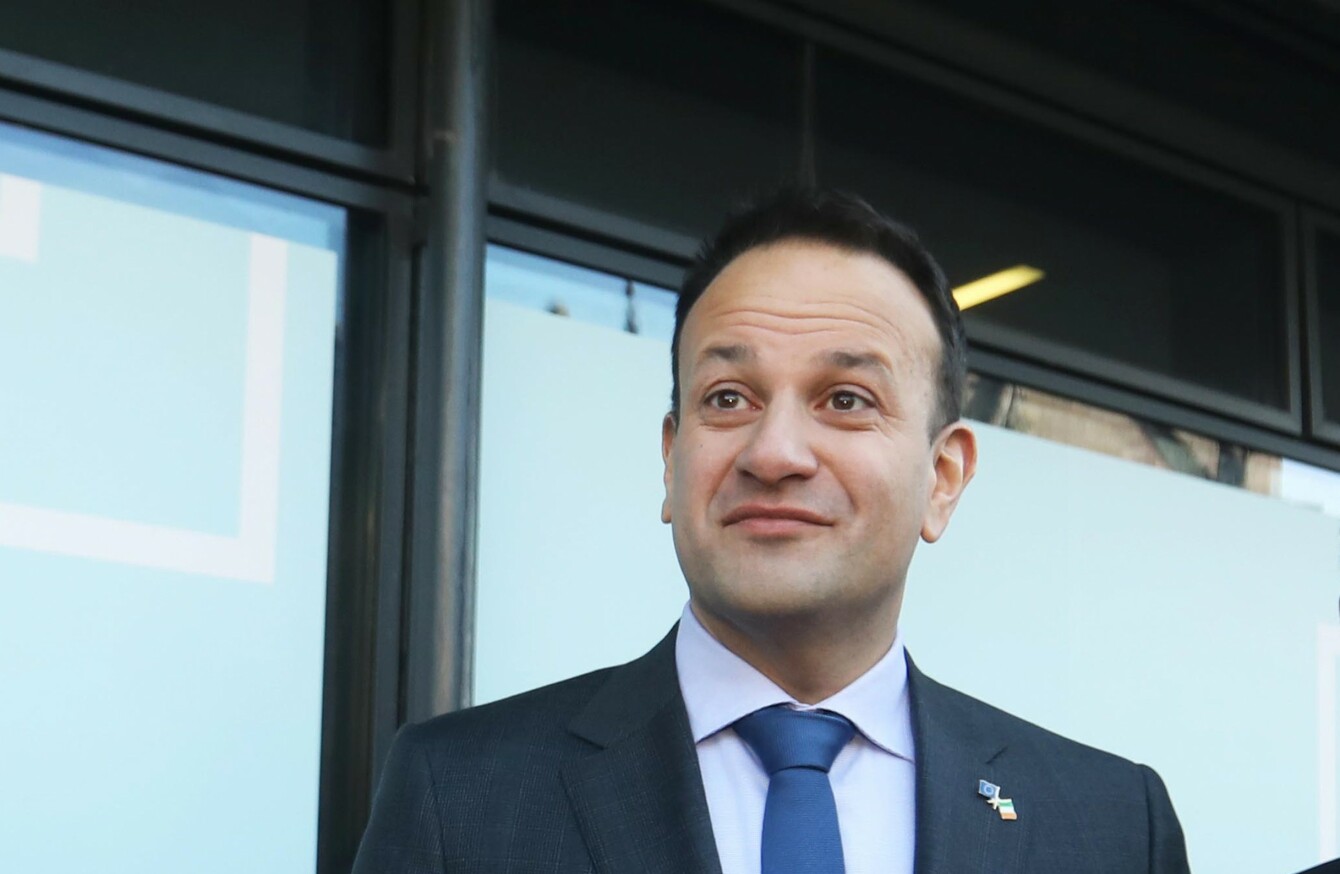 Image: Leah Farrell/RollingNews.ie
Image: Leah Farrell/RollingNews.ie
Updated May 13th 2020, 3:40 PM
TAOISEACH LEO VARAKDAR has indicated grandparents will be able to visit and hug their grandchildren during the summer. 
Speaking to reporters this afternoon, the Taoiseach today welcomed the report from the Health Information and Quality Authority (Hiqa) which found that children are not substantially contributing to the spread of Covid-19 in their household or in schools.
He said some countries did not close childcare services or schools, adding: 
"I don't think it would be a good reflection on us as a society if we were the last people able to reopen our schools and childcare facilities."
However, he said the Irish government wants to make sure it can be done so safely. He said it is encouraging to see growing evidence that children are at least risk from the virus and don't appear to be "super spreaders". 
Varadkar said the report will form part of the discussion around grandparents being able to visit their grandchildren.
The Taoiseach said he is very conscious that some grandparents are yet to hold their newborn grandchildren, stating one can only imagine how they feel at this time.
When asked if grandparents will be able to visit and hug their grandchildren this summer, he said:
"I think those things, assuming everything else goes in right direction will be possible over the course of the summer, but won't be among the actions being announced for Monday." 
"Everybody wants grandparents to be able to hug their grandchildren again," he said. 
Health Minister Simon Harris was quick to state that the public health advice remains the same.
While he said the government understands that children miss their grandparents, the National Public Health Emergency Team (NPHET) will be the body that determines and advises government about when it will be safe for grandparents to meet with their grandchildren again.
Air travel 
Varadkar also said the prospect of air travel from Ireland is months rather than weeks away.
Everyone who arrives in the State to stay, whether Irish or from abroad, is being asked to self-isolate for 14 days to ensure that anyone with Covid-19 does not infect others.
It comes amid calls for tougher laws to require people arriving into the country to tell authorities where they will be self-isolating.
Varadkar said: "The very strong advice from Government is that anyone entering our country, whether they are an Irish citizen or not, needs to quarantine and self-isolate for 14 days with the exception of certain key workers. We are going to strengthen that over the next few weeks.
"Of course we all look forward to air travel in the future," he added. "We're an island nation and a globalised economy. We need to return to business and leisure travel at some point but that really is premature at this stage.
"The European Union and the aviation authorities are thinking about that and how we can return to safe air travel but that is months rather than weeks away."
The Taoiseach has indicated today that the country remains on track to begin phase one of the government's roadmap for lifting Covid-19 restrictions next week.
"It is fair to say that everything is going in the right direction but a decision has yet to be made about whether we will get to ease restrictions on Monday," said Varadkar.
"As we ease restrictions, personal responsibility and personal discipline is going to be all the more important because we will be meeting each other more and more people will be going to work."
Speaking to Dermot and Dave on TodayFM, Varadkar said that a limited easing of restrictions would begin on Monday if Ireland's management of Covid-19 continued, although he did not specify what improvements had been made.
"If things continue to go in the right direction they have been for the last couple of days, Cabinet on Friday will give the green light for things to change on Monday," he said.
The government has previously indicated that from next week, people will be able to meet in a small group outdoors if they maintain physical distancing.
A return of outdoor work such as construction will also be allowed and some retailers such as garden centres will be able to reopen.
Senior politicians and the Chief Medical Officer Dr Tony Holohan have said they are hopeful that conditions will be right to allow this to happen, but it is not guaranteed. 
There are still issues around the country's sample, test and trace processes, with some people waiting a week or more for their results. This will be one of the key factors considered by the NPHET this week.
#Open journalism No news is bad news Support The Journal

Your contributions will help us continue to deliver the stories that are important to you

Support us now
Varadkar accepted that test turnaround times in Ireland are not adequate, but said that this was also the situation in many other countries.
"In an ideal world, you'd be getting tests back in 24 or 48 hours," the Taoiseach said.
"Nobody seems to be managing to do that around the world, or at least very few places are, but we would hope to have the vast majority of tests coming back within 72 hours.
"We're not there yet. I know from my own clinical practice that for healthcare workers, we're getting the results back very quickly, but for people who aren't healthcare workers it's very often taking five days, and sometimes more. And that's too slow."
The Taoiseach also suggested that the government's wage subsidy scheme would be extended longer than the Covid-19 Pandemic Unemployment Payment (PUP) to help more people get back to work.
There have been previous indications that both payments would be extended beyond their initial expiry date in June, and Varadkar signalled once again that this would happen.
"One thing we'll probably do is extend what's called the temporary wage subsidy scheme longer then the Pandemic Unemployment Payment, because we'll be encouraging employers to take people back on to transition them from the PUP," he said.
"When you're offered your job back, if you refuse it you actually lose your Pandemic Unemployment Payment.
"But your employer will be able to take you back on the wage subsidy scheme, so we will pay most of the wages for the employer, and that's all about getting people back to work."
On living with the virus, the Taoiseach said we will have to find a way to live with the virus.
Infectious diseases are not something new, said Varadkar, stating they have not prevented "normal life" from continuing for generations. With that comes risk, "but like other diseases" society must find a way to "live with it and do so safely".
With reporting from Michelle Hennessy, Christina Finn and Press Association