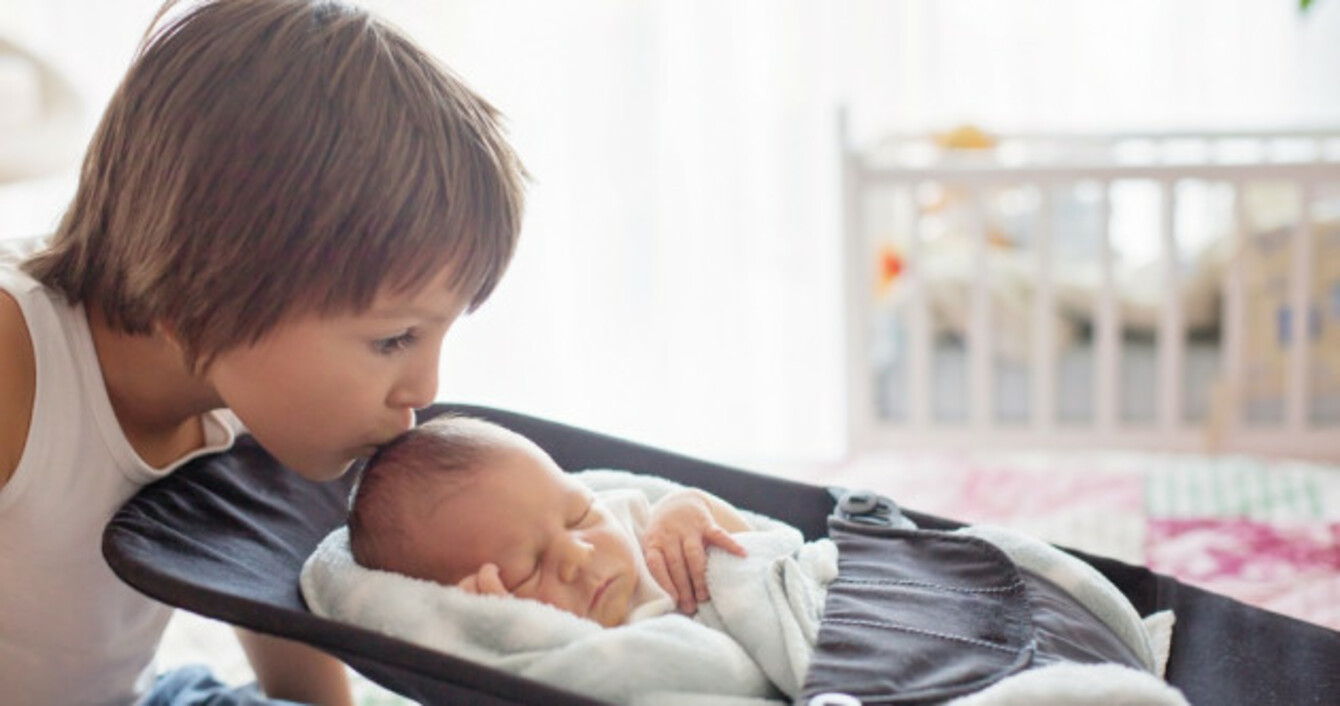 Image: Shutterstock
Image: Shutterstock
IN MY EXPERIENCE at least, it's usually when things start to calm down on the parenting-a-young-child front that your foolish brain starts to entertain notions of adding another baby to the mix.
In our case, as number one passed his toddler years and became more self-sufficient (sleeping, commanding a decent level of skill with cutlery, toileting mostly solo) my husband and I decided to grow our family by one more.
In doing so, we blew our equilibrium to pieces.
Yes becoming a family of four has been wonderful in many ways, but even the simplest of everyday tasks – tasks that were bordering on 'manageable' with one – have suddenly become near impossible. To those of you out there living your lives with *more* than two offspring in the house… I salute you, you heroes.
Here are some of the tasks that are a whole new, terrifying ballgame with two kids…
1. Like eating out? You can park that idea for a few years
Eating out is infinitely harder with two. By the time everyone's snacks have been opened/ cut into manageable pieces/swapped/retrieved from the floor and tears dried, Mummy's coffee is cold or there's no time to drink it because the first child has already finished.
2. And you'll need military skills for bedtime
I don't know what age bedtimes get co-ordinated at but we're definitely not there. It's all reading stories while the baby hangs off a boob, then by the time baby is almost asleep (in one's arms as one grabs some precious telly watching time) a call goes up from the firstborn requesting water/soft toys/a specific and achievable level of light. And of course when one child sleeps perfectly, the other inevitably is up three times a night.
3. Fitting the three of you in a public loo is impossible
You can just about squeeze yourself and one other into a cubicle, but it's nigh-on impossible to get three in there, especially if one is in a buggy the size of the Popemobile. With apologies to my fellow WC patrons, my out-of-house toilet trips now tend to involve parking the pram and leaving the door ajar. Actually in-house toileting is fairly similar. Solo toilet trips are but a distant happy memory.
4. Doing the Big Shop becomes a whole new challenge
"I want in the trolley!" "You're too big and the baby needs to go in there." "But he's trying to get out!" The baby's crying because he wants to be free, the pre-schooler's tearful because he doesn't want to walk and you mostly just want to fling yourself to the floor of aisle six and have a great big hissy fit. Actually you might as well drag yourself to aisle 20, there's wine there.
5. In fact, entering any large store is a struggle
The simple task of keeping eyes on two in a large space (especially with aisles or clothing racks in the mix) is impossible. One child is trying to put all sorts of things off shelves, another is throwing a tantrum because you won't buy them a toy/toothbrush/Coco Pops. Then the first wanders off. 'Online shopping!' I hear you cry but no, I stubbornly refuse to trust anyone else to squeeze the avocados and check the use by dates.
6. 'Kid-friendly' crafting will really show up that age gap
Inspired by social media, I recently decided to make adorable little cards using both the children's handprints. The four-year-old (completely au-fait with the printing process thanks to prolonged efforts at Montessori) carried out his side of the endeavour with aplomb but the baby…. Does anyone know how to get brown handprints out of carpet?
7. Moving house is manageable with one, impossible with two
I speak from experience here. Our original house move with a four-month-old wasn't exactly a picnic. But having just moved again (this time with a four-year-old and 11 month old), it seems we didn't know how lucky we were during round one. With a single child, it's possible to pack during naptimes or at least keep them captive in a pram or playpen. But with two…the older one is trying to 'help', packing things in the wrong place, unpacking the toys you're trying to off load to charity and endeavouring to put his baby brother in a box.
8. Going swimming is no longer a relaxing family activity
Ok so with the right amount of buoyancy aids the pool bit might be manageable but the changing rooms are a disaster – especially if one parent is going it alone. It's slippy, someone's cold, someone wants out of their wet togs, someone's only pair of pants are lying soggy on the floor (usually mum's). Everyone's over tired, fraught and just wants to get to the cafe but….
9. Your idea of "quality time" with your partner will change a lot
As one friend recently put it, "I'm in awe of how anyone finds the time or energy to conceive a third child". You'll be lucky if you have time to exchange two words as you each tackle one child each. Oh, and co-sleeping is a surefire method of contraception.
Want to win one of two family passes to Playstival this August? Enter here! Plus, did you know we have a weekly Family Newsletter? You can subscribe in the box below.