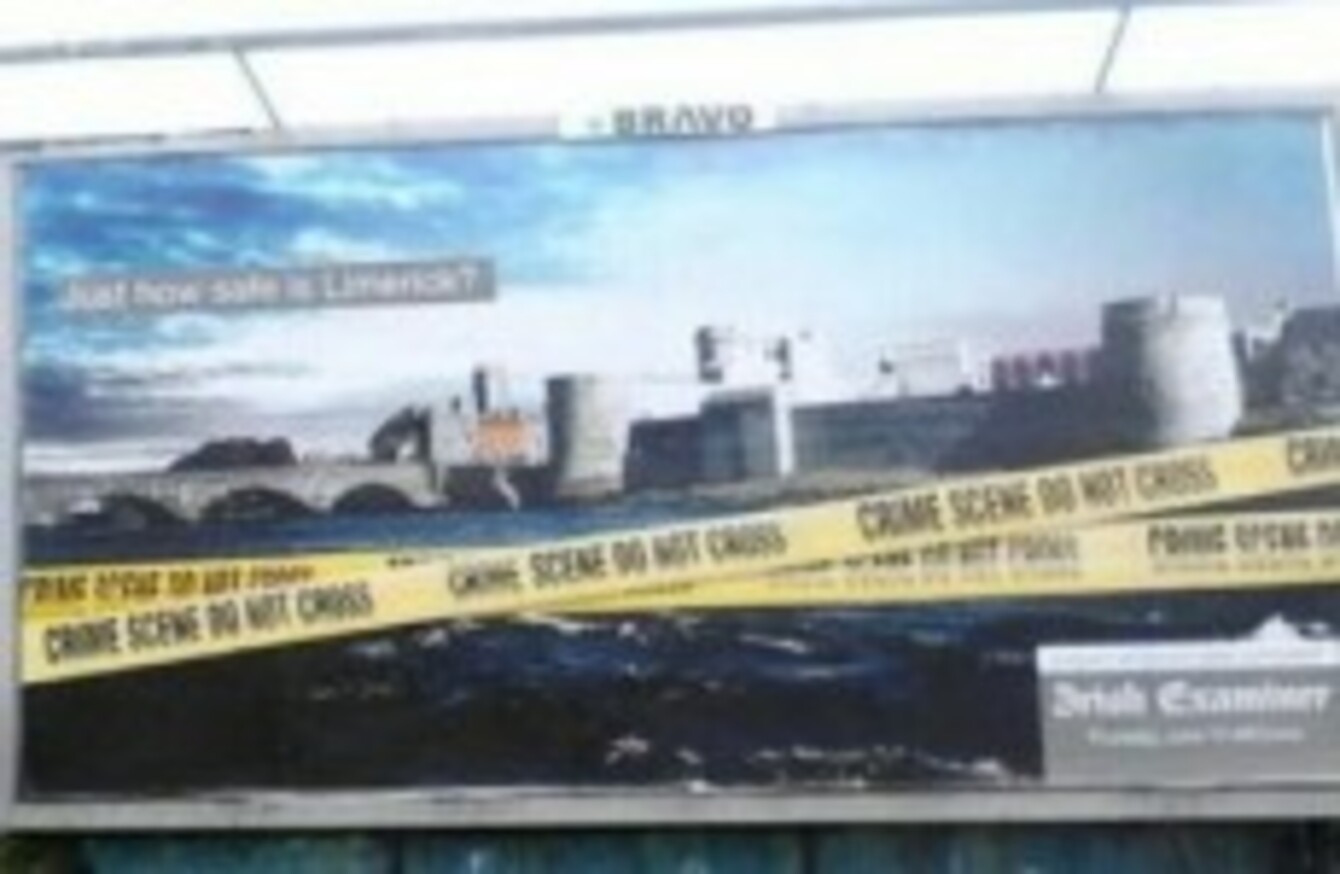 The controversial poster, which was torn down on Sunday night
Image: Aoife Danagher
The controversial poster, which was torn down on Sunday night
Image: Aoife Danagher
THE EDITOR OF the Irish Examiner has said a controversial billboard that provoked outrage in Limerick won't be re-posted, after it was defaced on Sunday night.
Tim Vaughan said the newspaper had no intention of giving 'two fingers' to the people of the city by replacing the offending advertisement, which is part of a campaign aimed at promoting an upcoming report on crime in Ireland.
The Limerick version of the poster, erected outside the city's Colbert Station on Sunday evening, was torn down after only a few hours.
It showed a scene of King John's Castle overlooking the Shannon with yellow crime scene tape across the whole image, and a tagline  asking 'Just how safe is Limerick?'
Speaking to RTÉ's Miriam O'Callaghan this morning, the Examiner editor again defended the advertising campaign, and asked that people reserve judgement until the paper's report is published next week.
Other billboards in the series – being rolled out in towns and cities across Munster – depict landmarks in counties Cork, Tipperary, Waterford, Kerry and Clare.
Similar designs, on display in counties throughout Munster (Image: Irish Examiner / Facebook)
Mr Vaughan said the majority of complaints he'd been notified about had been in connection with the Limerick poster, but that one had also been made in relation to the Clare version.
Several complaints have also been sent to the Advertising Standards Authority of Ireland -  including one by UL economics lecturer Stephen Kinsella, and another by the Limerick Communications Office.
The Irish Examiner has said that its 'special investigation' supplement – to be published on 13 June –  will make a 'significant contribution to an informed debate on Crime in Ireland'.