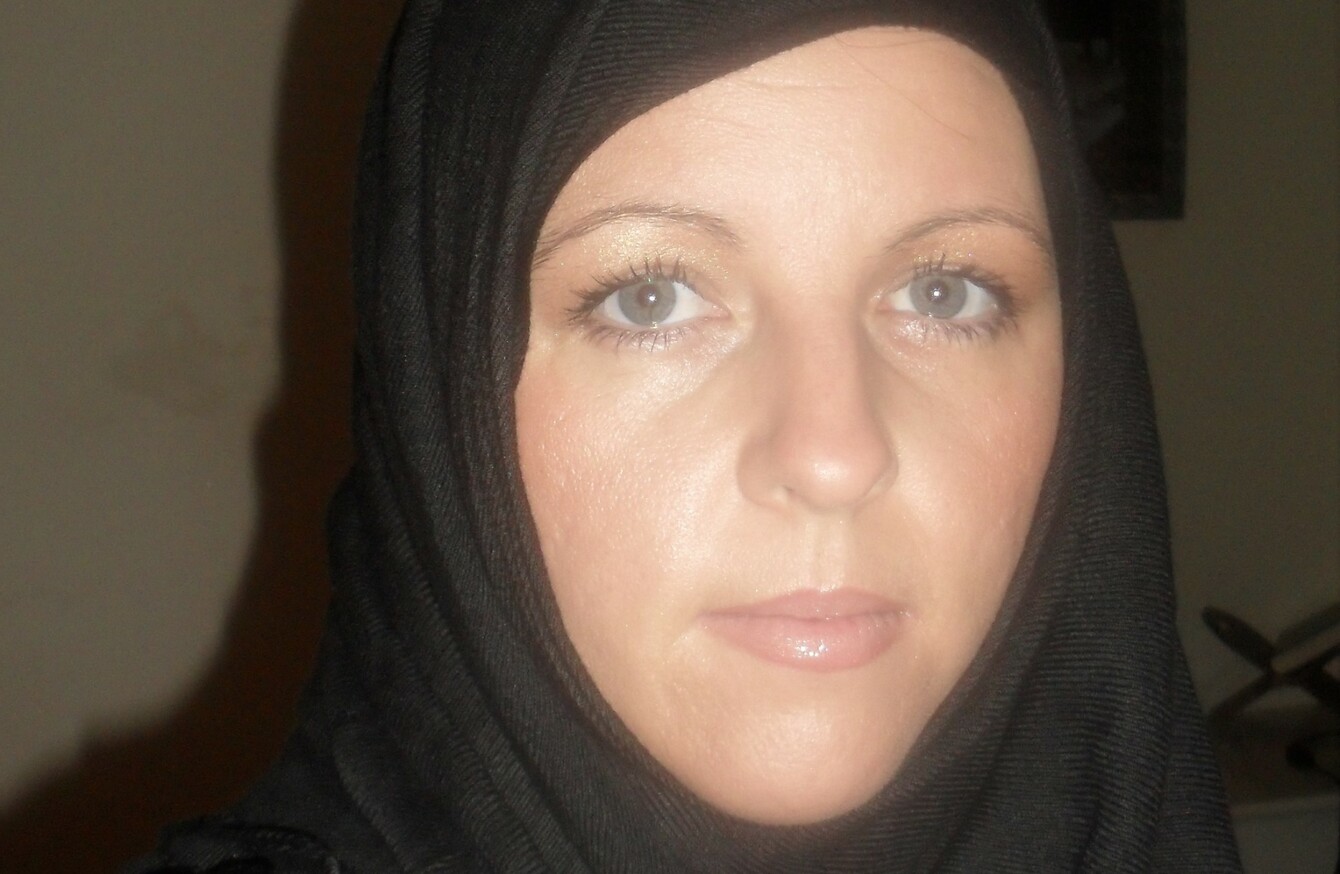 Image: Norma Costello
Image: Norma Costello
Updated Dec 4th 2019, 2:13 PM
FORMER DEFENCE FORCES member Lisa Smith has been charged with an offence under terrorism legislation at a Dublin court today.
The 38-year-old is accused of being a member of the so-called Islamic State and has been remanded in custody to appear again on Wednesday next. 
Smith, who was flown in from Turkey on a commercial flight on Sunday morning, has been questioned by gardaí at Kevin Street over recent days. 
The Dundalk native flew to Ireland along with her two-year old daughter and was accompanied by Army Ranger Wing members and other Irish officials.
She was arrested shortly after her flight landed.
Gardaí this morning confirmed she would appear today before a sitting of the District Court at the Criminal Courts of Justice. 
She appeared at that sitting wearing what appeared to be a black burqa, which, when entering the court, didn't cover her face but which was moved to cover her face during the proceedings. 
Smith did not speak during the hearing. Detective Gareth Kane also gave evidence that she made no reply when charged at Kevin Street station earlier today. 
Appearing before Judge Colin Daly she was refused bail after being charged with an offence under Section 6 of the Criminal Justice (Terrorist Offences) Act 2005. 
That legislation covers engaging in terrorist activity in or outside of the Irish State.  
Speaking on behalf of Smith, solicitor Peter Corrigan sought that she be allowed bail "under stringent conditions".
Arguing before the court that she be allowed bail, Corrigan said there is no evidence that she was a member of the Islamic State group.
Corrigan said that Smith was radicalised while still in Ireland by another individual and was advised that she had a duty to travel to a declared Muslim caliphate if one was declared.
He said that this applies "if the conditions are satisfied in the Koran", regardless of the person declaring the caliphate. 
He said that Smith is someone who was vulnerable when she was radicalised, having suffered several bouts of depression and been suicidal. He said that the individual was "preying" on those vulnerabilities.
The lawyer said that Smith has said in interviews that she was"never member of Isis" but that she "just went to live in the Islamic State".
"That subtle distinction has been missed in the media," Corrigan said.
Corrigan also spoke in detail about Smith's account of her time in a "horrendous camp" earlier this year which he said had "sewage problems and instances of infant mortality".
He said that she had "walked through the desert" to get to Turkey to bring herself and her two-year-old daughter back to Ireland.
He said that Smith could have "gone back to Isis if she was a member" but instead "wanted to get away from that barbaric state".
Gardaí had objected to bail on a number of grounds including that she constitutes a flight risk. 
Refusing bail, Judge Daly said that Smith be remanded in the Dóchas Centre to appear again before the court on 11 December.
Lawyers for Smith asked that she be separated from the general prison population during her remand for her own safety.
The judge said that he would make such a request to the prison service.