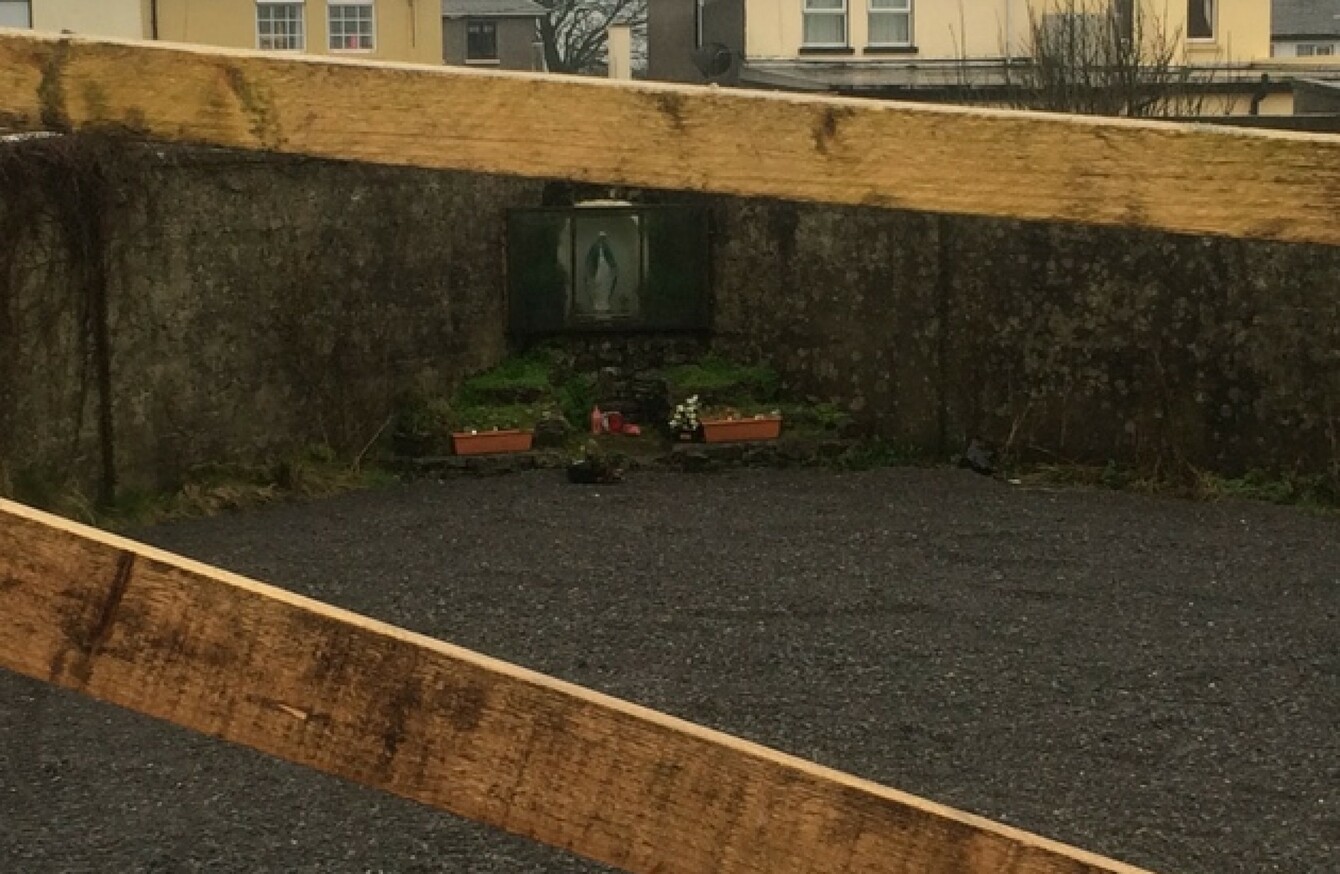 A photograph from today showing where the excavations took place
Image: Christina Finn/TheJournal.ie
A photograph from today showing where the excavations took place
Image: Christina Finn/TheJournal.ie
FORMER RESIDENTS FROM the Mother and Baby Home at Tuam have described the experience of being taken away from their mothers following today's revelation about the mass grave at the site.
Earlier today, it was announced that the Commission of Investigation into Mother and Baby Homes discovered a significant number of human remains in what appears to be a decommissioned sewage chamber in Tuam.
The Commission has completed two test excavations of the Galway site and today confirmed that "significant quantities of human remains have been discovered" in a structure which appears to be "related to the treatment/containment of sewerage and/or wastewater".
The structure where the remains were found is long and divided into 20 chambers. The Commission is not yet clear if it was ever used for sewerage or wastewater.
Speaking on RTÉ's Liveline with Joe Duffy, former residents who were born in the home, and remained there during the early years of their life, and people who helped to unearth the case spoke of their experience.
Historian Catherine Corless, whose work was pivotal in making the case public in 2014, said that the septic tank had stopped being used for its intended use in the late-1930s, and said there could be remains from as many as almost 800 children in the mass grave.
"I have 798 names of children who died in the home," she said. "We know they're not buried with their own families – I checked that out. And now we have that answer… and as I said it was former septic tanks that belonged to the workhouse."
She added that Bon Secours need to apologise for a statement made on their behalf by the Communications Clinic in 2014, which rejected the idea that a mass grave would be found there.
One former resident, PJ Haverty, was born there in 1951, and spent six years at the Tuam home.
"The women did all the work, while the nuns prayed," he said. "I don't know what God they were praying to."
He said his mother had to leave when he was a year old, as the people who ran the home did not want a bond to develop between mother and son.
She got work in Tuam, and every time she would head off to work she would come down and knock on that door and plead with the nuns to let her see her son. They always said "no, go away".
He was later fostered out, but found his mother again years later in Brixton, south London.
"I was one of the lucky ones – I got into a good foster home and got to meet my mother again after many, many years," he said.
#Open journalism No news is bad news Support The Journal

Your contributions will help us continue to deliver the stories that are important to you

Support us now
He said he had never seen any indication of what was going on, in terms of mass graves at the home, but said that he and other children had been locked up and had been exposed to so little of the outside world that he didn't even know what Christmas was.
"We had no toys at Christmas there. There was no love, and there was no care," he said.
I don't call it a home. It was a prison. You look out the window and all you saw was high walls all the way round.
Other survivors, Thomas Ward, and a man called Christopher said that were born in the home and the latter did remember seeing the septic tank at the site.
Christopher described how his mother was also not let see her son, but would cycle 22 miles to and from Tuam every weekend from Galway city to try to be let in.
All callers were unanimous in their praise for Corless in raising awareness of the case which helped lead to today's announcement.