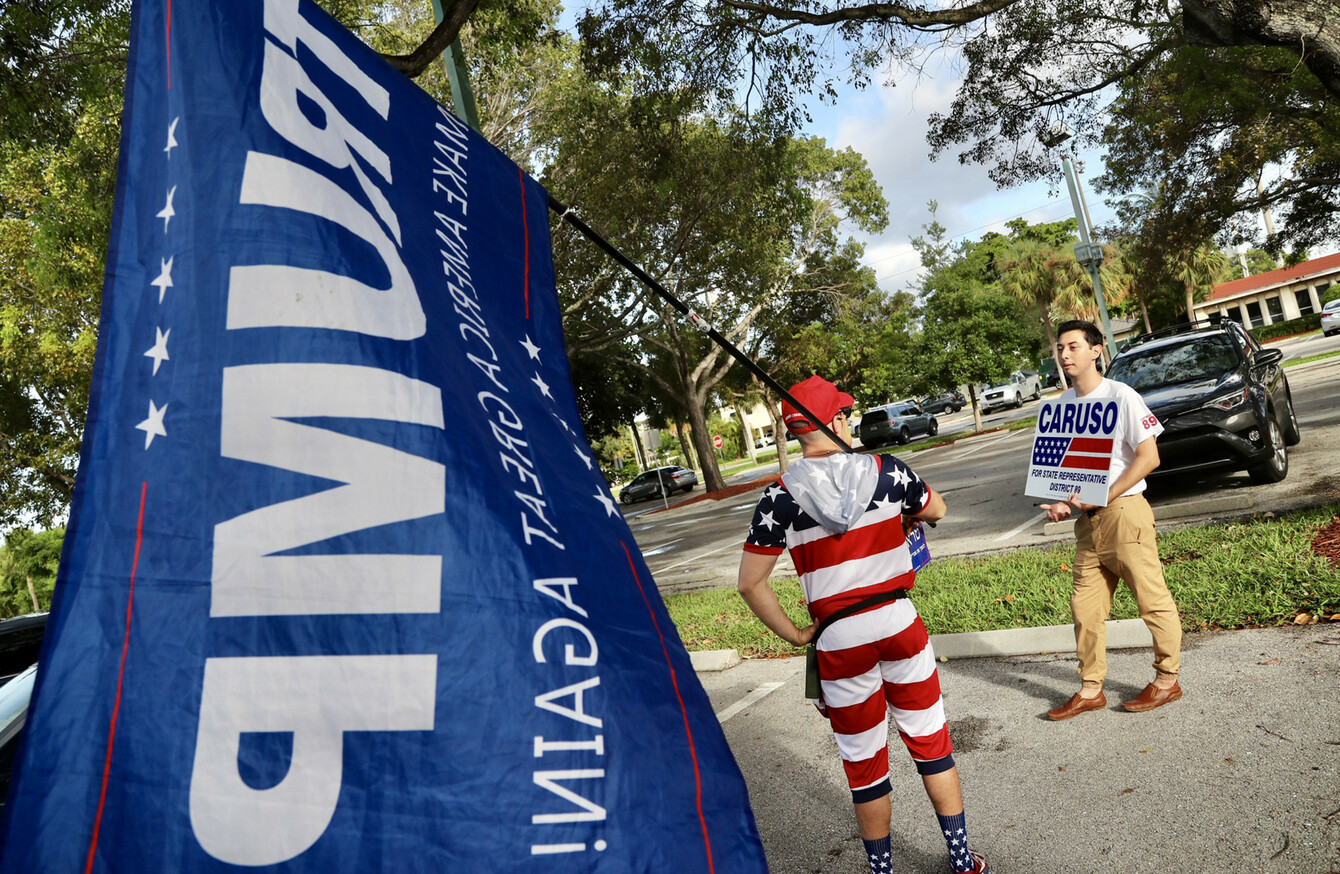 Mike Caruso campaign employee Isaac Rheinbolt, chats with a Trump supporter (who did not want to be identified)
Image: SIPA USA/PA Images
Mike Caruso campaign employee Isaac Rheinbolt, chats with a Trump supporter (who did not want to be identified)
Image: SIPA USA/PA Images
ALL POLLS ARE now open across the United States as Americans vote in critical midterm elections that mark the first major voter test of Donald Trump's controversial presidency.
However, long lines and malfunctioning machines have marred the first hours of voting in some precincts across the US.
Some of the biggest problems were in Georgia, a state with a hotly contested gubernatorial election, where some voters reported waiting up to three hours to vote.
At a polling place in Snellville, Georgia, more than 100 people took turns sitting in children's chairs and on the floor as they waited in line for hours. Voting machines at the Gwinnett County precinct did not work, so poll workers offered provisional paper ballots while trying to get a replacement machine.
One voter, Ontaria Woods, said about two dozen people who had come to vote left because of the lines.
"We've been trying to tell them to wait, but people have children. People are getting hungry. People are tired," Woods said. Woods said she and others turned down the paper ballots because they "don't trust it."
Joe Sorenson, a spokesman for the county's supervisor of elections, said some precincts "have had issues with express polls," devices election workers use to check in voters and create access cards for voting machines.
Meanwhile, residents of several states were contending with severe weather conditions that many fear could affect voter turnout.
A line of storms moved through the Deep South overnight and early this morning, knocking down trees and power lines from Louisiana to South Carolina. There were no serious injuries, but an estimated 11,000 residents were left without electricity.
For almost two years, Trump's rule-breaking, sometimes chaotic administration has enjoyed a largely free hand from the twin Republican-controlled chambers, but the midterms could finally see his wings clipped.
According to nearly all pollsters, the Democrats have a good chance of winning the House, while the Republicans are likely to retain the Senate.
But with turnout a key unknown factor and pollsters still unsure about the effect of Trump's maverick style on voters, both parties admit that they may be in for nasty surprises.
After a campaign in which Trump was accused of race-baiting with repeated and unsubstantiated references to an "invasion" of undocumented immigrants bent on rape and murder, left-right divisions in America could not be deeper. 
With reporting from Associated Press