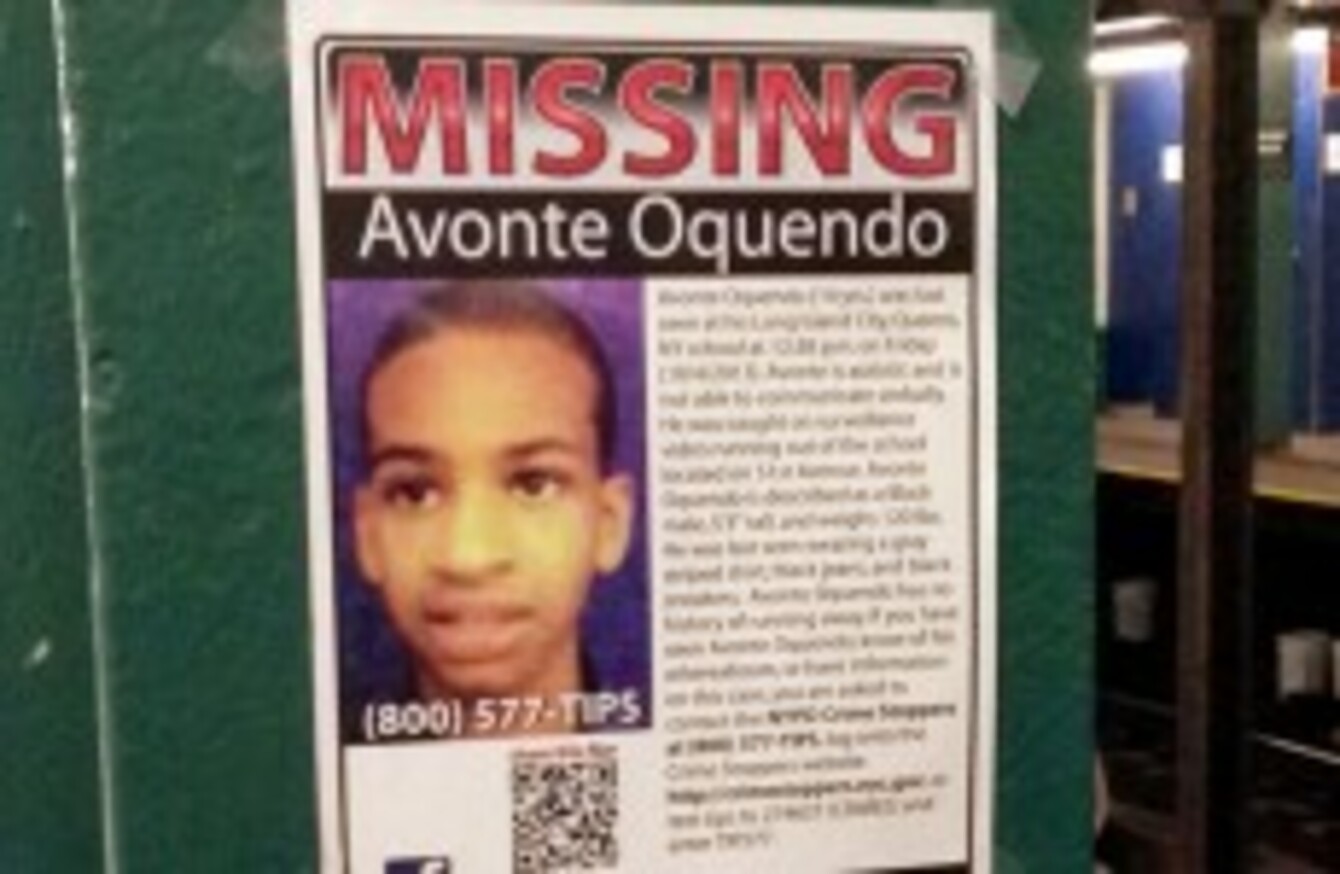 A missing poster for Avonte Oquendo
Image: AP/Press Association Images
A missing poster for Avonte Oquendo
Image: AP/Press Association Images
IT'S MIDWAY THROUGH the week and you want to get up to speed on the latest news topics and catch up on opinions and insights.
We're here to help you do just that, with our three midweek longreads:
Avonte Oquendo, a young autistic teen, ran from his school into the street last October, and disappeared. Three months later, his remains were found. Robert Kolker speaks to his family.
(NY Mag, approx 21 minutes reading time, 4365 words)
He received medals at school for races when he was younger, and even when he was approaching high-school age, breaking off into a run was a constant temptation; his mother needed to escort him on the shortest of trips to his grandmother's apartment four blocks away. Even his favorite game on the iPad was Temple Run…
Emily Gould is in debt – despite selling a book she wrote for $200k. She breaks down how her book failed, and the impact it had on her life.
(Medium, approx 28 minutes reading time, 5623 words)
While some people, mostly young women, embraced my book the way I'd dreamed they might, much of the reaction had been vehemently negative—not just critically, but among my family and friends. In the fall that followed the summer of my book's publication, my entire immediate family briefly stopped speaking to me.
Kathleen Maloney took a trip to Ireland, birthplace of her ancestors, after her husband died. It was a journey of discovery and remembrance.
(TheJournal.ie, approx 8 minutes reading time, 1726 words)
I walked in and the only person in the pub was the owner, Tommy Creegan. I joked that maybe we were cousins, and he rang his sister, Dolores Creegan, on the phone, who came right over. She took one look at me and said: "Oh yes, you're a Creegan Red. You're ours."