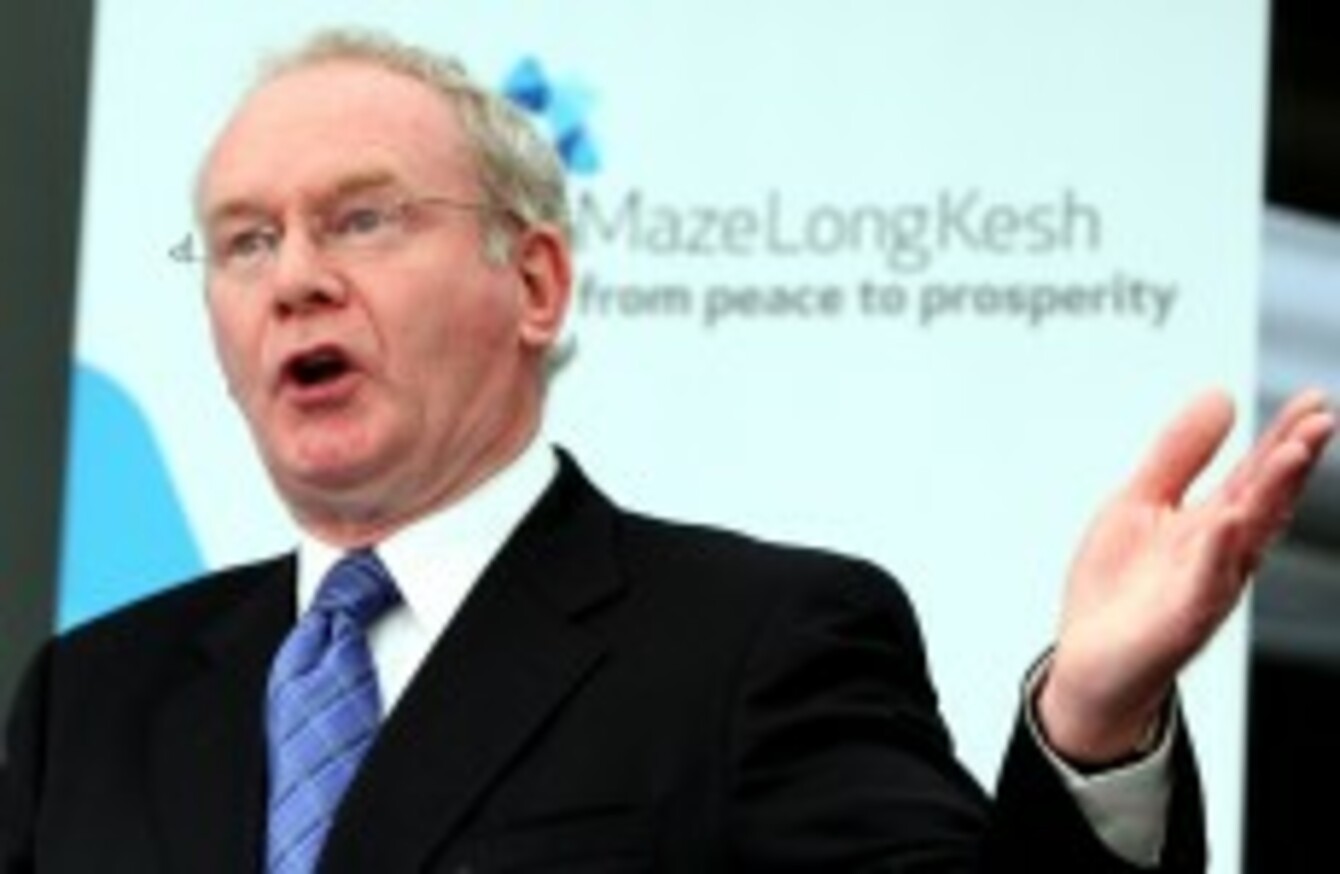 Image: Paul Faith/PA Wire
Image: Paul Faith/PA Wire
MARTIN MCGUINNESS HAS said unionist politicians must stop pandering to a small minority of people in Northern Ireland who are trying to thwart the peace process.
The Deputy First Minister and Sinn Féin MP for Mid Ulster said that unionist leaders "need to realise that nothing can be gained by continually feeding the insatiable appetite of those who see life through a red, white and blue prism," adding:
History is littered with unionist leaders who made this mistake.
"The past few weeks have not been good weeks for the political process in the north," he said.
The parades season in Northern Ireland which began in July has been particularly contentious with high levels of violence and unrest. More than 50 police officers were injured in rioting in Belfast last weekend in what was described as "scenes of unwarranted lawlessness". Much of the criticism of the violence has centred on whether protesters are doing it for genuine political reasons or whether it has been hijacked by people who just want a fight.
McGuinness also criticised the DUP for withdrawing its support for a plan to develop the site of the Maze prison into a conflict resolution centre. The Maze/Long Kesh, where the IRA hunger strikes took place, shut down for good in 2000.
NI First Minister Peter Robinson – and McGuinness's partner in the coalition government – told his party colleagues that the u-turn was because of "the behaviour of Sinn Féin" and concerns that the centre could glorify terrorism.
However McGuinness said the DUP decision was ignoring the political reality and that the majority of unionists wanted to see the peace process succeed.
"They [the majority of unionists] want to see their political leaders get on with the job of reconciliation and delivering in government," he said.
They are embarrassed by the antics of the thugs who attacked the police in recent weeks in Belfast while wrapped in the Union flag.
McGuinness said he wanted to see agreement on parades, flags and emblems in the coming months when talks begin with American diplomat Richard Haas.
"The Haas talks are not about replacing the Parades Commission to satisfy the demands of the Orange Order," he said.
I am entirely comfortable with unionists seeking to express a British identity in a sensible and non-confrontational fashion.
Likewise I expect them to acknowledge and recognise my Irishness in the same spirit. I do not believe that this is too much to ask or expect.
McGuinness was speaking at a commemoration for John Joe McGirl, an IRA leader in the 1930s and Sinn Féin TD, who died in 1988.