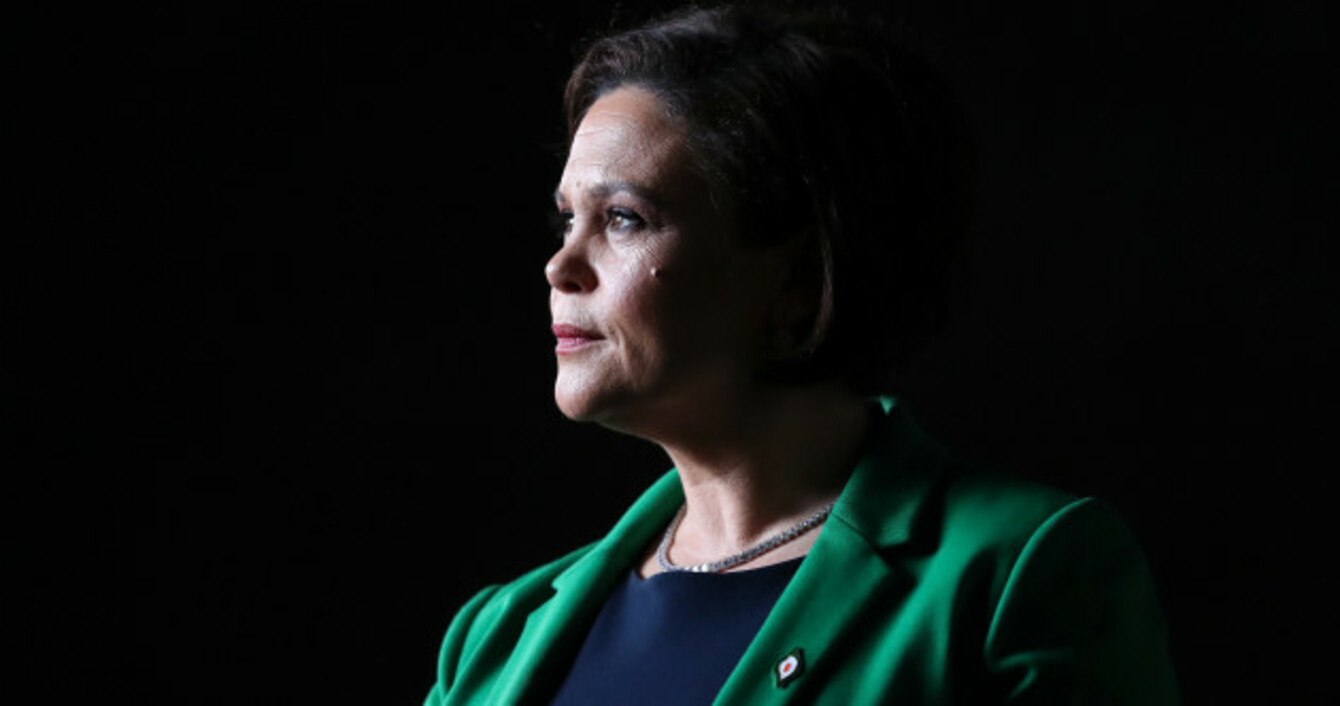 Sinn Fein's president Mary Lou McDonald
Image: PA Wire/PA Images
Sinn Fein's president Mary Lou McDonald
Image: PA Wire/PA Images
IF GERRY ADAMS had notions of putting his feet up during retirement, he can think again.
Sinn Féin President Mary Lou McDonald has plans to put her predecessor to work.
In a wide-ranging interview with TheJournal.ie, it was made clear that Adams will still play a role within the party – although she won't be asking him to run for the job of President of Ireland.
After 35 years as leader of Sinn Féin, Adams finally left the stage last week. In a raucous Ard Fhéis in the RDS, McDonald was formally elected to take the helm.
She has an immediate body of work, not least to address the bullying allegations that have plagued the party in recent months.
But what next for Gerry? Will he have an "ambassadorial" position, as some are suggesting? And, if so, will it be in an official capacity?
McDonald told TheJournal.ie that Adams is still a TD, and will continue to work for his constituents. But she has grander plans for the former party president – ones that could take him overseas.
"I am going to ask him to do different pieces of work. I think the first thing he needs to do is rest, I've said that to him," she said, adding:
He has a huge international profile. They say Gerry is the best-known Irishman – maybe him and Bono are on a par -  but he has immense standing internationally. I want to see how to use that. I am sure he has views as to what he might to with that.
"I don't know how many prime ministers, taoisigh, American presidents [he has dealt with] That is a vast reservoir of experience and we would be very, very foolish not to have that in reserve," she said.
"Certainly Gerry is very experienced, he is very insightful. I haven't asked him just yet, as I want him to relax a small bit. And he will have to look to his constituency. Ruairí Ó Murchú (a Sinn Féin councillor in Louth) is the young man who has been selected to run in the next election in Gerry's place and we have a job to do to hold on to those two seats. So I think Gerry will have to roll up the sleeves and be part of that effort," she added.
Gerry for president? 
With McDonald's admiration over Adams' dealings with international powerhouses evident, what about asking him to run for president? Is that on the cards?
"Absolutely not. Absolutely not. I know he has not the remotest interest in that. In fact I think he would freak if somebody lifted the phone and suggested that. That could end our friendship if I even suggested that to him," she laughed.
Despite the effusive praise unleashed for his external diplomatic skills, the party under Adams was dogged by infights and public claims of internal bullying.
So this switch in leadership will have to lead to a change within.
In her maiden speech as leader, McDonald said it was time for Sinn Féin to "modernise" and become "fit for purpose".
She knows the party has problems, and insists she is going to introduce concrete measures to deal with them.
She said the "dilemmas" that have emerged recently can be put down to the party's rapid growth.
"It's been reflected in local disputes, unpleasantness, some people upset, some people leaving the party, some people being asked to leave the party. And I think we have to be honest in saying that we have tried to manage and organise a growing party, and now a large party, in the same way that we managed and organised a small party, and that doesn't work. So we have issues there."
It has been a focus point for rival deputies in the past number of months, providing an easy deflection in a difficult debate. To remove that threat, McDonald has to eradicate all perceptions that the party doesn't take bullying seriously. She says she is doing this but will there be a zero tolerance approach?
Party reform
"Everyone needs to know there are rules, there are standards, there is a charter of ethics and we didn't write and produce them just for the craic, they actually mean something, and if they are breached, we have to deal with that," said the Rathgar native.
"The one thing, and I have made this very clear to colleagues, is that I am a great believer in sorting things out informally and in a friendly way. I am quite a relaxed person in that way. When that doesn't work, you apply the rules, and I can be a bit of a stickler in that regard as well.
McDonald says she knows what immediate reforms are needed – and that there is an appetite for same among her members.
We have 250 to 260 councillors… a huge number. They are the frontline of your politics. I am very conscious that they can be a little bit out on a limb so I have put in train a consultation and an intervention with our councillors to establish better channels of communication, supports, training so that you don't feel that they are out on a limb…
McDonald also plans to establish a commission on equality and inclusion in the party.
"I am going to structure it like a commission… We are going to go out and have a conversation with our grassroots – not about our politics, but actually about the party and the dynamics of inclusion, the culture and all of those things."
This type of exercise is commonplace in other organisations that have seen rapid expansion, and she said Sinn Féin can learn from it.
"We need to modernise, we need to get with it, we need to borrow from best practice outside of politics and I am very confident that we will do it," she said.
Going into government 
It's a means to an end. McDonald began to shift the talk about her party going into government long before she became leader – being the first to suggest it should consider discontinuing the view that it should only enter a coalition as the larger party.
"I am going to fight for every vote, every seat we can get and I will talk to everybody. I  think that is the right thing to do," she says now.
Even 'smarmy' guys?
"Can I work with a 'smarmy' guy?" she returns our question, referring to an interview she gave earlier this week.
"I mean can he work with a 'cranky' woman – these are all the questions of our time," she jokes, referencing a comment made about her by Fine Gael leader and Taoiseach Leo Varadkar in the Dáil.
The only problem is, both Fianna Fáil and Fine Gael have categorically ruled out talking to Sinn Féin about possible government formation.
The new leader said political parties should "wind their necks in" and let the electorate choose, but McDonald said there is one thing for certain – she plans to win big.
Realistically, though, Sinn Féin's only chance of being in government in the near future is as a minority party. Would she be concerned about that?
#Open journalism No news is bad news Support The Journal

Your contributions will help us continue to deliver the stories that are important to you

Support us now
"Yes of course. It is dangerous and problematic and there would be a lot of nervousness within our party around that. Of course you would be stupid, you'd be absolutely foolish not to take account of that. You have to ask yourself the question about the other casualties (Labour for instance).
"Was the damage done by going into government or was the damage done by what was done or not done in government – that's the question."
McDonald said there is no obvious party that Sinn Féin could enter into coalition with.
Fianna Fáil are a problem, Fine Gael are a problem – it is all problematic. We may have a new politics or configuration emerge, I would very much like that to happen, but rather than get hung up on 'the who', our focus is: what would a government do, what could Sinn Féin deliver? I would still prefer a progressive alliance. That would naturally give us more scope, and would naturally give us more clout.
In the run up to the last election, Sinn Féin signed up to a vote pact made up of left-wing parties and independents, but the possibility of an alternative left government has withered away. Ahead of last year's Budget, Solidarity-PBP said Sinn Féin was moving more to the right – a clear indication that it is not interested in doing business.
But McDonald said she thinks an alternative left could still be a possibility. Extending an olive branch, she said:
"During the last election we had the discussion around the alternative and at that point we had the Right to Water movement and Right to Change… and it looked like the maths would be possible.
Coming into the next election, that might also be the case. I think that would be very good for Irish politics.
"We have a political message and political team that is relevant and can resonate, not just with our core base, but with what is called 'the middle class' or the 'coping classes'."
Personalities in politics 
"When it comes to government formation, it is about the big ticket items and it is about the big ideas, rather than the personality, the personality thing wouldn't enter into my head for a second," she said.
Her own persona – within the party and outside it – will be under intense scrutiny, however, in the coming months as she settles into the top job, not least because of the continuing impasse in Stormont.
McDonald wants people to look at her performance over six months or over a year, and then judge.
In the coming weeks, she will carry out duties we associate with Adams – and one of the first is heading to the US for St Patrick's Day.
Often seen as a big fundraising drive for the party with their Irish-American base, there's a busy itinerary for McDonald: meeting the diaspora, events with Irish-American trade union groups and handshaking with politicos, as well as a women's leadership conference.
Adams was a regular guest at the White House, though she recalls the one year he was refused entry when we ask of her plans with the Trump administration.
"Whether or not I will be in the White House, I don't know.
I was only in it once. The year that there was all the confusion about Gerry not being let in. I was standing there and I said I will wait with you Gerry. He said, 'No, go on in'. I said, 'No, I'll wait with you.'
"We waited and waited. We met everybody on the way in, I was saying, 'Hello congressman, hello senator.' It was nearly finished, so Gerry said, 'For the love of God, just go.' I said: 'Are you sure?' He said yes. I walked off and I had literally taken three steps away and I heard him whisper: 'Traitor.' I didn't live that one down, I was the deserter, I left him to fend for himself," she laughs.
"Anything that is to be done for the Uachtarain Sinn Féin, for the leader of Sinn Féin – that's me now, not him, so he's out of all that," she said.
"He'll be waiting outside the gates of the White House again so?" we ask.
"Exactly. Bye Bye Gerry," she jokes.